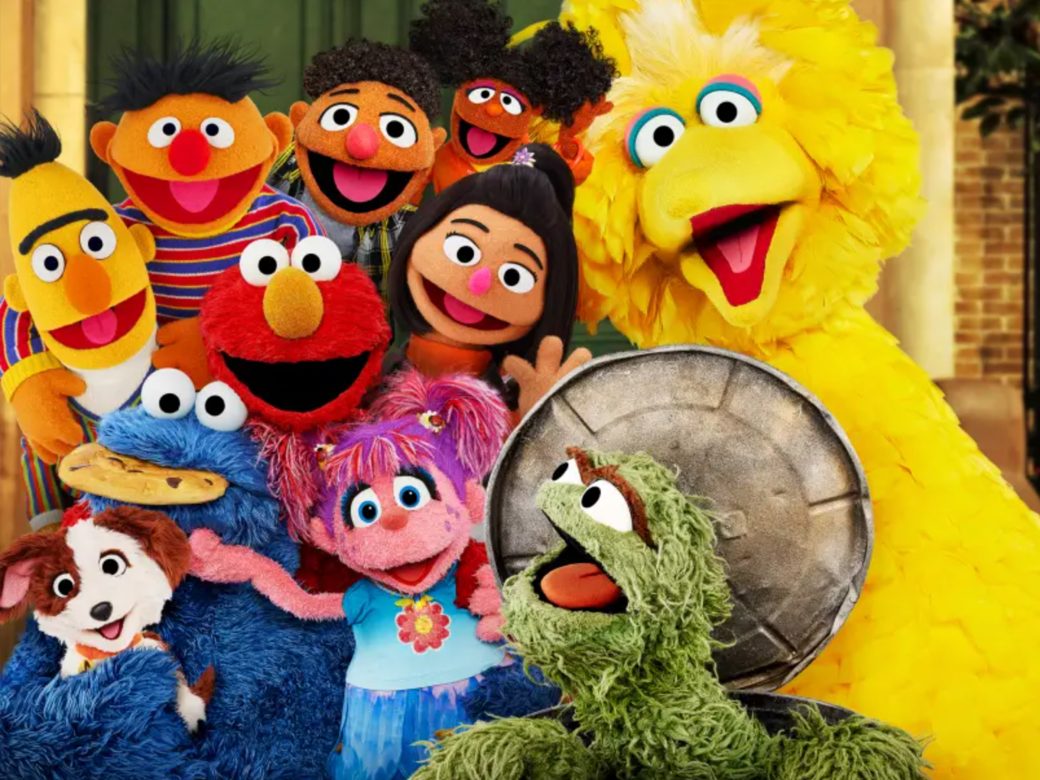 Sesame Street Season 53
A street where we all belong.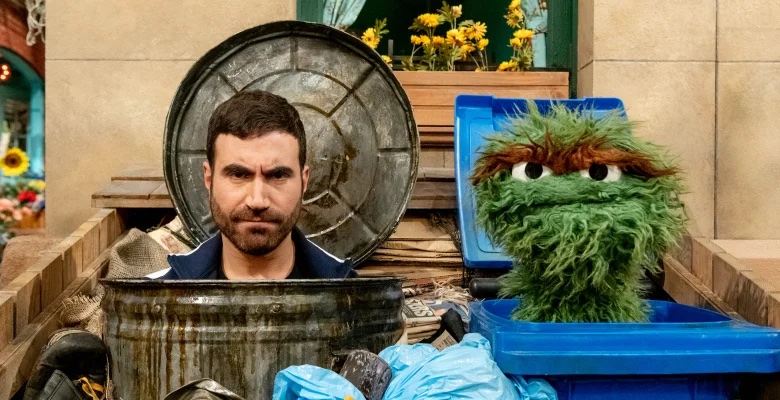 Press Release
New Season Curriculum Focuses on Helping Kids Develop Healthy Self-Identity and Sense of Belonging.
Celebrity guests this season include Mickey Guyton, Amber Ruffin, Zazie Beetz, First Lady Dr. Jill Biden, Samuel L. Jackson, Brett Goldstein, Ava DuVernay, and HAIM.
October 3, 2022, New York, NY – Sesame Workshop, the nonprofit behind decades of award-winning educational content, today announced Sesame Street's 53rd season will debut on Thursday, November 3 on Cartoonito on HBO Max. Episodes of the iconic children's series, 35 in all, will drop every Thursday. The season will stream on PBS KIDS in Fall 2023.
What's New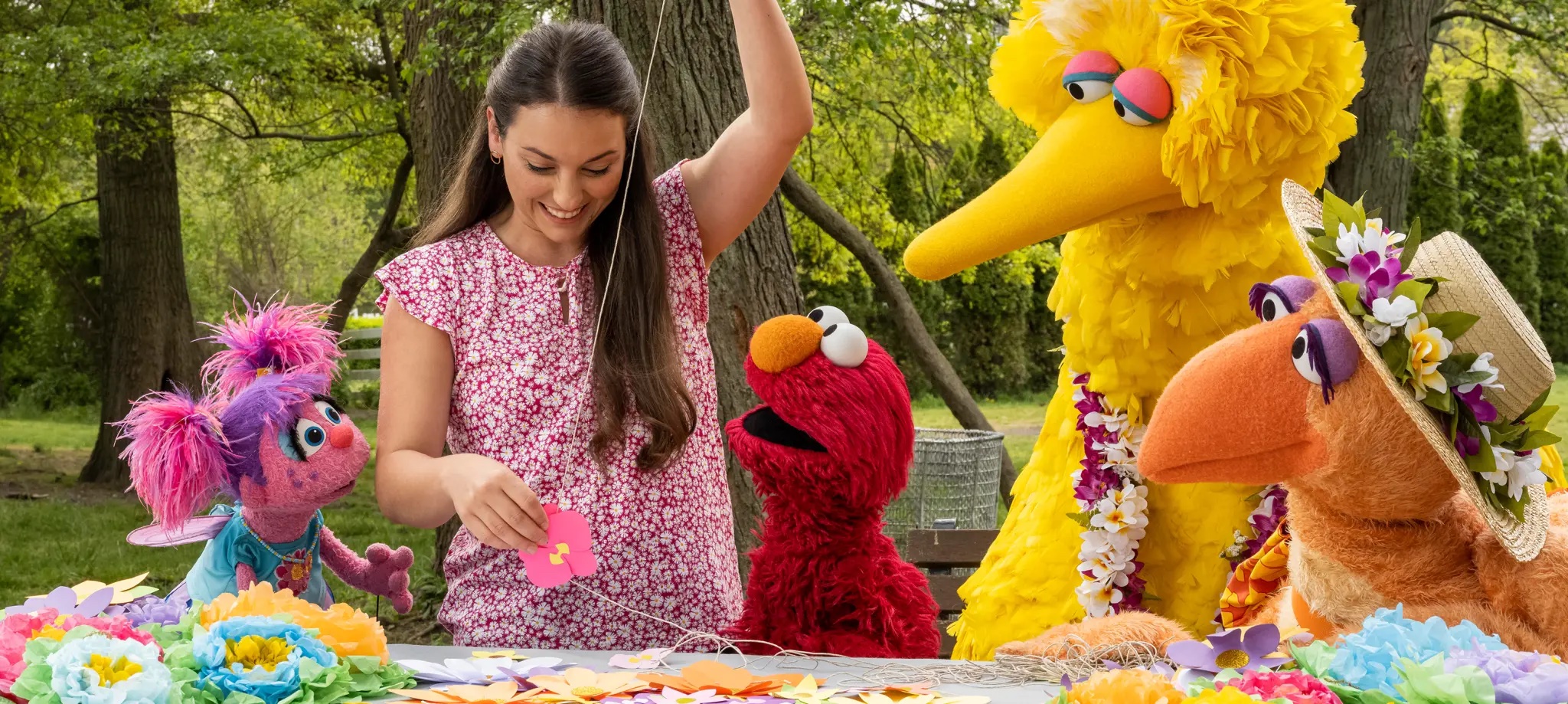 Season 53 Curriculum
Sesame Street's 53rd season reflects Sesame Workshop's Coming Together initiative through a curriculum designed to help children grow up with a healthy self-identity and sense of belonging — and do so in full celebration of their race, ethnicity, and culture. Preschool children will see themselves in engaging, developmentally appropriate stories as they explore concepts and language that help them learn ways to honor and rejoice in themselves, their friends and families, and the wider community.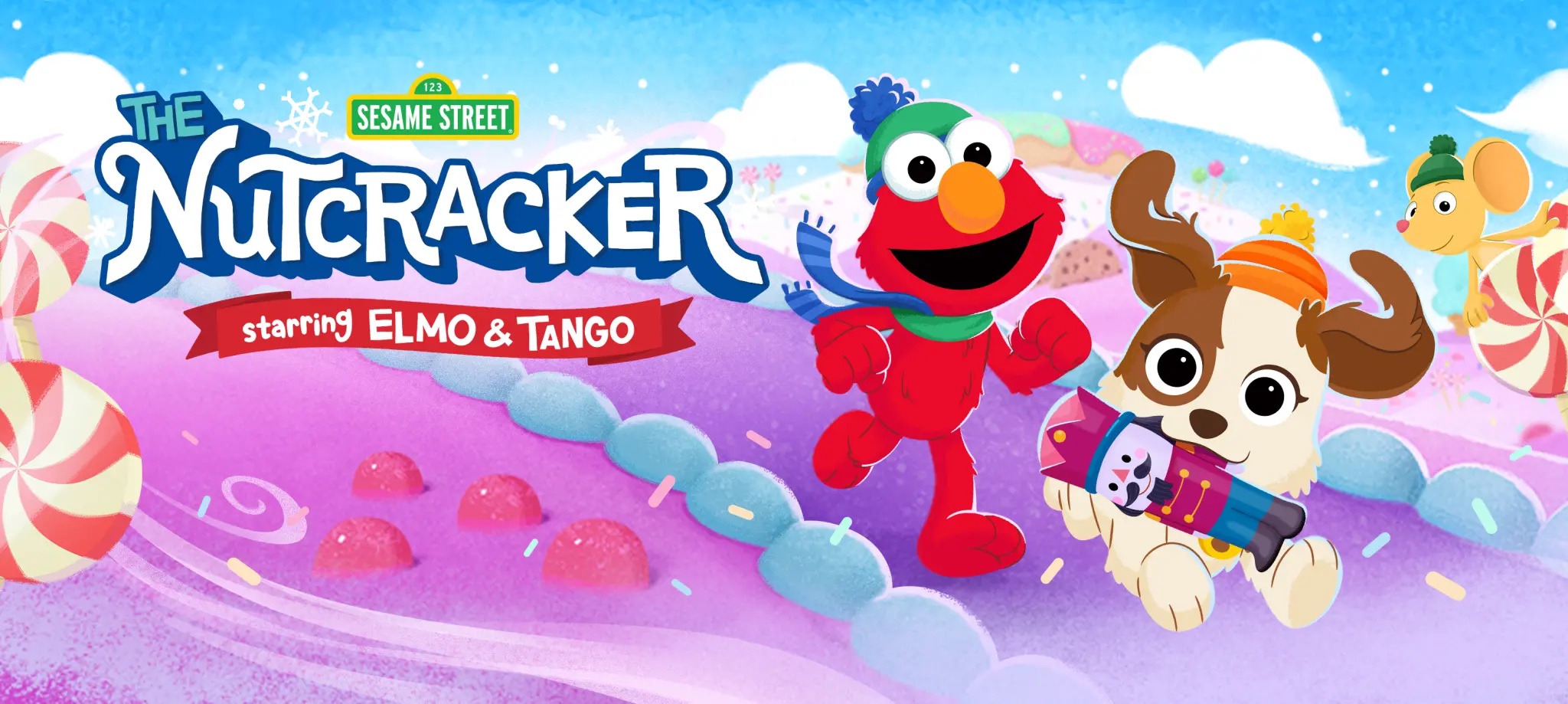 Season 53 Special: Sesame Street The Nutcracker
The classic story of The Nutcracker is retold Sesame Street-style in a brand new animated holiday special that follows Elmo and his new puppy Tango on a fantastical adventure filled with new music, friends, and a talking Tango. This 30-minute festive feature is a celebration of the greatest gift of all: friendship.
The holidays are here on Sesame Street, and Elmo is determined to make it the best Christmas for Tango. At Elmo's family holiday party, friends and family sing about how wonderful this holiday will be. The Count arrives bearing gifts for everyone, including a wind-up rocket ship for Elmo and a cute, nutcracker-shaped doggy toy for Tango. After a fun-filled night, Elmo and Tango fall asleep listening to Elmo's dad, Louie, read them the story of The Nutcracker. Elmo drifts into a dream sequence where Tango can speak, and that's when the adventure begins!
Sesame Street The Nutcracker is the official special of Sesame Street's 53rd season. The special, sure to be a new holiday tradition for families, is available on HBO Max on November 17 and comes to PBS in 2023
Select Episode Descriptions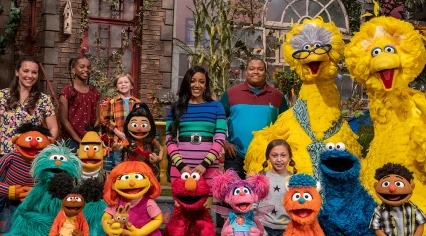 5301 Community Mural
November 3, 2022 — Celebrity Guest: Mickey Guyton, Amber Ruffin Friends on Sesame Street are painting a mural to celebrate the people in their neighborhood. When Abby has a hard time finding a paint color that is the same color as her fur, she learns to mix paint to make a color that looks just like her. Everyone works together to make the mural special, showing that we may be different on the outside, but we're all friends and neighbors on Sesame Street. Celebrity guest Mickey Guyton sings a song about community, and Amber Ruffin makes a surprise appearance as Ms. Noodle.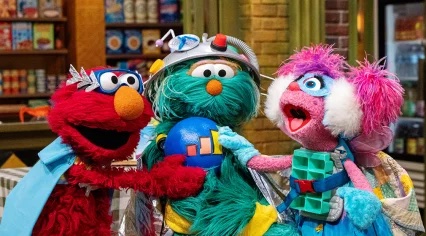 5302 Sesame Street Super Heroes
November 10, 2022 — Elmo, Abby, and Rosita are playing superheroes! When Elmo and Abby suggest for Rosita to be Super Carga, a superhero who turns on everyone's superpowers with a Spanish catchphrase, Rosita says that speaking Spanish isn't the only thing that makes her special.
5311 Gold Medal Tango
January 12, 2023 — Celebrity Guest: Brett Goldstein Elmo, Rosita, and Chris are making a doggy obstacle course for Tango. They find a hula hoop that Tango could jump through, but it won't stand up. This is a problem! They wonder how to make the hoop stand up and have enough room for Tango to jump through. What if they put the hoop through the slats of two chairs? Let's try! Celebrity guest Brett Goldstein plays a game with Elmo and Grover.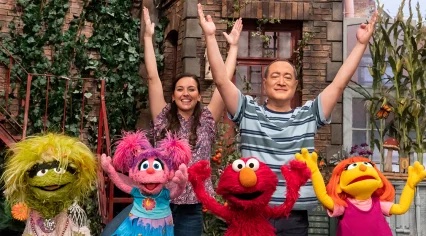 5321 Grouch-ercise
March 23, 2023 — Oscar's been feeling terrible and Elmo, Abby, Grundgetta, and Nina find different exercises he could do to feel better. When they come back, they find Oscar feeling good and rotten again after a long, grouchy walk.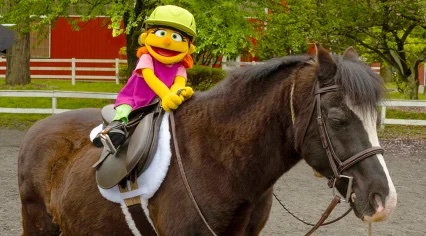 5323 Horsing Around
April 6, 2023 — Julia and Sam are helping Elmo learn to ride a pony at a horse farm. Before riding the pony, Elmo learns how to greet, feed, and brush the pony. When it's time to ride, Elmo feels nervous. What if he practices belly breathing? Let's try!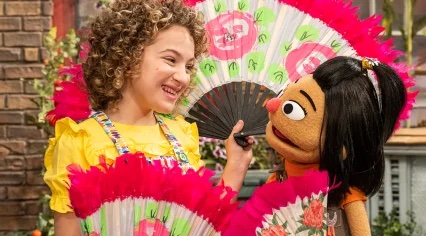 5325 Fans of the Fan Dance
April 20, 2023 — Today is Ji-Young's Korean fan dance class, and she invites her friends Elmo, Zoe, Gabrielle, Charlie, and Tamir to join. Together they learn how to use the fans and thank Ji-Young for sharing this dance that's special to her and her family.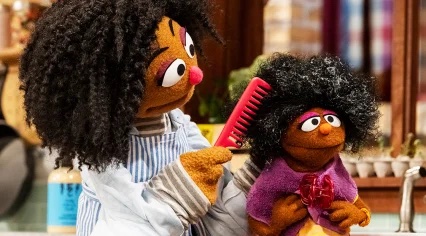 5329 Wash Day
May 18, 2023 — It's Wash Day today, and Gabrielle gets to spend time with her Auntie, Kayla. Auntie Kayla combs, shampoos, conditions, and detangles Gabrielle's hair. During bath time, Gabrielle's hair is twisted up in a shower cap and at the end, Gabrielle gets to pick out a new style for her hair. Wash Day is really special to Gabrielle and her family.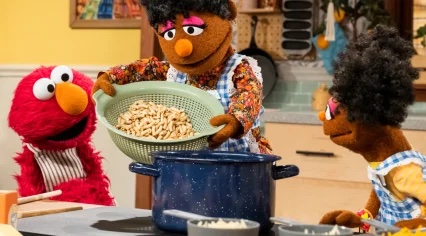 5333 Grandparents' Day
June 15, 2023 — It's Grandparents' Day on Sesame Street! While Elmo, Tamir, and Gabrielle help Grandma Nell prepare Grandpa ZZ's Triple Cheesy Macareenie, they learn that the best part about making it is being able to cook together as a family.
Celebrity Airdates
Celebrity Airdates
| Airdate | Show | Episode | Celebrity |
| --- | --- | --- | --- |
| 11/03/2022 | 5301 | Community Mural | Mickey Guyton, Amber Ruffin |
| 12/01/2022 | 5305 | Jobs Day | Dr. Jill Biden, Zazie Beetz |
| 12/15/2022 | 5307 | Happy Hair Day | Samuel L. Jackson |
| 1/12/2023 | 5311 | Gold Medal Tango | Brett Goldstein |
| 02/16/2023 | 5316 | Read-and-Share | Ava DuVernay |
| 03/09/2023 | 5319 | Cinderella's New Shoes | Lucy Liu, Amber Ruffin |
| 05/11/2023 | 5328 | The Letter C Vacation | HAIM |
Behind the Scenes
Kay Wilson Stallings – Executive Producer and EVP, Creative and Production

Kay Wilson Stallings serves as Executive Vice President of Creative and Production for Sesame Workshop. She oversees Sesame Street and all Sesame Workshop shows as well as the development of new programs and content across existing and emerging platforms. She also leads creative for domestic production and partners with global teams to enrich and expand Sesame Workshop's presence around the world. Wilson Stallings greatly expanded the Workshop's impact through animation with specials including The Monster at the End of This Story and Furry Friends Forever: Elmo Gets a Puppy as well as new shows such as Mecha Builders, the first CGI-animated spinoff of Sesame Street; the preschool comedy series Bea's Block; and newly animated literature-based miniseries currently in development, beginning with the E.B. White classic Charlotte's Web. She was most recently the SVP of Creative Development at Sesame Workshop, where she developed the first new Sesame Workshop shows in nearly a decade: the critically acclaimed and award-winning Esme & Roy, Helpsters, and Ghostwriter. Wilson Stallings also created Sesame Studios, a YouTube channel hosting a broad mix of original stories, songs, and other Sesame-quality kids' content. In 2017, Wilson Stallings created and directed the first annual Sesame Workshop Writers' Room, an intensive six-week competitive fellowship program dedicated to discovering, nurturing, and increasing the presence of writers with diverse voices in children's media. Held at Sesame Workshop's New York City office, participants come from across the country to meet weekly with industry writers, producers, agents, and executives, with two winners each year offered creative development deals. Upon completing the program, many participants find staff positions on kids' series for production companies like Netflix, DreamWorks, Nickelodeon, and more. Prior to joining Sesame Workshop, Wilson Stallings was Senior Vice President of Production and Development at Nick Jr., Nickelodeon's preschool programming arm. In her 16 years with the company, she oversaw development of original series and co-productions, including pre-buys, acquisitions, and the global shorts program. Wilson Stallings developed and helped launch more than 20 series while at Nickelodeon, including Wonder Pets, Yo Gabba Gabba!, Fresh Beat Band, Shimmer and Shine, Blaze and the Monster Machines, Wallykazam, and Wow! Wow! Wubbzy! Wilson Stallings holds a Master's degree from the University of Illinois and a Bachelor's degree from MacMurray College. She lives in Brooklyn with her husband and son.
Benjamin Lehmann – Executive Producer, Sesame Street (Seasons 49-53)

Benjamin Lehmann formerly led the production and creative direction for Sesame Street and all other live action productions at Sesame Workshop. In this role, he collaborated with various production and distribution partners and was responsible for the ongoing production and long-term planning of live-action productions to drive Sesame Workshop's mission forward, increase child engagement, and build upon an ongoing slate of live action shows. Other accomplishments include Executive Producing The Not-Too-Late Show with Elmo, a family viewing experience for HBO Max. Lehmann led the show's development, directed the series pilot, and oversaw the production of two seasons and 29 episodes. In addition, Lehmann served as Executive Producer and series director for the second Season of Helpsters, a show for Apple TV+ that teaches pre-coding skills to kids. During the pandemic, Lehmann helped design remote, home-based shooting techniques that allowed the Sesame Street production teams and performers to make short form content, Town Halls for CNN, and specials including "See Us Coming Together," celebrating the rich diversity of Asian and Pacific Islander communities as part of Sesame Workshop's Coming Together initiative. A multi-Emmy, Producers Guild, and Peabody Award winner, Lehmann is currently an independent director, writer and producer. Lehmann received a BA from Colorado University, Boulder. He lives in New York City with his wife and two children.
Sal Perez – Executive Producer and Vice President, Sesame Street Productions

Sal Perez is the Executive Producer and Vice President for Sesame Street Productions, overseeing the creative direction and production teams for Sesame Street, The Not-Too-Late Show with Elmo, and all other content experiences across broadcast and digital platforms for the brand. He previously led studio and location production, live shows, and themed entertainment for international Sesame Street co-productions, as well as production for the Workshop's U.S. Social Impact projects. Perez received a BFA from the Tisch School of the Arts, NYU. He lives in Brooklyn with his family.
Mindy Fila – Coordinating Producer, Sesame Street

The winner of multiple Primetime and Daytime Emmy Awards, Mindy Fila is a Coordinating Producer who oversees the Sesame Street film department and is the Sesame Street creative lead on Sesame-related animated specials and formats within Sesame Street. Fila joined Sesame Workshop in 2001 and has contributed in many roles, including Production Secretary, Production Assistant, Control Room PA, and Associate Producer managing live-action/animated films and "Abby's Flying Fairy School" segments. Most recently, she was part of the producing team that created Elmo & Tango's Mysterious Mysteries. In addition to her production roles, Fila is a member of the Directors Guild of America and has served as Assistant Director and Stage Manager for Sesame Street episodes, community outreach projects and home videos. In 2010, she was elected to and served on the Eastern DGA council. In 2014, she joined the Producers Guild of America and has won multiple PGA Awards for Outstanding Children's Programming. She lives in New Jersey with her husband and two children.
Stephanie Longardo – Vice President, Production Management & Senior Producer, Sesame Street

Stephanie Longardo is a multiple Primetime and Daytime Emmy Award-winning Producer who is responsible for overseeing the Production Management Department for Sesame Street, The Not-Too-Late Show with Elmo, Sesame Workshop Social Impact projects, and all live-action digital content. Longardo began her career in television production in 1995 as a Production Accountant at MTV Networks, where she was responsible for projects such as MTV News, MTV's 1996 Choose or Lose campaign, and various other MTV/VH1 series and specials. In 1999, she joined Sesame Workshop as the Production Accountant for Sesame Street. She continued on in the finance department until 2007 when she crossed over and became Line Producer for Sesame Street. Longardo lives in Brooklyn and is a proud aunt to John-Paul, Alexa, and Thomas.
Karyn Leibovich – Senior Producer, Sesame Street and Talent Relations

Karyn Leibovich is an eight-time Emmy Award-winning producer. She plans pre-production and execution for Sesame Street, The Not-Too-Late Show with Elmo, and digital projects. Leibovich oversees all scheduling and DGA positions for Sesame Street, manages the talent company-wide, and serves as the liaison between all Sesame Workshop departments and talent including puppeteers, cast members, and celebrities. She started at Sesame Workshop in 2012 as an associate producer working on film and animation commissions. Prior to Sesame Workshop, Leibovich worked on The Oprah Winfrey Show in Chicago for six years, helping to pull off some of the most memorable moments on the show. She began there in 2005 in the research department, fact-checking scripts, researching, and pitching potential show and guest ideas. She then moved into production, where she pre-interviewed and booked show guests and wrote and edited insert scripts. Leibovich worked on The Oprah Winfrey Show until it came to an end in 2011. She prides herself on being a part of two iconic, long-running television shows. Leibovich is from Minneapolis, Minnesota but now calls New York home.
Autumn Zitani Stefano – Content Producer, Production/Curriculum & Content

Autumn Zitani Stefano is the Content Producer at Sesame Workshop, working in both the Production and Curriculum and Content departments. She has been with Sesame Workshop for over 15 years and is responsible for the development and implementation of Sesame Street's whole- child curriculum. Behind the scenes, Zitani reviews, creates, and integrates educational and developmentally appropriate content across Sesame Workshop's media platforms such as television, digital media, and social platforms. Zitani received her master's degree in Developmental Psychology from Teachers College, Columbia University.
Aimee Blackton – Senior Line Producer

Aimee Blackton is the PGA Award- and three-time Emmy Award-winning Senior Line Producer of Sesame Street. Blackton has been with the Workshop for 16 years. She began her tenure at Sesame Workshop a year after graduating Marist College, initially joining the Workshop as a Special Projects PA. She moved into Production Management where she became Production Manager, eventually progressing into her current role. As Senior Line Producer, Blackton oversees all major production logistics; conceptualizing and executing project budgets, managing equipment and crew, and facilitating interdepartmental communication to best help the Workshop achieve its creative goals within fluctuating constraints and parameters. Blackton is a member of the PGA and a former Treasurer of the CMA. In addition to her business acumen, Blackton is also a visual artist and has occasionally contributed crafts and illustrations for various Sesame projects. She is also the proud pet mom of unofficial studio chinchilla mascots Crockett and Tubbs and official home-office mascots Rascal and Wren.
Ken Scarborough – Head Writer, Sesame Street

Ken Scarborough is a longtime writer for children's television. Scarborough's head writing credits include Curious George, Martha Speaks, Pocoyo, Arthur, and If You Give a Mouse a Cookie. He served as a staff writer on NBC's Saturday Night Live and Head Writer of The Not-Too-Late Show with Elmo. As Head Writer for Sesame Street, Scarborough's responsibilities include generating storylines for episodes, revising and editing scripts, and developing new formats. He has received 12 Emmy Awards for his work.
Rosemarie T. Truglio – Senior Vice President of Curriculum and Content

Rosemarie T. Truglio, Ph.D. is the Senior Vice President of Curriculum and Content at Sesame Workshop. Dr. Truglio is responsible for the development of the interdisciplinary curriculum on which Sesame Street is based and oversees content development across platforms (e.g., television, publishing, toys, home video, and theme park activities). She also oversees the curriculum development for all new show production, including Bea's Block, Mecha Builders, Esme & Roy, Helpsters, and Ghostwriter. Previously, Dr. Truglio managed a global content team responsible for co-productions and content development across media platforms worldwide, including digital media. From 1997 to 2013, she oversaw all educational research pertaining to program development, which informed both production and creative decisions and strategies for enhancing the entertaining and educational components of linear and interactive content. Before joining Sesame Workshop in 1997, she was an Assistant Professor of Communication and Education at Teachers College, Columbia University. Dr. Truglio has written numerous articles in child and developmental psychology journals and presented her work at national and international conferences. Her most recent book is "Ready for School! A Parent's Guide to Playful Learning for Children Ages 2 to 5," published by Running Press (2019). She was co-editor of "G is for Growing: Thirty Years of Research on Children and Sesame Street" (2001) published by Lawrence Erlbaum Associates. Dr. Truglio has appeared on many network, cable, and radio programs including The Today Show, Good Morning America, CNN Town Halls, NPR's Life Kit for Parents, Morning Edition, and All Things Considered, and she has been interviewed by reporters from a variety of national newspapers and news agencies. Dr. Truglio serves on the advisory boards of Child Trends News Service, Playful Learning Landscapes Action Network, Read Alliance Advisory Council, and the University of Kansas Advisory Board for the College of Liberal Arts and Sciences. She previously served on the National Advisory Child Health and Human Development Council (NICHD), LEGO Foundation Advisory Board for the Research & Innovation Network, NSF REESE grant entitled Collaborative Research: Using Educational DVDs to Enhance Preschooler's STEM Education, PBS KIDS Next Generation Media, Children's Digital Media Center Advisory Board, and National Association for Media Literacy Education. Dr. Truglio received a Ph.D. in Developmental and Child Psychology from the University of Kansas, and a B.A in Psychology from Douglass College, Rutgers University. She received distinguished alumni awards from Douglass College (2005), University of Kansas (2013), Rutgers University (2014), University of Kansas Women's Hall of Fame (2015), and Teachers College Medal for Distinguished Service (2022).
Andrew Moriarty – Senior Digital Producer, Sesame Street

Andrew Moriarty is an Emmy-nominated writer and creative producer who oversees Sesame Street's script department and serves as the lead producer and Head Writer for Sesame Street's digital content. Moriarty contributes to the creative vision of Sesame Street by generating story ideas, reviewing scripts, working on set with directors and talent, and overseeing projects in post-production edits, sfx and mixing. Moriarty works from pre-production to delivery to create highly engaging and entertaining content true to Sesame Street's legacy helping monsters, grouches, and snuffleupaguses learn their ABCs and 123s. Moriarty is a SAG-AFTRA and WGA member who got his start at Sesame Workshop in 2009 as an intern. Since then, Moriarty has contributed in many different roles, including directing and puppeteering for the Muppets of Sesame Street. As a writer, Moriarty has written for Sesame Street, The Not-Too-Late Show with Elmo, Mecha Builders, the Sesame Street x HBO Respect Campaign featuring Game of Thrones and Westworld, and countless other digital scripts, parodies, and songs with lots of singing chickens. In addition, Moriarty has written for Give a Mouse a Cookie, Bubble Guppies, and Nature Cat.
Download Photos From Season 53
If you don't yet have access to the portal, contact us using the link below.