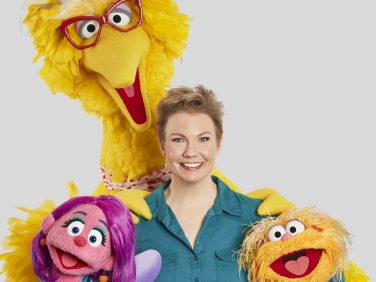 Jennifer Barnhart (Zoe)
Jennifer Barnhart first joined Sesame Street in Season 32. Since Season 46, she has been performing Zoe, originated by the legendary Fran Brill.
Jennifer Barnhart first joined Sesame Street in Season 32. Since Season 46, she has been performing Zoe, originated by the legendary Fran Brill.
She also plays Gladys the Cow, Mama Bear, Granny Bird, and Maggie Cadabby, and once did a turn as Grandma Snuffleupagus. Barnhart is truly honored to be one of the multicultural team of puppeteers who give voice and life to Raya, an international Sesame Street character whose focus is clean water, sanitation, and hygiene, as well as empowering girls and encouraging them to grow smarter, stronger, and kinder. In addition to her work on Sesame Street, Barnhart has worked on a host of other children's television programs, including Johnny and the Sprites, Bear in the Big Blue House, Oobi, The Book of Pooh, and Lomax: The Hound of Music. She originated the role of "Cleo" on the multiple Emmy Award-winning show Between the Lions. Jennifer also originated the role of shy, tech-savvy "Riley" for Julie's Greenroom, a Netflix co-production with Julie Andrews and The Jim Henson Company.
Other Jim Henson Company-related credits include a stint with the live theatrical improv show Puppet Up! at the Union Square Theatre, and a dual human/puppeteer role as "Ma Squirrel/Scatfish" in the stage musical Emmet Otter's Jugband Christmas at Goodspeed Opera House. Barnhart was part of the Original Broadway Company of the Tony Award-winning musical Avenue Q, and she remained with the show for its entire six-year run on Broadway. She is often called upon as a puppet consultant/coach for regional and university productions of the show, and she directed a production of it for Adirondack Theatre Festival. Some favorite 'human' roles include "Lady Macbeth," "Goneril" in King Lear, "Mistress Quickly" in The Merry Wives of Windsor, "Veronica" in God of Carnage, "Mrs. Cratchit" in A Christmas Carol (all at Alabama Shakespeare Festival) and "Officer Randy" in Superior Donuts at the Arden Theatre. Barnhart appeared as "Speaker of the House" in Season 5 of House of Cards. She has also been seen on As the World Turns, and in a few episodes of Law & Order: SVU – playing a puppeteer in one! Most recently, Jennifer made her cabaret debut at the Laurie Beechman Theatre with her one-woman show, "It's About Time!"
Barnhart has lent her voice to documentaries, children's audiobooks, and interactive educational apps, including work for Scholastic, Teachley, Tiggly, and Success for All. In 2018, she narrated her first full-length YA audiobook for Penguin Random House, The Adventures of a Girl Called Bicycle. She holds a BFA in Acting with a Concentration in Puppet Arts from the University of Connecticut, where she was named one of their Outstanding 40 Under 40 Alumni. Jennifer sits on the board of the Ballard Institute and Museum of Puppetry, a museum, performance space, and research center dedicated to preserving and promoting the art of puppetry.
Check out more on our talented cast and performers!