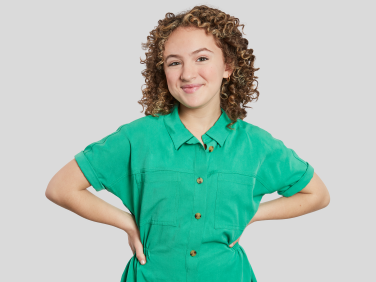 Violet Tinnirello — "Charlie"
Violet Tinnirello is an American actor, singer, and dancer from New York's Hudson Valley.
Violet Tinnirello is an American actor, singer, and dancer from New York's Hudson Valley who is known for her work as Charlie on Sesame Street. 
She is the recipient of the 2022 Young Entertainer Award – Best Recurring Young Actress in a Television Series for her work on Sesame Street. As a lifelong fan of all Jim Henson's work, it was a dream come true when Tinnirello was cast to play the first child cast member on Sesame Street in nearly 20 years.
She began her performance career at the age of four and has appeared in many commercials including Lunchables, Red Lobster, Stop & Shop, Holiday Inn, Nickelodeon, Lego, NBC's America's Got Talent and HAPPY! – the book and videos by Pharrell Williams. She voices the characters "Cappie" on Nick Jr's Wallykazam and "Penny" in the Nickelodeon short, The Thing About Babies. Tinnirello has appeared in short films including A Force for Good, which is about the universal power of compassion. She appears on Cyberchase on PBS as Alex and has been seen on Saturday Night Live multiple times (with Kristin Stewart, John Mullaney, Saoirse Ronan and more).
Tinnirello loves to perform on the live stage. Throughout the Broadway labs, workshops, and even the run at the iconic Paper Mill Playhouse in Millburn, New Jersey, Violet spent over two years working on Chasing Rainbows: The Road to Oz. She loved playing the role of Shirley Temple and showcasing her tap-dancing skills – her favorite dance style. She also sang and danced in the cabaret style shows both at The Laurie Beechman Theater and Stage 72 at The Triad. In a tribute to Broadway's return, Violet joined a cast of Broadway kids in "We're Gonna Come Back", directed by Janine Molinari.
In the spring of 2020, Tinnirello was cast in a new made-for-TV-movie by Almost Never Films, directed by Danny Roth. Violet and the company traveled to Oklahoma where A Country Romance became the first live action production to film in North America since the pandemic halted production. Violet also appeared as Charlie in "The Power of We: A Sesame Street Special" released on PBS and HBO Max in 2020.
Tinnirello can be seen in Season 4 of What We Do in the Shadows on Hulu and FX and has recently been a guest on Conversations Radio, a podcast with Mike Dowler.
When she is not performing, Tinnirello enjoys drawing, playing piano and ukulele, sewing, knitting, crocheting, roller skating, baton twirling, bike riding, swimming, and spending time with her mom and dad. Violet is represented by Bonnie Shumofsky Bloom at Stewart Talent.
Check out more on our talented cast and performers!