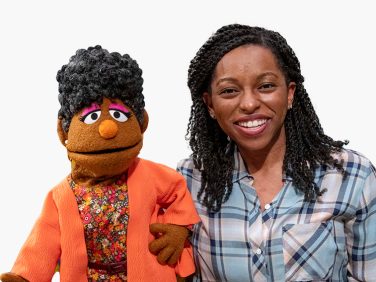 Jimmica Collins (Grandma Nell)
Jimmica Collins is an actor and performer with a love for all things children's entertainment.
Jimmica Collins is an actor and performer with a love for all things children's entertainment.
She grew up in a small town in Georgia, and although she always wanted to be a performer, she never thought that she would one day find her way to Sesame Street as a new Muppet Performer! Collins graduated from New York University's Tisch School of the Arts with a B.F.A in Theatre and a minor in Child and Adolescent Mental Health Studies. At NYU, she studied at the Experimental Theater Wing, learning performance techniques from many esteemed professors— including having the life-changing opportunity to study abroad in Cuba and South Africa! Collins has been a performer in the Atlanta area for the past nine years. After being cast in the 2017 production of Mother Goose at the Center for Puppetry Arts, Collins quickly developed a passion for puppetry. She performed numerous roles at the Center for Puppetry Arts in Stellaluna, Harold and the Purple Crayon, Space! The Musical, Aesop's Fables among many others. She also worked in several departments as a Teaching Artist, Assistant Director, and most recently as the Associate Producer.
Collins performed puppetry at The Kennedy Center in the 2019 production of Peter & Friends with Teller Productions and the National Symphony Orchestra. In 2021, Collins had the most amazing opportunities to dive into the world of television puppetry. She was invited to Sesame Workshop and trained with Matt Vogel, Marty Robinson, and Peter Linz. She also completed the 2021 Jim Henson Company Puppeteer Training Initiative in Los Angeles, California under the instruction of Brian Henson, Kevin Clash, Donna Kimball, Danielle Gaither, and Patrick Bristow. Collins went on to perform many zany characters in Brian Henson's Puppet Up! Uncensored improv show.
Other TV puppetry credits include Helpsters (Apple TV+), Feel Your Best Self (UCONN/The Ballard Institute of Puppetry), Wondermore (InTouch Ministries) His History (All Ages Productions), and she is excited to be a new puppeteer on Season 2 of Donkey Hodie (PBS Kids)! Collins is a 2019 Princess Grace Honorarium Award Recipient for Puppetry Arts, and a 2018 Suzi Bass Award Winner for her performance in the Miraculous Journey of Edward Tulane at Synchronicity Theatre. Collins is eager to tell heartfelt stories for children through the magic of Sesame Workshop, and she can't wait for y'all to meet the newest grandma on the Street, Grandma Nell!!!
Check out more on our talented cast and performers!