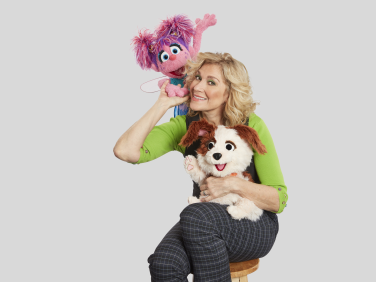 Leslie Carrara-Rudolph (Abby Cadabby)
Leslie Carrara-Rudolph is a multi-faceted performer who has been nominated for five Emmy Awards for her work on Sesame Street as Abby Cadabby.
Leslie Carrara-Rudolph is a multi-faceted performer who has been nominated for five Emmy Awards for her work on Sesame Street as Abby Cadabby.
Carrara-Rudolph has a B.A. in Child Development through the Arts from San Francisco State University. Carrara-Rudolph's television work spans a variety of acclaimed children's television programs including Disney's Johnny & the Sprites ("Ginger Sprite"), Nickelodeon's Wubbulous World of Dr. Seuss ("Morton," "Little Cat A"), The Learning Channel's Animal Jam ("Edi"), Nickelodeon's hit cartoon series T.U.F.F. Puppy ("Peg Puppy"), The Electric Company ("Wolf Man," "Mummy," "Bat," and "Aunt Hildegard"), Life in Pieces ("Stuffed Monkey"), ABC's Muppets Tonight, the animated PBS series Nature Cat (various), and Splash and Bubbles ("Bubbles," "Puffy," "Flo"), for which she received an ANNIE Award for voice acting. She does background "walla" for The Simpsons and is the official voice match for Disney's character "Yzma" from The Emperor's New Groove.
Carrara-Rudolph has appeared in several outreach videos for Sesame Workshop, including as Prairie Dawn's mother in Sesame Beginnings and as Jesse in When Families Grieve for Sesame Street in Military Families. She performs Lily and Rose the Dog for Sesame Street in Communities initiatives around family homelessness and autism.
Movie credits include Forgetting Sarah Marshall, Men in Black II and The Muppets. Some of Carrara-Rudolph's stage credits include Sweeney Todd ("Beggar Woman"), Little Shop of Horrors ("Audrey"), Parallel Lives, and The Search for Signs of Intelligent Life in the Universe. As a comedian, she performed stand-up at Caroline's Comedy Club in New York and performed with the Jim Henson puppet improv group at the Aspen Comedy Festival, the Australian Comedy Festival and off-Broadway at the Union Square Theater. She designed, created, and starred in an original, live, interactive musical stage show for the Walt Disney Company called The Wahoo Wagon, which was performed at Hollywood's El Capitan Theater. Leslie also wrote an original musical called Wake up Your Weird, designed to fire up the imaginations of the young and young at heart. The show received the 2009 Jim Henson Foundation Grant and an UNIMA Citation of Excellence (under the name Entertaining a Thought).
Carrara-Rudolph is an accomplished filmmaker as well. Two of her short films, "Milano Lolly" and "Lolly's Candy Dance," were featured in Heather Henson's "Hand Made Puppet Dreams" Festival and "Milano Lolly" also made it into the New York Food Film Festival. She has been the guest artist twice at the Ojai playwright conference and teaches character development at the O'Neill National Puppetry Conference. She was the 2011 guest artist at the O'Neill Theater. Leslie currently tours with her stage show "The Oz in You," which she performed for Google as guest speaker. Her recent cabarets, "What Just Happened?" and "Moonlight Madness," have been nominated for a Manhattan Association of Cabarets and Clubs (MAC) Award. Both can still be seen in New York. She has been recognized by The Laurie Beechman Theater with a residency, as well, where she performs a monthly show called "Bizarre Brunch."
Outside of cabaret and radio, Carrara-Rudolph hosts the podcast "Ear Bud." "Ear Bud" is the only female-driven intergenerational podcast for families. Giving the podcast a shout-out, NPR recently played one of their episodes. Her original pieces often include beloved sidekicks "Lolly Lardpop" and "Granny Dot." She is part of the Kids Comic Con team (KCC) founded to help kids celebrate their creative talents. You can listen to Leslie's characters on iTunes in a show she co-created with Jamie Donmoyer called "Lolly's Radio Playdate," and see her pipe cleaner creations on YouTube channel "Lolly's Twisted Tales." In her spare time, Leslie illustrates children's books, teaches workshops and creates her own brand of magic and joy. You can find out more about Carrara-Rudolph at www.lesliecarrararudolph.com.
Check out more on our talented cast and performers!