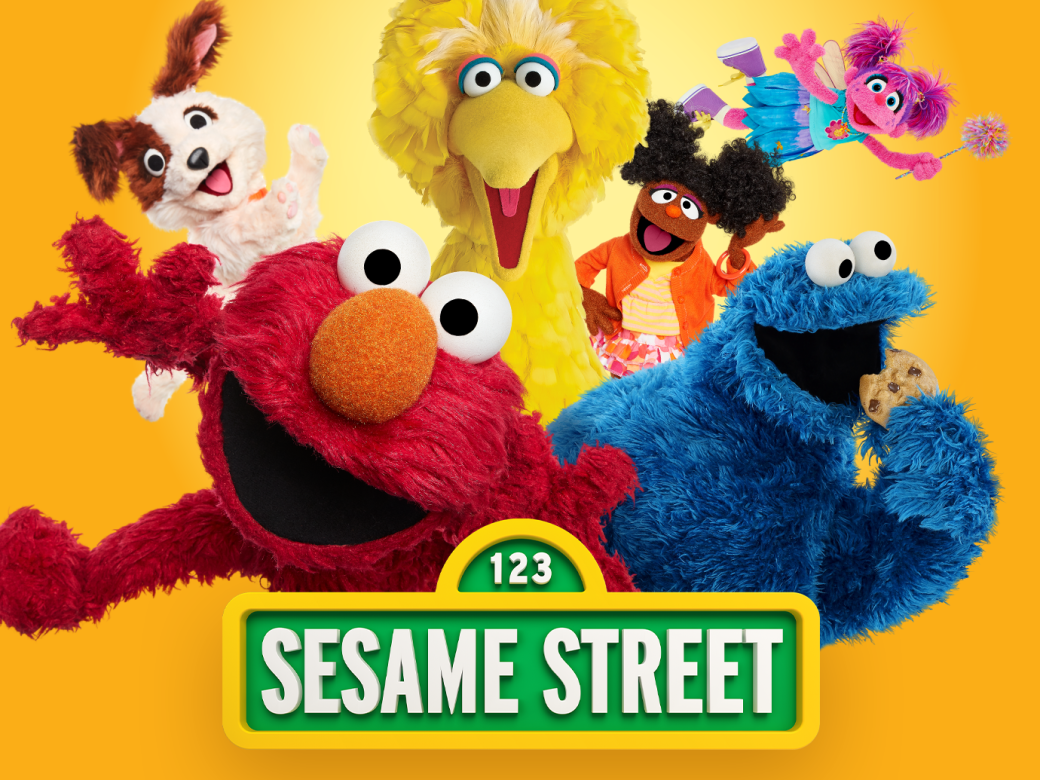 Sesame Street Season 54
Celebrating Me, Celebrating You, Celebrating Us

Press Release
Curriculum in 54th Season Focuses on Helping Children Develop a Healthy Sense of Self and Belonging.
Celebrity Guests Include Quinta Brunson, Brandi Carlile, Eugene Cordero, Ariana DeBose, Dan Levy, Kal Penn
(October 17, 2023 – New York, N.Y.) – Sesame Workshop, the global impact nonprofit behind decades of award-winning engaging educational media content, today announced Sesame Street's 54th season will debut on Thursday, November 9 on Max. Episodes of the iconic children's series, 35 in all, will release every Thursday. The season will stream on PBS KIDS in Fall 2024.
What's New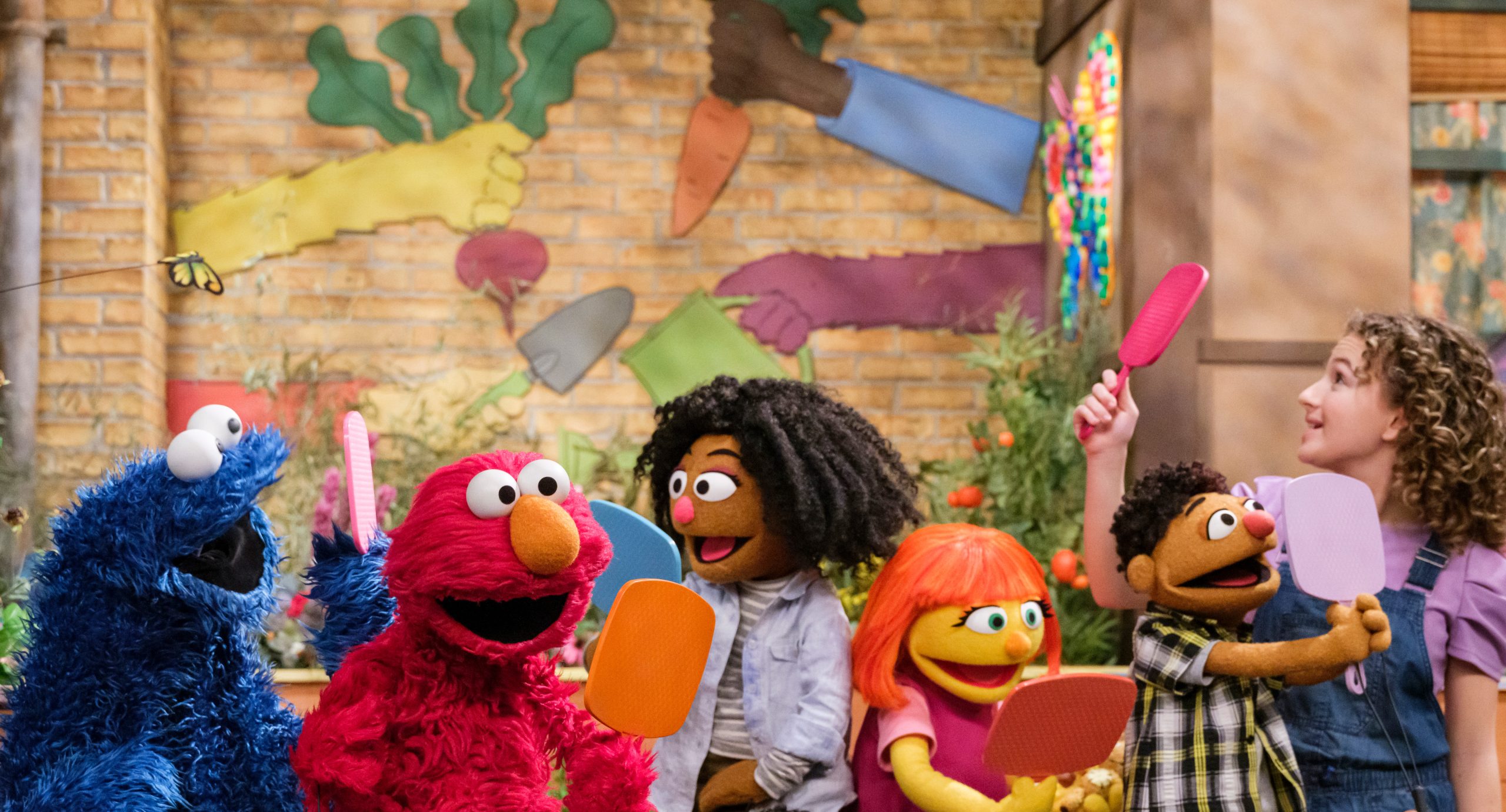 Season 54 Curriculum
Sesame Street's Season 54 curriculum continues to focus on helping children grow up with a healthy sense of self and belonging and do so in full celebration of their culture and our diverse world. This season, your Sesame Street friends model how they celebrate the differences and embrace the similarities in their neighborhood. Through fun, uplifting stories, children will learn to feel confident, proud of who they are, and joy in connecting with and learning about others.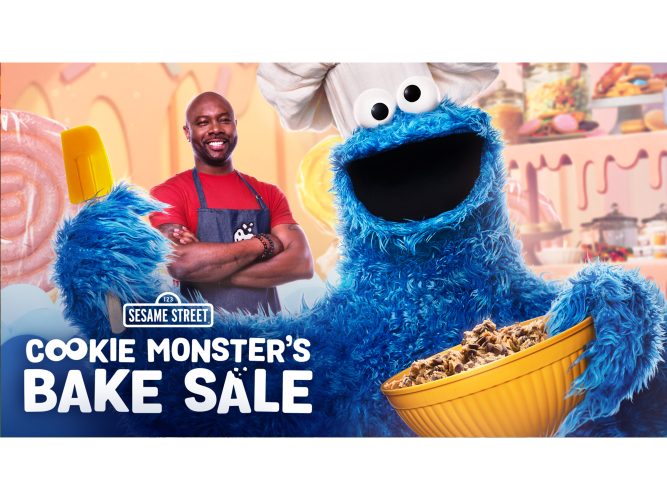 Cookie Monster's Bake Sale
.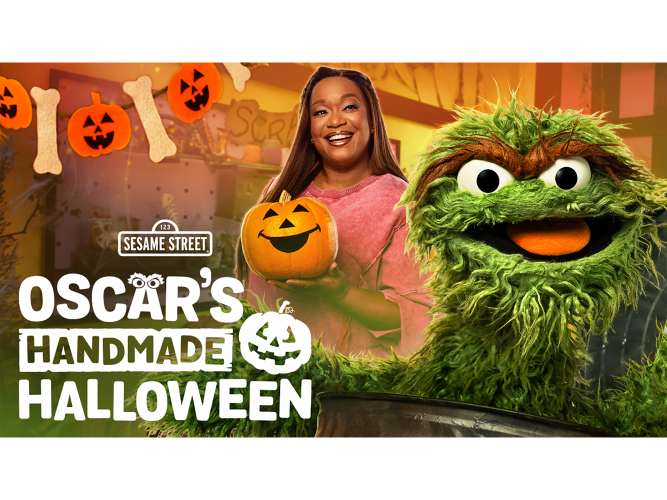 Oscar's Handmade Halloween
.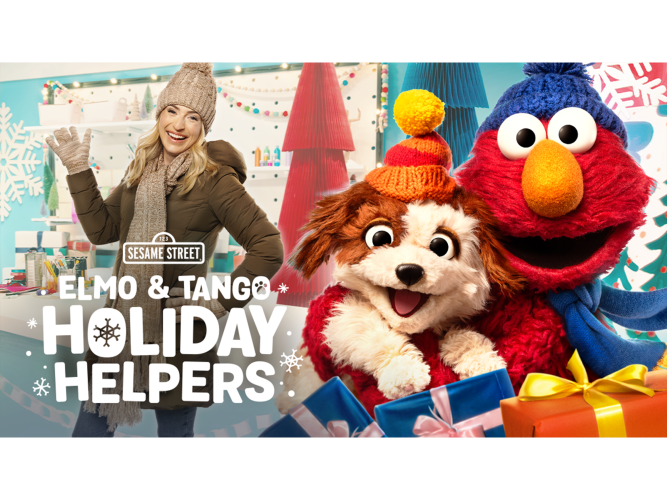 Sesame Street's Elmo, Tango, Cookie Monster, and Oscar the Grouch leave the neighborhood on a mission to help others in three brand new specials focusing on giving back to the community. With celebrity friends Food Network's Eddie Jackson and Sunny Anderson, and HGTV's Jasmine Roth, each 22-minute unscripted special features the Sesame Street crew teaming up and then creating fun and surprising solutions to everyday obstacles. Along with Cookie Monster, Oscar the Grouch, and Elmo and Tango, Grover, Bert, Abby Cadabby, Gabrielle, and more join in on the fun. The specials air on Max.
Cookie Monster's Bake Sale (premiered Aug. 10): Cookie Monster and Celebrity Chef Eddie Jackson are baking for a cause to help raise money for a sports team needing new uniforms. They lead a sweet baking competition where contestants make creative cupcake cakes for their bake sale. Will their treats be a yummy success and raise enough dough for the uniforms? One thing is for sure – there will be lots of tasty cooking competition and fun.
Oscar's Handmade Halloween (premiered Oct. 5): Oscar the Grouch and Food Network star Sunny Anderson are turning trash into treasure to help a group of shelter dogs find their new FURever homes by putting on a DIY dog Halloween costume parade. With the help of a family who recently adopted a shelter dog, they create unique dog costumes by reusing household items and from Oscar's trash. Culminating with a huge doggie Halloween costume parade, this special is sure to be a treat.

Elmo and Tango Holiday Helpers (premieres Dec. 7): Elmo, Tango, and designer, builder and HGTV star Jasmine Roth are spreading holiday cheer while showing the importance of teamwork and kindness. They will surprise a deserving teacher and her students with a classroom makeover, giving the room much needed upgrades. It is a can't miss transformation and remodeling reveal.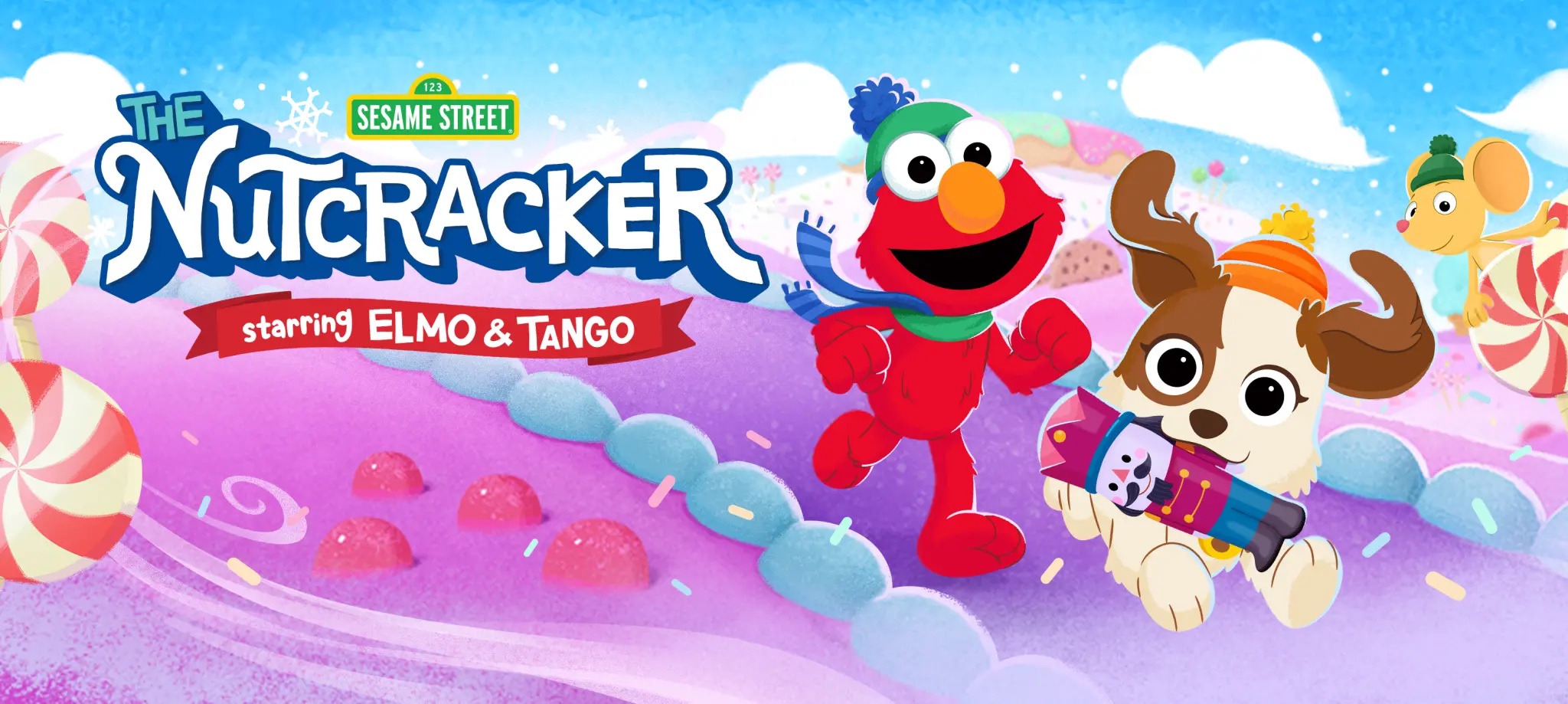 Season 54 Special: Sesame Street The Nutcracker
The classic story of The Nutcracker is retold Sesame Street-style in an animated holiday special that follows Elmo and his puppy Tango on a fantastical adventure filled with music, friends, and a talking Tango. This 30-minute festive feature is a celebration of the greatest gift of all: friendship.
The holidays are here on Sesame Street, and Elmo is determined to make it the best Christmas for Tango. At Elmo's family holiday party, friends and family sing about how wonderful this holiday will be. The Count arrives bearing gifts for everyone, including a wind-up rocket ship for Elmo and a cute, nutcracker-shaped doggy toy for Tango. After a fun-filled night, Elmo and Tango fall asleep listening to Elmo's dad, Louie, read them the story of The Nutcracker. Elmo drifts into a dream sequence where Tango can speak, and that's when the adventure begins!
Sesame Street The Nutcracker: Starring Elmo and Tango, an official special of Sesame Street's 54th season, will air December 2 on PBS Kids and will also be available on Max.

Sesame Street Nature Explorers
Sesame Street's BFFs (best furry friends) duo Elmo and Tango, explore the unknown world both on and off the Street in the new animated series Sesame Street Nature Explorers. The Furry Friends Forever fun continues with brand new locations, new friendships, and lots of new facts to learn. Elmo and Tango team up with their adventurous pal Gabriella and together they form the Nature Explorers. With the help of certified fact checker Grandma Nell, the curious team sniffs out new discoveries, asks questions, and learns how to take care of the environment around them. From bugs to plants to squirrels, there is always something new to explore just around the corner.
Select Episode Descriptions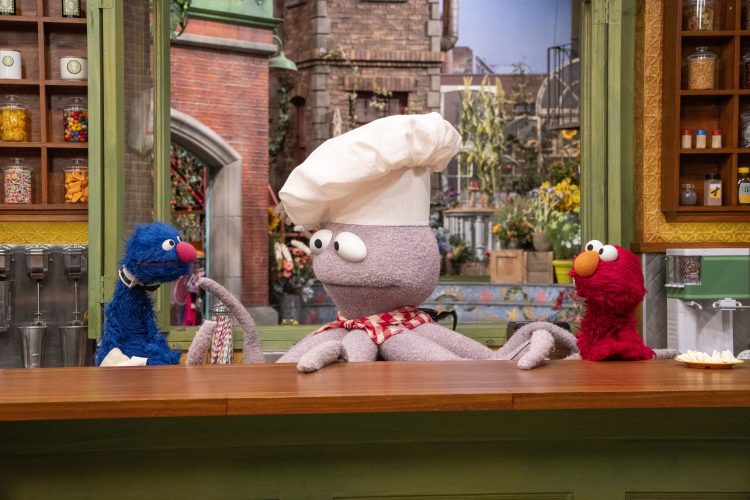 5402 The Oct-Dough-Pus
November 16, 2023 – Grover and his friend, the octopus, are helping at Hooper's Store but the octopus can only cook bread. With help from his friends, Grover fulfills his customer's orders while learning that families all over the world make bread in different kinds of ways, shapes, and sizes!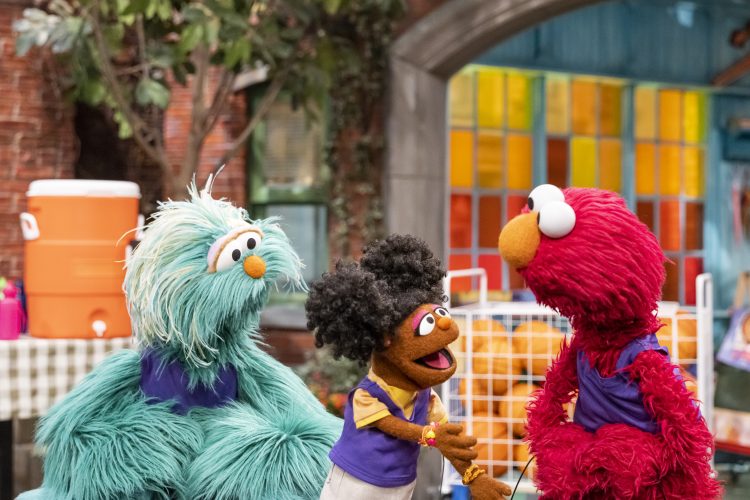 5403 Proud of My Name
November 23, 2023 – Elmo, Gabrielle, and Rosita join a basketball team! When Coach Jones starts calling Rosita, "Rosie," she feels frustrated. Elmo and Gabrielle encourage her to tell the coach that her name is "Rosita." Rosita is proud of her name as names are a big part of who we are.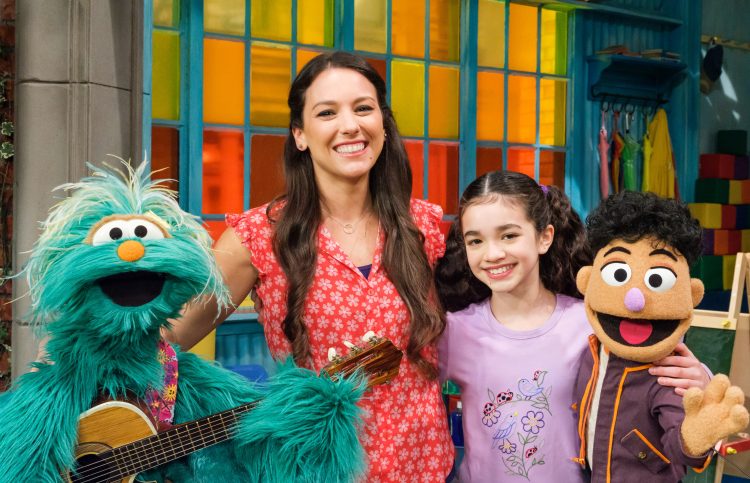 5411 Sesame Street Song Day
January 18, 2024 – It's Song Day on Sesame Street. Mia learns how to sing "Heads, Shoulders, Knees, and Toes" in Spanish with help from her friends Nina, Rosita, and Lalo. She learns that she's special just the way she is, no matter how much or little Spanish she speaks.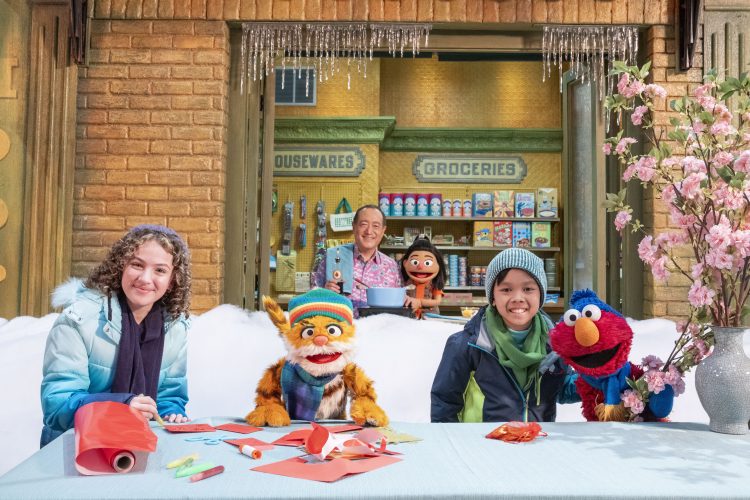 5414 Sesame Street's Lunar New Year Celebration
February 8, 2024 – Lily, Qui, and Ji-Young are celebrating Lunar New Year on Sesame Street. They share with their friends Elmo, Charlie, Alan, and Grover how their families celebrate the same holiday, doing some things the same and different in a lot of other ways, too.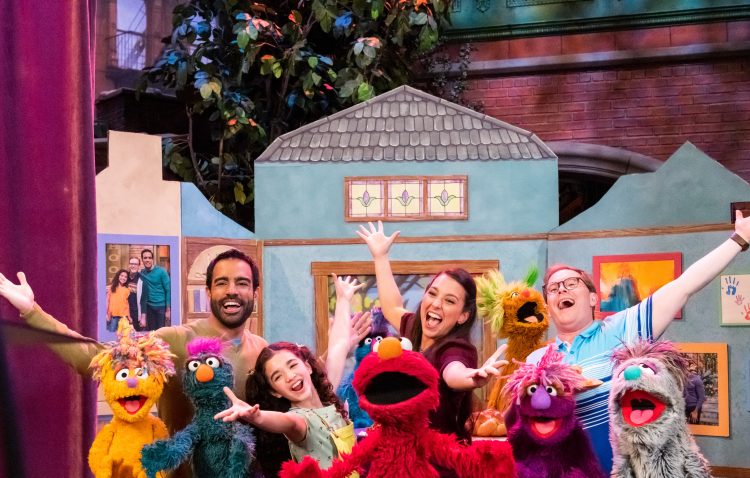 5420 Our Family Musical
March 21, 2024 – Mia writes a musical about her family for a school project. She sings about how special it is to grow up in a family with two different cultures – her dad's family is Jewish and her Papi's family is Cuban – and bringing those two cultures together. Families can be made of different cultures and there's so much to share!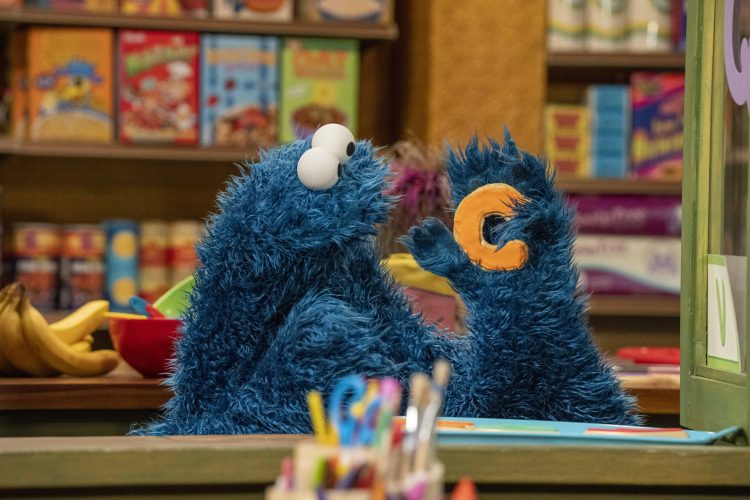 5423 The Sign Language ABC'S
April 11, 2024 – It's Alphabet Day on Sesame Street. Cookie Monster is making letter-shaped cookies and there are decorations all around! Elmo meets Charlie's friend Mathis and learns that he communicates using American Sign Language (ASL). When Elmo learns that sign language has an alphabet too, he gets a great idea for his performance – while Elmo sings the ABC song, Mathis signs the alphabet. What a great way to celebrate Alphabet Day!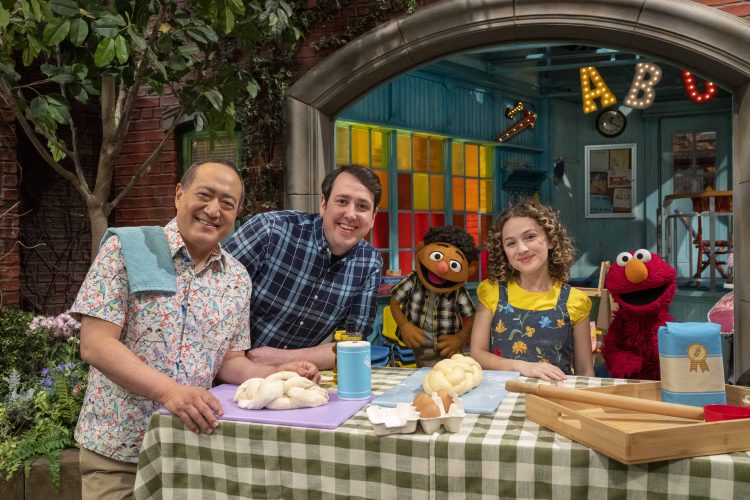 5425 Shabbat Shalom!
April 25, 2024 – After a water leak in their apartment, Charlie and her family prepare their special Shabbat dinner in the arbor with their friends Elmo, Alan, Big Bird, and Tamir. They learn how to make challah bread, set a traditional Shabbat table, and say the blessings in Hebrew to welcome Shabbat.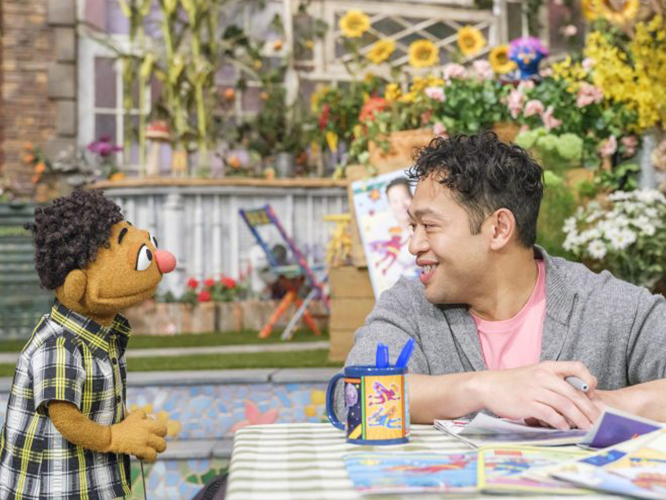 5428 Tamir Learns Tagalog
May 16, 2024 – Celebrity guest: Eugene Cordero TJ is excited to meet his favorite comic book artist Bobby Manalo! To make him feel welcomed on Sesame Street, TJ makes him a comic book gift with the help of his friend, Tamir. While working on the comic book together, Tamir also learns to say a few words in Tagalog like hello and thank you, to say something to Bobby Manalo, whose family is Filipino, to make him feel welcome too.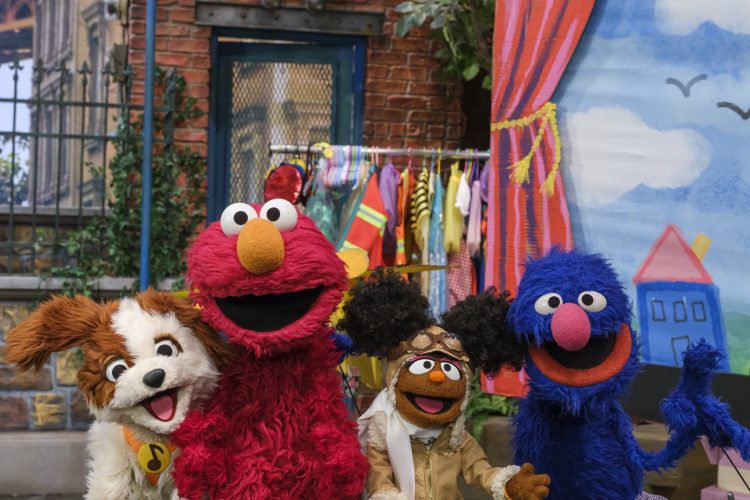 5429 Brave Bessie by Brave Gabrielle
May 23, 2024 – Gabrielle puts on a show to tell her friends about Bessie Coleman, the first African American and Native American woman to fly an airplane. It didn't matter what she looked like. Bessie had courage and didn't give up learning how to fly. Thanks to Gabrielle's show, Elmo and Grover learn that just because they may be the first person to do something doesn't mean they can't do it. Elmo doesn't give up and decides to become the first monster-cook-teacher-cooking teacher.
Celebrity Airdates
Celebrity Airdates
| Airdate | Show | Episode | Celebrity |
| --- | --- | --- | --- |
| 11/09/2023 | 5401 | Can They Be Friends | Ariana Debose |
| 01/04/2024 | 5409 | Are You Ready for School? | Quinta Brunson |
| 03/07/2024 | 5418 | Tamir's Water Works | Brandi Carlile |
| 03/14/2024 | 5419 | Bert and Ernie's Opposite Day | Kal Penn |
| 05/16/2024 | 5428 | Tamir Learns Tagalog | Eugene Cordero |
| 6/13/2024 | 5432 | Roar, it's a Dinosaur | Dan Levy |
Behind the Scenes
Kay Wilson Stallings – Executive Producer and EVP, Chief Creative Development and Production Officer

Kay Wilson Stallings serves as Executive Producer and EVP, Chief Creative Development and Production Officer for Sesame Workshop.

She oversees Sesame Street and all Sesame Workshop shows as well as the development of new programs and content across existing and emerging platforms. She also leads creative for domestic production and partners with global teams to enrich and expand Sesame Workshop's presence around the world.

Wilson Stallings greatly expanded the Workshop's impact through animation with specials including The Monster at the End of This Story and Furry Friends Forever: Elmo Gets a Puppy as well as new shows such as Mecha Builders, the first CGI-animated spinoff of Sesame Street; the preschool comedy series Bea's Block; and newly animated literature-based miniseries, E.B. White's classic Charlotte's Web, currently in production. She was most recently the SVP of Creative Development at Sesame Workshop, where she developed the first new Sesame Workshop shows in nearly a decade: the critically acclaimed and award-winning Esme & Roy, Helpsters, and Ghostwriter. Wilson Stallings also created Sesame Studios, a YouTube channel hosting a broad mix of original stories, songs, and other Sesame-quality kids' content.

In 2017, Wilson Stallings created and directed the first annual Sesame Workshop Writers' Room, an intensive six-week competitive fellowship program dedicated to discovering, nurturing, and increasing the presence of writers with diverse voices in children's media. Held at Sesame Workshop's New York City office, participants come from across the country to meet weekly with industry writers, producers, agents, and executives, with two winners each year offered creative development deals. Upon completing the program, many participants find staff positions on kids' series for production companies like Netflix, DreamWorks, Nickelodeon, and more.

Prior to joining Sesame Workshop, Wilson Stallings was Senior Vice President of Production and Development at Nick Jr., Nickelodeon's preschool programming arm. In her 16 years with the company, she oversaw development of original series and co-productions, including pre-buys, acquisitions, and the global shorts program. Wilson Stallings developed and helped launch more than 20 series while at Nickelodeon, including Wonder Pets, Yo Gabba Gabba!, Fresh Beat Band, Shimmer and Shine, Blaze and the Monster Machines, Wallykazam, and Wow! Wow! Wubbzy!

Wilson Stallings holds a Master's degree from the University of Illinois and a Bachelor's degree from MacMurray College. She lives in Brooklyn with her husband and son.
Sal Perez – Executive Producer and Vice President, Sesame Street Productions

Sal Perez is the Executive Producer and Vice President for Sesame Street Productions, overseeing the creative direction and production teams for Sesame Street, YouTube Mindfulness specials, lifestyle specials, and all other content experiences across broadcast and digital platforms for the brand. He also oversaw The Not Too Late Show with Elmo. He previously led studio and location production, live shows, and themed entertainment for international Sesame Street co-productions, as well as production for the Workshop's U.S. Social Impact projects. An Emmy Award-winning producer, Perez received a BFA from the Tisch School of the Arts, NYU. He lives in Brooklyn with his family.
Mindy Fila – Senior Producer, Sesame Street

The winner of multiple Primetime and Daytime Emmy Awards, Mindy Fila is a Senior Producer who oversees the Sesame Street film department and is the Sesame Street creative lead on Sesame-related animated specials and formats within Sesame Street. Fila joined Sesame Workshop in 2001 and has contributed in many roles, including Production Secretary, Production Assistant, Control Room PA, and Associate Producer managing live-action/animated films and "Abby's Flying Fairy School" segments. Most recently, she was part of the producing team that created Nature Explores with Elmo, Gabrielle & Tango. In addition to her production roles, Fila is a member of the Directors Guild of America and has served as Assistant Director and Stage Manager for Sesame Street episodes, community outreach projects and home videos. In 2010, she was elected to and served on the Eastern DGA council. In 2014, she joined the Producers Guild of America and has won multiple PGA Awards for Outstanding Children's Programming. She lives in New Jersey with her husband and two children.
Stephanie Longardo – Vice President, Production Management & Senior Producer

Stephanie Longardo is a multiple Primetime and Daytime Emmy Award-winning Producer who is responsible for overseeing the Production Management Department for Sesame Street, Helpsters, The Not-Too-Late Show with Elmo, Sesame Street Live-Action Specials, Sesame Workshop Social Impact projects, and all live-action digital content. Longardo began her career in television production in 1995 as a Production Accountant at MTV Networks, where she was responsible for projects such as MTV News, MTV's 1996 Choose or Lose campaign, and various other MTV/VH1 series and specials. She started her career at Sesame Workshop as the Production Accountant for Sesame Street and continued working in the finance department until 2007 when she crossed over and became Line Producer for Sesame Street. Longardo lives in Brooklyn and is a proud aunt to John-Paul, Alexa, and Thomas.
Karyn Leibovich – Senior Producer, Sesame Street and Talent Relations

Karyn Leibovich is a nine-time Emmy Award-winning producer. She plans pre-production and execution for Sesame Street, The Not-Too-Late Show with Elmo, and digital projects. Leibovich oversees all scheduling and DGA positions for Sesame Street, manages the talent company-wide, and serves as the liaison between all Sesame Workshop departments and talent including puppeteers, cast members, and celebrities. She started at Sesame Workshop in 2012 as an associate producer working on film and animation commissions. Prior to Sesame Workshop, Leibovich worked on The Oprah Winfrey Show in Chicago for six years, helping to pull off some of the most memorable moments on the show. She began there in 2005 in the research department, fact-checking scripts, researching, and pitching potential show and guest ideas. She then moved into production, where she pre-interviewed and booked show guests and wrote and edited insert scripts. Leibovich worked on The Oprah Winfrey Show until it came to an end in 2011. She prides herself on being a part of two iconic, long-running television shows. Leibovich is from Minneapolis, Minnesota but now calls New York home.
Autumn Zitani Stefano – Senior Producer, Production/Curriculum & Content

Autumn Zitani is a Senior Producer at Sesame Workshop, working in both the Production and Curriculum and Content Departments. She has been with Sesame Workshop for 20 years and is responsible for executing the overall creative direction of Sesame Street, as well as managing the development and implementation of Sesame Street's whole child curriculum.  Behind the scenes, Autumn reviews, creates, and integrates educational and developmentally appropriate content across Sesame Workshop's media platforms such as television, digital media, and social platforms. Autumn received her master's degree in Developmental Psychology from Teachers College, Columbia University.
Aimee Blackton – Senior Line Producer

Aimee Blackton is the PGA Award- and three-time Emmy Award-winning Senior Line Producer of Sesame Street. Blackton has been with the Workshop for 18 years. She began her tenure at Sesame Workshop a year after graduating Marist College, initially joining the Workshop as a Special Projects PA. She moved into Production Management where she became Production Manager, eventually progressing into her current role. As Senior Line Producer, Blackton oversees all major production logistics; conceptualizing and executing project budgets, managing equipment and crew, and facilitating interdepartmental communication to best help the Workshop achieve its creative goals within fluctuating constraints and parameters. Blackton is a member of the PGA and a former Treasurer of the CMA. In addition to her business acumen, Blackton is also a visual artist and has occasionally contributed crafts and illustrations for various Sesame projects. She is also the proud pet mom of unofficial studio chinchilla mascots Crockett and Tubbs and official home-office mascots Rascal and Wren.
Ken Scarborough – Head Writer, Sesame Street

Ken Scarborough has been Head Writer of Sesame Street since Season 47.  Scarborough's previous head writing credits include Doug, Arthur, Curious George, Martha Speaks, Pocoyo, and If You Give a Mouse a Cookie. He served as a staff writer on NBC's Saturday Night Live and Head Writer and Executive Producer of The Not-Too-Late Show with Elmo. He has received 14 Emmy Awards for his work.
Rosemarie T. Truglio – Senior Vice President of Curriculum and Content

Rosemarie T. Truglio, Ph.D. is the Senior Vice President of Curriculum and Content at Sesame Workshop. Dr. Truglio is responsible for the development of the interdisciplinary curriculum on which Sesame Street is based and oversees content development across platforms (e.g., television, publishing, toys, home video, and theme park activities). She also oversees the curriculum development for all new show production, including Bea's Block, Mecha Builders, Esme & Roy, Helpsters, and Ghostwriter.

Previously, Dr. Truglio managed a global content team responsible for co-productions and content development across media platforms worldwide, including digital media. From 1997 to 2013, she oversaw all educational research pertaining to program development, which informed both production and creative decisions and strategies for enhancing the entertaining and educational components of linear and interactive content. Before joining Sesame Workshop in 1997, she was an Assistant Professor of Communication and Education at Teachers College, Columbia University.

Dr. Truglio has written numerous articles in child and developmental psychology journals and presented her work at national and international conferences. Her most recent book is "Ready for School! A Parent's Guide to Playful Learning for Children Ages 2 to 5," published by Running Press (2019). She was co-editor of "G is for Growing: Thirty Years of Research on Children and Sesame Street" (2001) published by Lawrence Erlbaum Associates. Dr. Truglio has appeared on many network, cable, and radio programs including The Today Show, Good Morning America, CNN Town Halls, NPR's Life Kit for Parents, Morning Edition, and All Things Considered, and she has been interviewed by reporters from a variety of national newspapers and news agencies.

Dr. Truglio serves on the advisory boards of Child Trends News Service, Playful Learning Landscapes Action Network, Read Alliance Advisory Council, and the University of Kansas Advisory Board for the College of Liberal Arts and Sciences. She previously served on the National Advisory Child Health and Human Development Council (NICHD), LEGO Foundation Advisory Board for the Research & Innovation Network, NSF REESE grant entitled Collaborative Research: Using Educational DVDs to Enhance Preschooler's STEM Education, PBS KIDS Next Generation Media, Children's Digital Media Center Advisory Board, and National Association for Media Literacy Education.

Dr. Truglio received a Ph.D. in Developmental and Child Psychology from the University of Kansas, and a B.A in Psychology from Douglass College, Rutgers University. She received distinguished alumni awards from Douglass College (2005), University of Kansas (2013), Rutgers University (2014), University of Kansas Women's Hall of Fame (2015), and Teachers College Medal for Distinguished Service (2022).
Andrew Moriarty – Coordinating Producer, Sesame Street

Andrew Moriarty is an Emmy winning writer and creative producer who oversees Sesame Street's script department and serves as the lead producer and Head Writer for Sesame Street's digital content. Moriarty contributes to the creative vision of Sesame Street by generating story ideas, reviewing scripts, working on set with directors and talent, and overseeing projects in post-production. Moriarty works from pre-production to delivery to create highly engaging and entertaining content true to Sesame Street's legacy helping monsters, grouches, and snuffleupaguses learn their ABCs and 123s. Moriarty is a WGA, PGA and SAG-AFTRA member who got his start at Sesame Workshop in 2009 as an intern. Since then, Moriarty has contributed in many different roles including directing and puppeteering.

As a writer, Moriarty has written for Sesame Street, The Not-Too-Late Show with Elmo, Mecha Builders, the Sesame Street x HBO Respect Campaign featuring Game of Thrones and Westworld, and countless other digital scripts, parodies, and songs with lots of singing chickens. In addition, Moriarty has written for Give a Mouse a Cookie, Bubble Guppies, Donkey Hodie  and Nature Cat.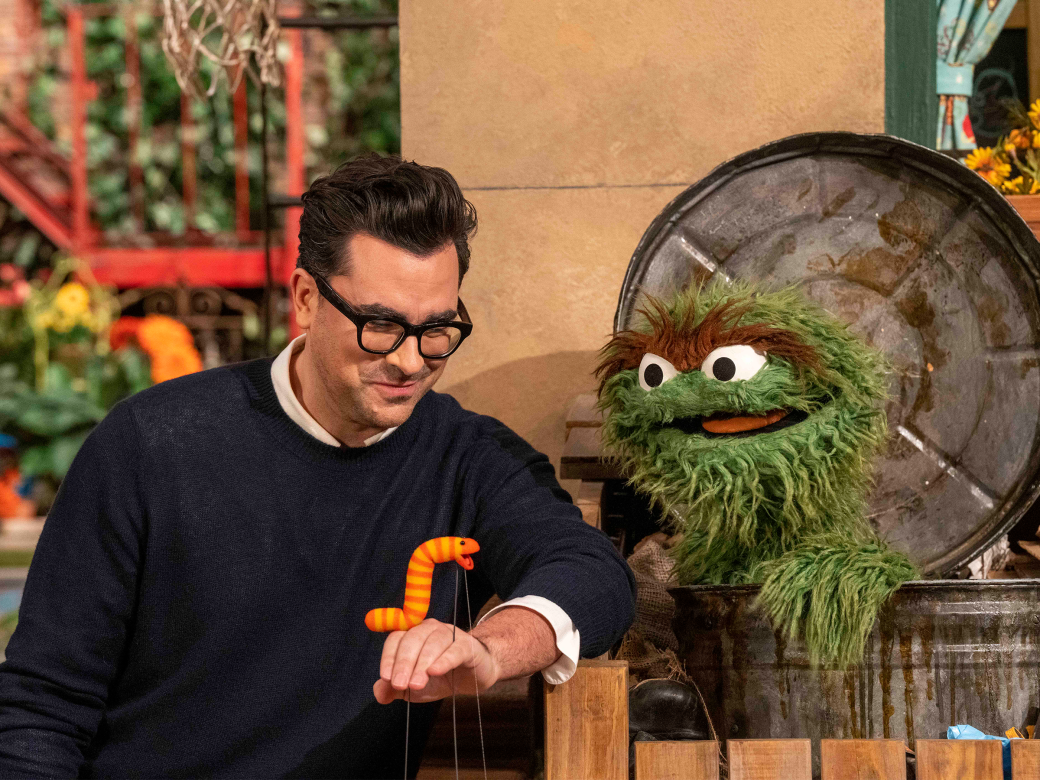 Download Photos From Season 54
If you don't yet have access to the portal, contact us using the link below.