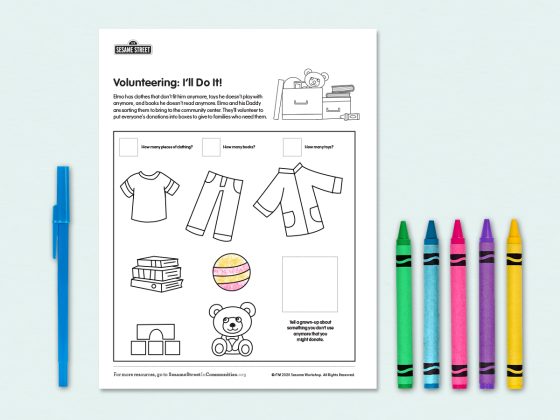 Volunteering: I'll Do It!
A printable page about volunteering.
Print this page and help children complete it. Talk together about a way you might want to help your community or the world. You might think of a problem in your community or the larger world that needs fixing, and decide on something you can do about it. It can be a problem your own family or community is having—no matter what, everyone can give help and everyone can receive help. For instance:
Many people do not have enough food: Donate extra food to a food pantry or soup kitchen.
Many people do not have permanent homes: Pack "care kits" and bring them to a homeless shelter. Use self-sealing bags and include items like lip balm, single-serving snacks, wet wipes, toothbrush and toothpaste, socks, bottled water, a dollar bill, a hairbrush, and so on.
Many people do not have enough masks to stay safe from germs: Make masks, decorate them, and give them away to essential workers.
Many animals do not have homes: Donate pet food, cat litter, or toys to an animal shelter.
Lots of organizations that help others need money to do their work: Bake cookies for a bake sale that raises money for a charity.
You can also watch this video about helping.