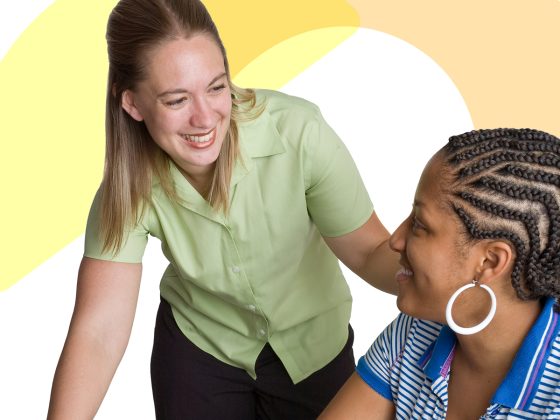 Using These Resources: Violence
Article about the Sesame Street Community & Gun Violence initiative.
The Sesame Street Community & Gun Violence initiative is inspired by power of human connection at all levels: child to child, child to adult, and adult to adult. These materials and strategies can help you strengthen your communities by supporting each other and creating a sense of security for young children… by building caring connections and nurturing, engaged relationships.
All humans have the basic need—and right—to feel safe. And, of course, we all want safety for the children in our care and children everywhere. But many children and families living in communities with a high violence rate do not feel safe. Such violence, particularly gun violence, can be concentrated in specific urban neighborhoods, with lower socio-economic status urban neighborhoods disproportionately affected. When the threat of danger is constant, or when children have experienced the trauma of losing a loved one to gun violence or have witnessed violence directly, their trust in the world crumbles. They lose faith that the adults around them can keep them safe, and their trust in the fabric of their communities themselves is eroded.
This sustained trauma often becomes toxic stress, which impacts children's long-term health and social-emotional development. Children might struggle with learning and managing their behavior, affecting school performance. In addition, living in a neighborhood with a high rate of gun violence limits children's opportunities to play safely and be physically active.
All children, regardless of where they live, need to know that they are precious and valued, that they matter, and that they play an important role in their communities. They also need to know that they are an important part of building a kinder, more peaceful world. As a caring adult, you can help children build a stronger sense of belonging and safety even in an environment that actually is unsafe.
Because we are social creatures, our caring connections with others are the context of all healing and rebuilding of trust. When children feel a sense of belonging within their community, and when they feel empowered to effect change even in small ways, they have a firmer foundation for resilience in the face of challenges that are largely beyond their control.
We can inspire hope for a safer, more peaceful future and inspire children to make small changes that will ultimately create a more peaceful culture within their communities, and within their own hearts. You can make a difference in the lives of children exposed to violence. You can help children build healthy relationships and a sense of empowerment. You have the power to create an atmosphere of hope!
ADVISORS
Judith Cohen, MD, Professor of Psychiatry, Allegheny Health Network, Drexel University College of Medicine; Colleen Cicchetti, PhD, MEd and Carmen Holley, LCSW, Center for Childhood Resilience, Lurie Children's Hospital; Linda C. Degutis, RN, DrPH, Former Director of the National Center for Injury Prevention and Control at the CDC; Adjunct Professor, Rollins School of Public Health, Emory University and Lecturer, Yale School of Public Health; Barry D. Ford, JD, Council for a Strong America; Jennifer Hoppe, Everytown for Gun Safety; Azmaira Maker, PhD, Aspiring Families, Center for Mental Health and Wellness; Adriana Molina, MS, LMFT, Chief Program Officer, Allies for Every Child; Andrew V. Papachristos, MA, PhD, Institute for Policy Research, Northwestern University; Jason Patnosh, National Association of Community Health Centers