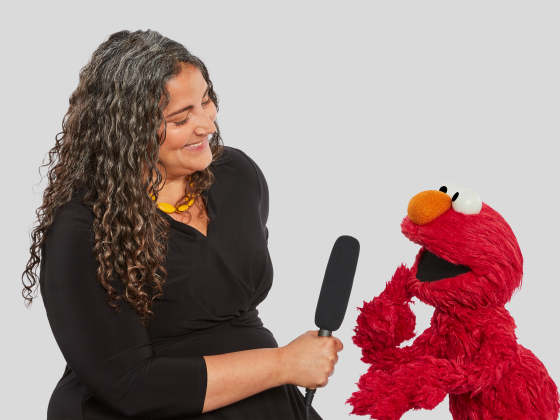 Elmo and Friends Visit The Happiness Lab Podcast
A special episode featuring host Dr. Laurie Santos, Sesame Workshop CEO Steve Youngwood, Kay Wilson Stallings, Sesame Workshop's Executive V.P. and Chief Production and Creative Development Officer – and a furry friend
Sesame Workshop's Steve Youngwood and Kay Wilson Stallings met up with Happiness Lab creator and host Dr. Laurie Santos at the 2023 ASU + GSV Summit, where their live session was recorded for this special episode of the hit podcast. The three discuss the importance of supporting emotional well-being for kids, the value of "starting early," to help children lay a foundation for lifelong mental health, and the ways media and technology can help, including the content and resources found in Sesame Workshop's new Emotional Well-Being initiative.
Dr. Santos, Professor of Psychology at Yale University, envisions adapting her collegiate curriculum for the preschool set and shares strategies that parents and caregivers can use to help children – and themselves – feel happier. Everyone's favorite furry three-and-a-half year old stops by in a surprise appearance to help demonstrate mindfulness techniques including deep, calming belly breaths.
In fall 2023, a three-episode series on The Happiness Lab will spotlight effective happiness strategies to help parents and their children feel better – with the help of the beloved characters and songs of Sesame Street.