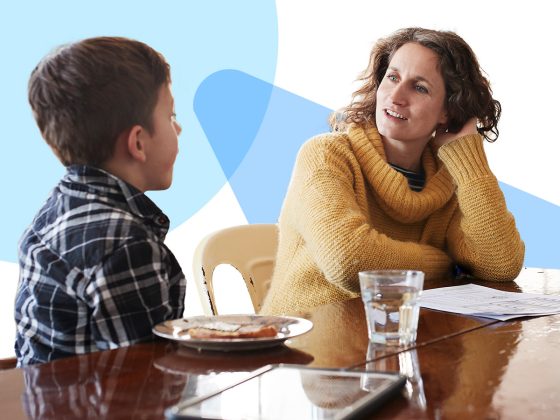 You're Doing Great! Financial Education for Families
An article about how to stay strong and connected as a family during tough financial times.
When money is tight, every expense can cause stress. It's common for parents and caregivers to feel guilty for not providing what they think kids need and want. The most important factor is a strong relationship with a trusted adult. That means that the love and care you build into your everyday life has a huge positive impact on your children.  
Here are some ways you can strengthen and extend your connection with kids: 
Look and Listen—Mindfully 
Between work, parenting, and home management, adults are often multitasking. While you're making dinner, you might also be asking your child about their day and washing dishes.  
When possible, try to take a few minutes to give your child your focused attention. When you ask about their day, try to actively listen without doing other things at the same time. On your walks or car rides together, can you pick up anything new about the way your child talks, moves, or expresses themselves? 
Being mindful helps you and your child connect, and that connection is key. 
Add Sprinkles of Creativity 
When budgets get tighter, there is less financial flexibility. That doesn't mean your family has less potential for joyful, memorable experiences. Creativity is the magic ingredient for turning a regular day into a special event!
Conversation Games  
Liven up going on errands, car rides, or walks around the neighborhood by playing games with your child. No equipment required! 
Would You Rather? 
Who Would Win? 
Shake It Up 
Bring some fresh energy to your ordinary days by changing them up even a little! Children get excited when they do familiar things in new ways. 
Breakfast for Dinner 
Indoor Picnic 
Pajama Day  
Backwards Night (bath first, then pajamas, dinner last!) 
Go for the Gold 
Liven up your usual activities by making them into a competition or special event. Simple decorations, signs, outfits, or even theme music can add some excitement. 
Backyard Olympics 
Talent Show 
Ultimate Taste Test 
Special Thanks
Sam Renick, SammyRabbit.com | Kids, Money, Education, and More
Meghan Rabuse, Family Finance Mom
Revere Joyce, Early Literacy Outreach Associate, Youth and Family Services