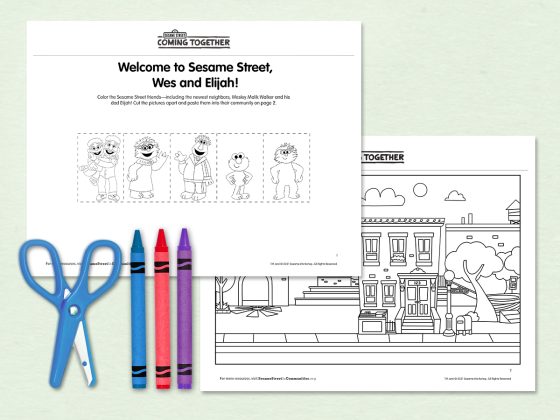 Welcome to Sesame Street, Wes and Elijah!
A cut-and-color activity to welcome new Muppets Wes and his dad Elijah to Sesame Street.
5-year-old Wes and his family (dad Elijah, mom Naomi, and grandmother Savannah) have just moved to Sesame Street! Elijah is a weatherman, Naomi is a social worker, and Savannah is a history professor. They are a Black family.
Print these pages and tell children that Wes and his dad have gone for a walk in their new community. Invite them to color both pages (provide crayons or pencils in different shades of brown to accurately represent Wes and Elijah's skin color). Cut apart page 1, then help them glue the friends onto Sesame Street (page 2).
When they're done, you might ask:
How do you think Elijah and Wes are feeling here? Why?
What do you think Wes would like to do with his new friends Elmo and Rosita?
What are some things that are special about the community of Sesame Street? (everyone looks a little different in color, shape, and size but they all care for and respect each other, they have lots of fun together, Muppets such as Big Bird and Oscar live in homes that are different from people's homes)
What are some things Wes, Rosita, and Elmo might work together, or cooperate, on? (building a block tower, a school art project such as a mural, growing flowers in Abby's garden, learning or performing a dance or song, playing a sport such as soccer, and so on)
What are some things Elijah, Elmo's daddy, and Rosita's Abuela may do together? (go to school meetings, have coffee while watching Wes, Elmo, and Rosita play, talk about their jobs, plan a neighborhood concert, and so on)