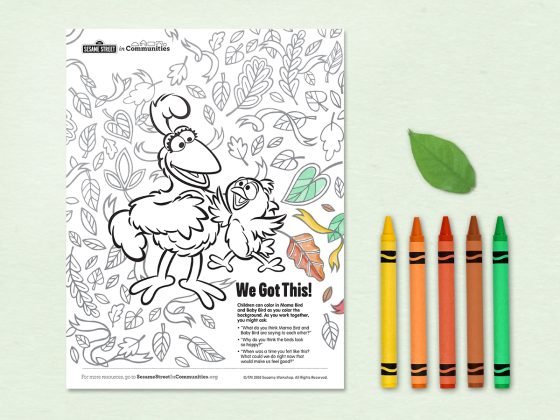 We Got This!
A parent-child coloring page.
During and after a traumatic experience, our brains may be "hijacked" by fear, anxiety, or anger. Doing a nonverbal activity such as coloring or a jigsaw puzzle together can help us reconnect and get "unstuck."
This coloring page can help adults communicate important ideas to children without saying a word: We can relax together. We can have a good time together. We can concentrate. I am here with you. I am listening. I am interested in you. We can share feelings. We can make something beautiful, even when the world around us feels ugly.
Children can use crayons or markers. Colored pencils or thin-tipped markers work well for the detailed "adult" areas, but crayons will work too! Here are some other tips:
Sit side by side in a quiet space with a surface.
Have children color the large image while you color the background.
There's no right or wrong way to color; the goal is to sit and relax together.
If you like, use the conversation starters at the bottom.
Children can use the back of the page to continue drawing.
If possible, display the completed page.