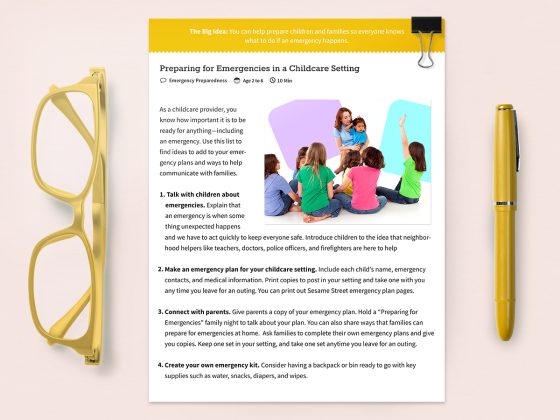 Preparing for Emergencies in a Childcare Setting
Ayude a los padres a prepararse para las emergencias.
Print a copy of Emergency Preparation for Childcare Providers for each participant. Provide some highlighters, pencils, or pens as well.
Let participants know that preparing for emergencies in a childcare setting is important for them and the families they serve. Ask: "What are the things you've already done to prepare for emergencies?" These could be things required by the state or licensing agency or preparations they've done on their own.
Hand out copies of Preparing for Emergencies in a Childcare Setting. Ask participants to check off any items they've done as you read together. They can highlight any things they would like to do in the future.
Invite participants to share their experiences with emergencies or emergency preparations. They might be able to offer ideas for meeting spots, emergency kit items, holding a parent night, etc. that others can write down and use in their own settings.
Direct participants to the Sesame Street emergency preparedness resources at SesameStreet.org/ready. Let them know that the site has videos, checklists, and an interactive emergency plan page. Encourage them to explore the resources and share them with families as well.