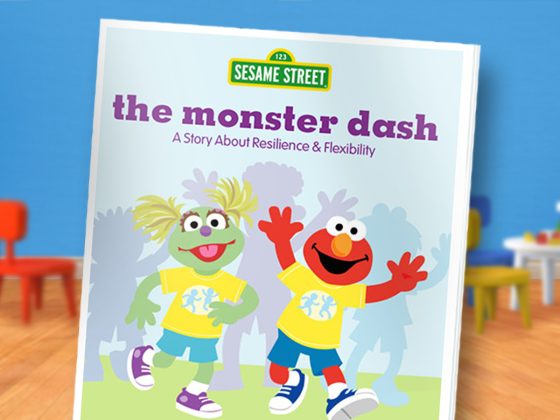 The Monster Dash
A storybook featuring Karli about practicing flexibility and maintaining a positive outlook as skills to build resilience.
Everyday life is full of challenges, and Karli, a friend on Sesame Street, has faced plenty. Because of her mom's struggle with addiction, she's lived with a lack of predictability and control. She's also spent time in foster care. But caring adults have given her some tools to build resilience.
Being flexible and pivoting when plans or circumstances change—navigating obstacles as one does in an obstacle course—is a big part of resilience (the ability to move through, and bounce back from, challenges). Resilience is a muscle—just as we exercise our bodies to be strong, we can exercise our brains to figure out ways through tough situations.
This story is about one of many ways to do that: reframing. Reframing is a great strategy for looking for the positive aspects of a negative experience. Read it together with children to help practice strengthening their growing bodies and their growing brains!