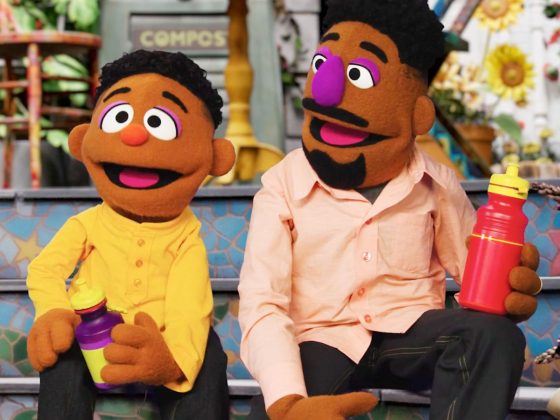 A Big Day
Watch this video about healthy routines with children.
Watch this video about healthy routines with children. Notice how Wes and his dad, Elijah, take their usual afternoon walk to the community center and talk about how moving our bodies helps make us strong. Together, they have a healthy snack, and Wes tries a new food (and likes it!). Then they meet up with Elmo and his dad, Louie, and their dog, Tango, who are also moving their bodies as part of their daily routine.
Developmental milestones are things children can do by a given age, such as crawling, walking, running, and jumping. Healthy routines can help children reach their milestones! On your own, notice the milestones that Wes, who is 5, is meeting:
He's willing to try a new food—and he likes it!

He's able to walk farther than he was before.
After watching, you might:
Play

the song at the beginning again and sing it together. Can children describe what a routine is, and name some of their own?

Talk

about why healthy routines are important (they help our bodies and minds grow strong, they help us plan our day and know what to expect, and they can be a great way to have fun with others).

Ask

children to think about something new they'd like to try doing, and how it might become a healthy new routine in their day.

Discuss

what happened in the video. What did Wes do? What did Elijah do? How about Elmo, his dad, Louie, and Tango? Why were each of these routines healthy?

Ask

children about their own afternoon routines. Do they play on the playground, ride their bikes, or walk with a family member? Explain why it's important to do something active (movement helps our bones and muscles grow strong, it's good for our brains, and it can also help us sleep better).

Ask

children how they feel about trying new foods, like Wes did. Explain that it takes many tries to start liking a new food, and Wes finally realized he liked hard-boiled eggs (after years of saying he didn't)! What new foods have they tried lately? (Celebrate this important milestone!)

Encourage

children to trade snacks when appropriate, like Wes and his dad did.