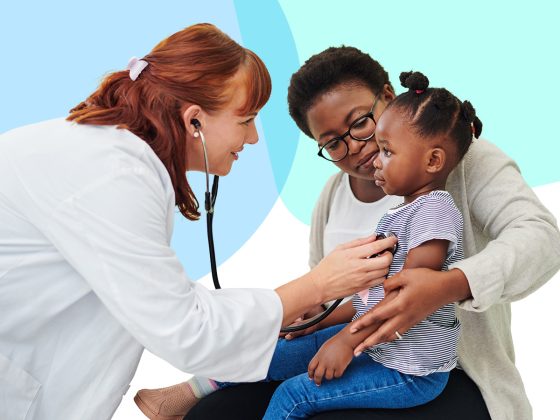 Connecting & Communicating  
Communication and connection with families is key to building a strong, effective healthy team.
Every professional serving children and families wants to see the children in their care grow up healthy, strong, and safe—that's what makes you a key player on children's healthy teams! A child's healthy team includes their immediate family, extended family, doctors, nurses, educators, community and faith leaders, daycare providers, activity leaders or coaches, teachers, and more.
As a provider on children's healthy teams, you have the gift and responsibility of supporting children and families, which can be especially challenging when you have limited time to spend with each family. During each of your visits with children, you might be measuring, weighing, testing, or assessing them. You perform these routines with focus and care, and you can bring this same focus to communicating.
While an exam room is familiar to you, it can cause nervousness, fear, and overwhelm for children and their caregivers. When you have positive moments of connection with children, you're helping children feel safe going to the doctor. You're helping to build a foundation in which children feel proactive and empowered to manage their own health over their lifetimes.
Parents are the captains of children's healthy teams, and your relationship with them—and the children in your care—is a big factor in children's health. Consider these tips for strong three-way communication among children, providers and parents:
Before the visit
Get to know the culture and community of the families in your care and be sensitive to differences in cultural views on health and well-being. Be aware of families' values, religious beliefs, and caregiving arrangements.
Think about language barriers. Use ordinary, everyday language rather than professional jargon. Work with language interpreters when needed, and give parents printed information, prescriptions, and appointment information in their home language.
During the visit
When you greet a parent and child, take a moment to ask the parent how they themselves are doing… and listen closely to their response.
Ask children questions to learn more about their lives and get to know who they are.
Be up to date on what books, toys, or media are popular with different aged children so you can chat with them about what they know and like.
Show active listening with eye contact and body language. Consider how parents and children may be feeling (rushed, stressed, confused, embarrassed, comfortable, nervous, seen, heard). When parents feel valued, they can share important information with you that can help you give better care. 
Ask parents open-ended questions instead of yes/no questions. In many cultures, it might be embarrassing to answer no. Parents or children might say yes to avoid discomfort. Asking open-ended questions can lead to richer answers. For instance, instead of, "Do you eat together as a family?" consider asking: "What is dinnertime like at home?"
Give parents time to finish what they're saying before you speak. Check your understanding by summarizing what they've said, and ask them if that's correct.
Recognize and celebrate courageous behavior during your visit with supportive language. "You're doing a great job holding still." "I know this hurts and you're being very courageous." "You did it! I'm proud of you." When you point out children's courage and resilience, you help them build more courage and resilience for the future.
End on a positive note!
Acknowledge parents as the experts of their own children. Ask for parents' ideas and observations. For example, "How can we help [child's name] get more sleep?" You can suggest ideas, then ask for parents' thoughts. You might decide on a solution to try and make a plan to review how it's going after some time.
Prioritize parents' and children's questions at the end of every visit to encourage conversation. (Instead of "Do you have any questions for me?" you might ask, "What questions do you have for me?")
Encourage attendance at well-child visits by sharing information about the purpose and goals of these visits, and encouraging parents to make appointments for the next visit on the way out.
Finally, enjoy the moments of satisfaction and success that come from working together to support healthy children and families!
Special thanks to the American Academy of Pediatrics.