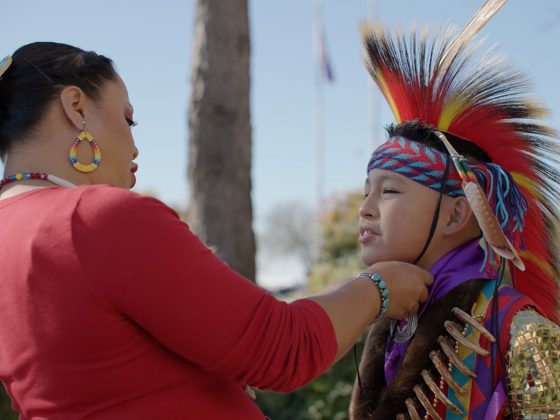 My Whole Healthy Life: Meet Reignen 
A video about the different ways a Native American child and his family stay healthy.
By Crystal Austin and Lisa Martin, Johns Hopkins Center for Indigenous Health  
Meet Reignen Yellowfish and his family! Within their Native American community, they care for each other and support one another in being healthy, centered, and relaxed in many different ways. Health is more than going to the doctor!
Share this video with children and notice how Reignen's family shares examples of the many ways adults can help children nurture their own physical, social, emotional and spiritual well-being. For the Yellowfish family, this includes being close to their family, to their community and people, to their culture and language, and to the Earth.
Reignen's parents and elders tell him they're proud of him. He demonstrates and practices respect for himself, his family, his community, traditions, language, and the Earth. There are so many ways to support your child in growing up healthy in mind, body, and spirit, such as:
Talking and laughing with your children
Making sure they eat healthy foods, keep their bodies clean, and brush their teeth every day
Spending active time outdoors
Supporting learning new skills and exploring interests
Helping others
After you watch, on your own, you might think about:
What new activities might you like to try with your child that support the health of their bodies, minds, and spirit?
What information would you like to share with your child about your extended family or community that they can be proud of?
What do you want your child to know about their history and culture? How might you explore it together?
What healthy habits would you most like your child to learn from you?
Crystal Austin is of the Zuni Edgewater and Towering House clans of the Diné, the People. Crystal is the Associate Director of Johns Hopkins University's Development and Alumni Relations team where she is the lead on efforts to support and advance the work of the Center for Indigenous Health. She is a nationally recognized trainer in early childhood home visiting curricula and practices in American Indian communities. Crystal's work for the past 13 years has focused on providing program implementation support and training to tribal communities across the country as they worked to integrate home visiting and early childhood programs into their communities. She has a wealth of expertise in behavioral health programming in tribal communities and maternal and child health among Native American populations.
Lisa Martin, (Ojibwe), an enrolled member of the Sault Ste. Marie Tribe of Chippewa Indians, is a Senior Research Associate at the Johns Hopkins Center for Indigenous Health at the Bloomberg School of Public Health. She earned a master's degree in public health from the University of Arizona. She has over 20 years of experience working to support and promote wellness cultivated through the beauty and strengths inherent to Indigenous communities' language, knowledge and traditions.