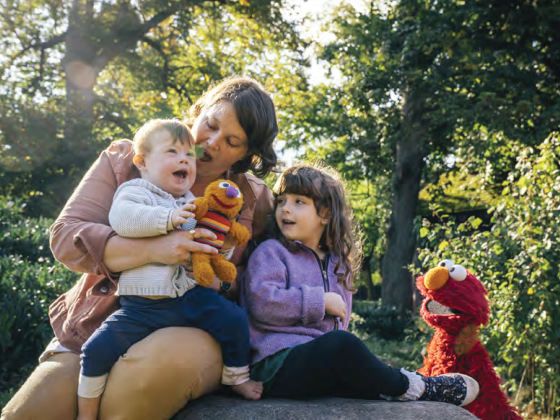 Children's Mental Health in the Spotlight
Sesame Workshop makes a renewed commitment to helping children lay a strong foundation for a lifetime of mental health.
May is Mental Health Awareness month, and Sesame Workshop is underscoring the critical importance of supporting the emotional well-being of young children and families with a new multi-platform, multi-year initiative.
The youngest children are often overlooked in discussions about mental health — but there is growing evidence that young children are struggling, now more than ever. Last year, several groups, including the American Academy of Pediatrics, took the unprecedented step of declaring a mental health emergency[1] among the nation's children. The crisis has only deepened during the pandemic, indicating that young children especially need support and resources to build their long-term emotional health and well-being.
Sesame Workshop has been creating research-based, age-appropriate content to help children develop social-emotional skills for the last 53 years. As the underpinnings of emotional well-being, these skills have never been needed more – and Sesame Workshop has committed to a deeper, stronger role than ever before in addressing the emotional well-being of young children and their families.
As Dr. Jeanette Betancourt, Sesame's Senior Vice President of U.S. Social Impact says,
Through new offerings including YouTube special Elmo's Mindfulness Spectacular, a PSA campaign with the Ad Council, new podcast episodes with Dr. Laurie Santos and The Happiness Lab, and more, Sesame Workshop aims to raise awareness about the importance of nurturing children's emotional well-being and lessening the stigma associated with seeking support for children's mental health.
New bilingual resources highlighting the benefits of nurturing relationships will be released throughout May at Sesame.org/MentalHealth. In the video I Notice, I Feel, I Can, Elmo and Louie practice three steps to manage big feelings when a DIY project goes wrong; in The Feelings Garden, Elmo, Louie, Abby, and Maggie learn it's possible to experience several different feelings at once. The new suite of resources also includes a digital storybook, printable activity sheets, articles, and forthcoming webinars for providers. Families will also be able to stream the video resources on PBS KIDS.
In the words of Workshop president Sherrie Westin, "We at Sesame hold a vision of a world in which all children can flourish and feel the joyfulness of life and do so with appreciation for their own mental health and well-being," Together with the caring adults in children's lives, Sesame Workshop is helping children develop a foundation for emotional well-being for years to come.
Leadership support for Sesame Workshop's emotional well-being initiative has been provided by the Joan Ganz Cooney Fund for Vulnerable Children and UnitedHealthcare. Generous support has also been provided by Just Play, Kenneth Cole, and Kohl's.