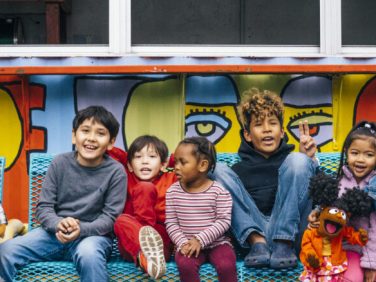 2022 Annual Impact Report
There for children when it matters most.
We invite you to look back on 2022 at the results we achieved together.
Comfort in a crisis. Tools to prepare for school. Connections that spark young minds and uplift whole communities. In another year of tough challenges and joyful opportunities, Sesame Workshop was there to help families thrive — with support from friends like you.
Results in Action
War upends life for everyone, but especially the youngest. When conflicts in Ukraine and Afghanistan displaced an estimated 16 million people, including a disproportionate number of women and children, Sesame immediately took action. In the earliest weeks, we tapped into our vast library of educational resources and partnered with on-the-ground organizations to comfort children on the move and keep them learning in their new "for now" homes.
When kids see themselves on screen, they learn more deeply. And when they meet people of different backgrounds and abilities, they learn to value everyone. As anti-Asian racism flared in the U.S. last year, Sesame Street introduced a new friend. Debuting in our "See Us Coming Together" special, 7-year-old Muppet Ji-Young is a musician, skateboarder, and proud Korean American who sparks celebratory, kid-appropriate conversations around race, ethnicity, and culture.
As the world ushers in year 3 years of COVID, the educational impact of the pandemic is now clear. Years of disrupted learning have left millions of children without the developmental basics. Sesame is tackling these learning gaps on a global scale with direct support to educators, plus multimedia resources for families that nurture the cognitive, social, and emotional foundation all children need.
500,000 families in India tuned in to educational audio lessons on community radio stations.
Supporters & Partners
Visionary partners power our mission to help children grow stronger, smarter and kinder. Thanks to their financial and strategic support, Sesame Workshop is reaching more families, educators, and community providers today than ever in our history.
Funding Partners
Funding Partners
Meet some amazing organizations collaborating with us on behalf of kids around the world.
Funding Supports $25,000-$1,000,000+
$1,000,000+
LEGO Foundation
Hobson/Lucas Family Foundation
John D. and Catherine T. MacArthur Foundation
MetLife Foundation
Oak Foundation
Peter G. Peterson Foundation
PNC Foundation
PSEG Foundation
Quest Diagnostics
SC Johnson
U.S. Agency for International Development
Unilever
UnitedHealthcare
Viatris
Walmart Foundation
$500,000–$999,999
The U.S. Department of Defense
$250,000 – $499,999
Amazon Web Services
Joan Ganz Cooney
Marlene Hess and Jim Zirin
The David and Lucile Packard Foundation
PNC Bank
Procter & Gamble
U.S. Department of State
$100,000 – $249,999
Administration for Children and Families of the United States Department of Health and Human Services
Anonymous
The Asian American Foundation
Dogwood Health Trust
Healthy Americas Foundation
Internet Society Foundation
Christy and John Mack
Ogden Cap Properties
Pfizer Inc.
Warburg Pincus LLP
UBS Optimus Foundation
YouTube Kids
$25,000 – $99,999
Altman/Kazickas Foundation
Anonymous
Apex Foundation
Apple TV+
The Estate of Gary Arciszewski
Bank of America
Afsaneh Beschloss
Bloomberg Philanthropies
British Asian Trust
Chan Zuckerberg Initiative
Karen and Jeff Dunn
Vanessa and Lee Eastman
Kathy Elsesser
Goldman Sachs Gives
The Marc Haas Foundation/Sydney and Stanley S. Shuman
Carla Harris
Warner Bros. Discovery
HCL Foundation
Jacqueline and Frans Hijkoop
Kathleen and Bob Hugin
Just Play LLC
Kaufman Astoria Studios
The Ronald and Jo Carole Lauder Foundation
Jenna Mack
Vincent and Anne Mai
Michael and Elizabeth Manasse
Mastercard
Microsoft
Janet and Tom Montag
Karen Mulvey
News Corp
NewYork-Presbyterian Hospital
Open Society Foundations
Holly Peterson Foundation
The Raine Group
Reach Capital Partners
Benita and Michael Romano
Eric and Wendy Schmidt, Schmidt Futures Initiative
SeaWorld Parks & Entertainment
Gabrielle Sulzberger
TIAA
Maya and Robert Tichio
Tiger Baron Foundation, Inc.
Ann and Andrew Tisch
Tishman Speyer
Weiss Family Foundation
Sherrie and David Westin
Sarah and Stephen Youngwood
*in memoriam.
Funding Supports $500-$15,00,000+
$15,000 – $24,999
Anonymous
epic!
Erin and Peter Friedland
Hinter Media (Perimedia, LLC)
Valerie Jarrett
The Lindley Foundation
The Briar Foundation
NBCUniversal
Michael A. Peterson
Robin Raclaw
Virtual Running Club
Arts Music / Warner Music Group
$7,500 – $14,999
American Academy of Pediatrics
Mariam and Zaid Alsikafi
Anonymous
Dr. Albert and Myriam Bourla
CAA Brand Management
Marcia M. Carlucci
Katie Couric
Mary D. Fisher Fund
GSV Ventures Management
Jane D. Hartley and Ralph Schlosstein
Cheryl Henson
Conrad N. Hilton Foundation
Known
Jillian Manus
Michelle Marra and Jimmy Rizos
Dina Powell McCormick
Tai Mendoza
Thomas Murphy**
Patterson Belknap Webb & Tyler LLP
Sallyan and Stephen Pelletier
John Pritzker Family Fund
Sarah and John Richardson
Florence Ann Romano
Starface World
Tetra Pak
Lynn and Jeffrey N. Watanabe
World Vision, Inc.
Mary and Jeffrey Zients
$2,500 – $7,499
Anonymous
Anonymous
Lindsay Barnett
Beaches Resorts
Susan Berry and Brian Moynihan
Bessemer Trust
Erica and Jonathan Blob
V. Bunty Bohra
Amanda Burden
The Burke Foundation
Mary Cafiero
Isobel Case
Emma and Varun Chandra
Charlotte and Taylor Chess
Susan C. and Edward J. Ciolkosz
CityBridge Foundation
Maria Cuomo Cole and Kenneth Cole
Judy and Jamie Dimon
Kathleen Donohue and David Sze
Jodie Eastman and John Eastman**
Irene Hong Edwards and William Edwards
Cheryl and Blair Effron
Jim Fentress
Stephanie and Adam Frankel
Georgescu Family Foundation
Friedman Kaplan Seiler & Adelman LLP
Jennifer Gottlieb
Darin Grant
Anonymous
Melanie Grisanti
Louise Grunwald
Dr. Zachary Herrmann
Julie C. Holding
Mark Hootnick
Jean Brown Johnson
Miranda and Philip Kaiser
Lena Kaplan
Geoffrey Knowles
Douglas Kudler
Esther Lee The Levine Family
The Loesch Family Trust
Jennifer Lotke
Connie and Bob Lurie
Ms. Samantha Maltin
Brittany Matt
Brian Matthews
Katie McCormick Lelyveld
Michael McGuire
Jennifer Merriam and Janet Merriam*
Sabrina Model
Sean Moran*
Armaghan Naik
Stone Newman
Christopher Neylan*
Zachary Oden
one4all Charitable Fund
The O'Reilly Family Fund
Farhana Pargac
Bruce Phillips
Dr. Ryan Pirooz*
Roz Prescott
Joseph Quintilian
Robert Riggs
Deborah Roberts and Al Roker
Barbara and Joseph Salvo
Emily and Tom Scott
Carole and Gordon Segal
Elaine and Michael Seldner
Gil Shiva
Callie and Chris Solomon
Silda Wall Spitzer
Pamm Summers
Rei Suzuki
TisBest Philanthropy
Jason Tomita
Lynn and John Vottero
Kimba Wood and Frank Richardson
Lauren Wyckoff*
Katie Albright & Jake Schatz
Soko Digital
Mark Middleton
$500 – $999
Nancy Alliegro*
Anonymous
Megan Attridge
Rory Babich
Seth Baerson
Dr. Gertrude A. Barber Center Inc.
Colleen Begley*
Kimberlee Bell
Jemina Bernard
Nick Berry
Lisa and Jeff Bewkes
The Bianchis
Aaron Bisman
Carolyn Boitnott
Wes Bowen
Sue Bowyer
Linda Boynton
Diane Bradley
Jonathan Bray
Barbara Breen and Joseph Salvo
Matthew Brennan*
Charles Brucato III
Lisa Burke*
Julie O'Connor and Daniel Burstein
Renee and Salvatore Caiola
Joanne Chan
Victor Chan
Neil Citrone
Chris Collier
Cari Croghan
Crunchbase, Inc.
Sue Cushman and David V. Britt
Johari DeWitt-Rogers
Lindsay Diokno
Christie Doak
Erin Dwyer
Andy Eisen
DeAnn Everson
Lauren Fenenbock
Marina Fernandez
M. Fino
Karen Flitterman
Harold Gronenthal
Alice Suzanne Hamilton
Cynthia Hampton
Dana Hansen
Dr. Arian Hatefi*
Sharon Healy*
Milagros Hilbert*
Erica Yount/Hill
James Hindle
Ann Van Hine*
Shane Houghton
Dr. Jason Hsu
Keith Hullum
Linda Janklow and Morton Janklow**
Friend Jones
Gerald Kaminsky
Catherine H. and Francis A. Keating
Bevin Kenny
Priscilla Kremer
Diane P. Ladner
Leslie Lee
Susan Levin
Stephen Loiacono
Vivian Lynn
Mary Marra
Melanie Marshall
Diane Martin
Dr. Anne Martinelli and Greg Courtwright
Marie Maynard
Jennifer McClear
Kimberly Mccleskey*
Ana McDonald
Sandy and Mike McManus
Jennifer and Steve Millman
Anthony Mongelli
Mary and Ryan Mooney
Sheila Mossman
Apryll Nakamura
Deborah Neimeth
Steve Nelson
Kristin van Ogtrop
Marcia ONeill
Herbie Ong
Alexandra Ottaway
Lauren Passante
Ellen Perkett
Jesse Peterson
Bryan Pinckney
WendySue Pincus
Justin Pizzala*
Angela Powel
Stephen Prest
Dr. Kyle Pruett
Jacy Romero
Jennifer Reaven
Lucinda Robb
Timothy A. Robert
Tatum J. Robertson
Rebecca Robinson*
Kristen Rohr
Russell Rosenthal
Ella Rue
Carey Rutkoske
David Saffold
Ken Scarborough
Benjamin S. Schapiro
Jenny Schram
Lori Semeraro
Arti Sharma
Angela Sharp*
Lisa Sheffert
Pamela Smith
Xin Sullivan
Cristina Tcheyan
Ann Thai
Brian Tillman*
Clayton Veatch
Karen Del Vescovo
Lela Vickery
Tana von Kessler
Debbie Wilhelm
Heather Wims
Colleen Wolfe
Joyce Wong Kenton Wood
Annie Zheng
Matching Gift and Workplace Giving Programs
AIG Matching Gift Program
Alliance Data Systems, Inc.
American Express Company
Applied Materials Matching Gift Program
Bank of America Charitable Foundation
Becton, Dickinson & Company
BNY Mellon
Boeing Gift Matching Program
Bright Funds Foundation
Bristol-Myers Squibb Foundation
Charities Aid Foundation of America
CNA Foundation
Dr. Gertrude A. Barber Center, Inc.
Electronic Arts
Guardian Life Insurance Company of America
IQVIA
J.P. Morgan Chase Foundation
McCormick & Company, Inc.
Medtronic World Headquarters
Merck Company Foundation
MetLife Foundation
New York Life
Omaha Foundation
one4all Charitable Fund
Pepsi Co Foundation
Plymouth Rock Assurance
PricewaterhouseCoopers
PSEG
Red Hat Matching Fund
Riderwood Village, Inc.
Salesforce Foundation
Shoeneckers, Inc.
SiriusXM Corporate
Sychrony
Texas Instruments
The Mastercard Foundation
*in memoriam.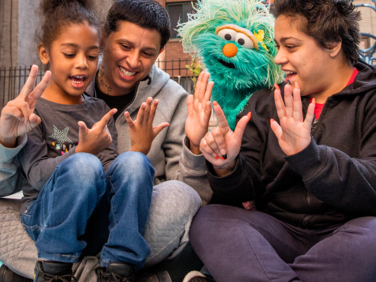 Help Prepare the Next Generation to Build a Better World
Make a gift today and help us transform how the world supports children, wherever they may be, for generations to come.
Donate Today
Here's why each dollar matters
The below is by way of example, your generous donation will be used in a manner that will alleviate the most pressing needs identified by Sesame Workshop.