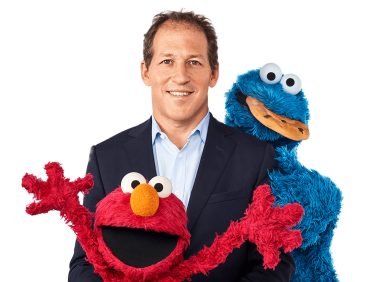 Letter From the CEO
A note from Steve Youngwood
With another eventful year drawing to a close, I am prouder than ever of this organization and the difference we are making in the lives of kids and families around the world.  
As we adapt to the rapidly changing global landscape and educational needs of young children, we continued to follow key principles that have guided Sesame Workshop's evolution for the last 53 years. 
First, we embrace media and push ourselves creatively to ensure that everything we make captures children's attention and imagination, with dynamic and fun characters, engaging storylines, and new types of content. Second, we take advantage of the latest technologies to meet children and families wherever they are: on screens, in books, in schools, in community centers, and beyond. And finally, we focus on the issues most critical to kids' well-being. How we do that might vary by environment: boosting Covid-delayed cognitive skills or emotional health may look different in a refugee camp in Bangladesh than it does in a community preschool in Virginia, but the essence and the intent are the same. 
With these motivating principles, an intrinsic commitment to evolve and grow, and our unshakeable mission to help kids everywhere grow smarter, stronger, and kinder, we will continue having the influence you see in this report year after year—in ways and places we can only imagine today.  
Of course, neither today's impact nor tomorrow's is possible without tremendous support. We are grateful for you every day and honored to have earned your confidence and trust.
With Appreciation,
Steve Youngwood
Chief Executive Officer, Sesame Workshop