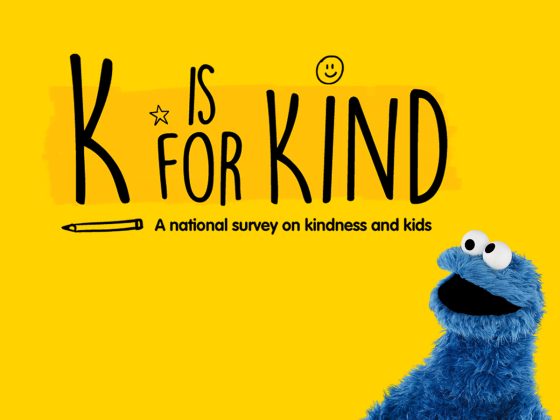 The Kindness Study
Read Sesame's findings about kindness from families and teachers.
"Kind" is a word we use a lot—but what does it really mean? Sometimes kids—and parents—have trouble defining kindness (does it just mean "nice"?). In 2016, Sesame Workshop conducted a survey called "K Is for Kind." We wanted to hear what being kind meant to parents and providers, and what role kindness plays in kids' lives.
Here's what the research team found:
70% of parents worry that the world is an unkind place for their kids.

78% of teachers thought it was more important for children to be kind to others, rather than be successful in school.

Teachers think parents can help kids grow kinder. 34% of teachers felt that all or most parents are raising their kids to be empathic and kind.

40% of parents think their own child is very helpful.

Being polite (having manners) and showing empathy were sometimes used interchangeably.
Words like "please" and "thank you" are important, and so are manners and polite behavior such as sitting nicely at a table. But it's empathy—being able to connect deeply with others' feelings, and understanding and embracing each other's differences and perspectives—that benefits us all. Empathy starts by watching grown-ups model it. And any moment, in any place, can be an opportunity to demonstrate and talk about empathy.