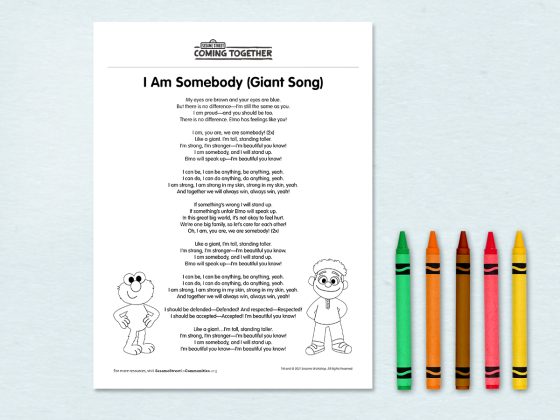 Sing Along!
A printable lyric page to celebrate each individual's identity and differences.
Listen to "I Am Somebody", then print this page and sing along (or just look at the screen)!
You can even personalize the lyrics ("­[child's name] is somebody," "my eyes are ___, your eyes are ___," "[child's name] is strong, she's stronger"). You might begin to learn the song by heart after hearing and singing it a few times, so you can really notice and think about specific lines. You might ask children:
What do you think it means to be "strong in your skin"?
Can you list some of the things the children said about themselves in the song? (I'm strong, I'm somebody, and so on)
Ask, "What does 'giant' mean? What can you think of that is giant?" Explain that this song is called "Giant," but unlike the big things children have probably named, it's not about anything big that you can see. It's about being "big" and also "standing tall" in your head and in your heart—being proud and having the power to change the world.
What does it mean to "speak up" and "stand up"?
What is your favorite part of the song? Why?
You can also whisper phrases from the song in your child's ear when they most need to hear them, such as strong in my skin, I am a giant, together we will always win, I'm big I'm bigger, I'm strong I'm stronger, or you are somebody.
Sing it together, anytime, anywhere!