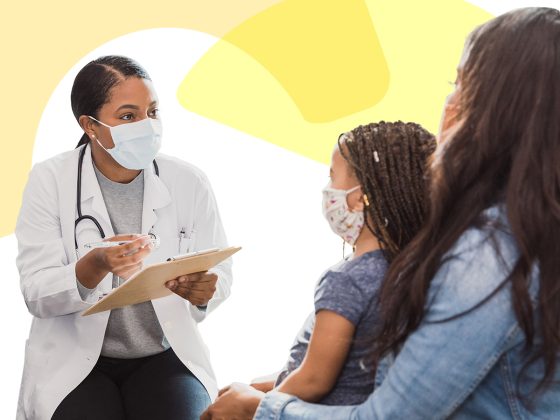 Our Healthy Team
An article describing how caregivers and health care providers can work together to keep children healthy.
Children aged six months and older can receive an age-appropriate dose of the Covid-19 vaccine. Some families are excited about this news; others are not so sure. It's good to have questions—health care providers are eager to talk with you about your concerns. 
We're a team. 
In communities across the country, healthcare providers everywhere are rooting for families like yours. They care about your child's wellbeing and your family's overall health. Healthy families are crucial to healthy, thriving communities. 
Believe it or not, you are part of a health team. Your child's pediatrician, your family doctor, staff at your local community health center, or even a school nurse, are on your side. Go to these trusted professionals with your questions. Together, you can make important health decisions for your family. 
Keep up the curiosity! 
It's good to have questions. After all, we want children to know that being curious—about how things work, how vaccines were developed, or what might happen—is one way we learn and grow. Here are some questions many parents have, along with answers from Senior Vice President of Child Health and Wellness at the American Academy of Pediatrics, Debra Waldron, MD, MPH, FAAP: 
How does the Covid-19 vaccine work?

The vaccine works by training your child's immune system to make antibodies which fight off the virus. 

Is the vaccine safe?

The vaccines have been provided to millions of children and teens. Mild side effects have been reported, such as fever, headache, and muscle pain. There have been very, very few reports of more serious side effects such as allergic reactions and myocarditis or inflammation of the heart muscle. Covid-19 infection is much more likely to cause myocarditis. The vaccine has been shown to prevent myocarditis from Covid-19 infection.  

Is it better to get the Covid-19 disease and develop immunity?

No. While many children who have been infected with the virus have mild symptoms, some children have become severely ill, required hospitalization, and have died. The vaccine has been shown to prevent infection and to reduce the severity of illness in those that have been infected.  
Remember, we're in this together. We've gone through many ups and downs, and there will likely be more questions in the future. Open, honest, and curious conversations can pave the way for a brighter tomorrow. 
Special thanks to Debra Waldron, MD.