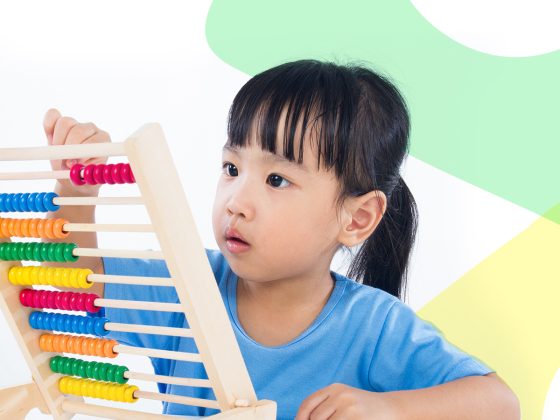 Everyday Math Tips
Make learning simple as 1,2,3 with these everyday math tips.
Have a little fun with math and share the enjoyment of learning with kids during everyday moments. Try these math tips. If one works well, turn it into a daily routine! Kids will pick up on your "math confidence" and know that they can do it, too—anytime, anywhere.
Discover numbers. Use your fingers to find out different ways to make eight. Start with five and three fingers. What else works?
Measure with household objects. For example, how many straws do you think it will take to measure your hand?

Name a shape. Count how many things you can find that are that shape. Ask, "What do you think we will find that is shaped like a triangle?"
Explore parts of a whole. Ask kids to name the different parts of favorite toys or even the different parts of the face.
Count on the go, anywhere! "How many lampposts are there? How many steps? How many park benches? How many blue cars?"
Talk about differences in length. For example, "These two shorter blocks together are the same length as the one longer block."
Draw lines on the sidewalk. Have kids draw straight, angled, curved, zigzag, or looped lines with chalk on the sidewalk or driveway.
Compare the shapes and sizes of items. Ask, "Which fruit is biggest? What shape is it similar to?"
Ask kids to complete a task (such as sitting quietly) by the time you reach 10. Count higher if kids need more time, and encourage them to count along!