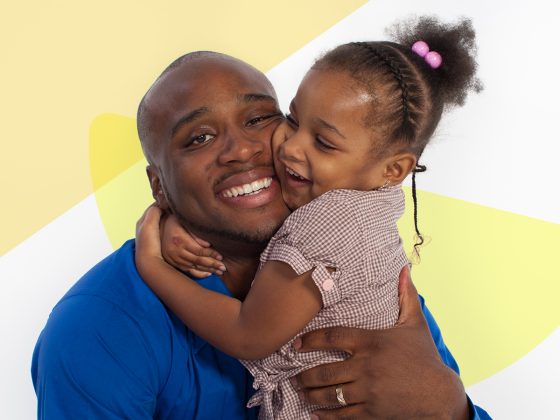 Easing Separation Anxiety
A collection of activities to help families talk about change and cope with feelings of separation anxiety.
Transitions can be tough on everyone. When parents go back to work after being home all the time, children may become worried, sad, or fearful. Adjusting to big changes while still living with other ongoing uncertainties and tough times can be a lot.
As we move through these challenges, many of us are carefully finding new ways to "widen our circles." It's great to be back with some of the important people in our lives, but for young children, it may seem especially strange or unfamiliar to have more contact with others after living within a much smaller circle for months. Children may worry about your safety, they may be uneasy with a new caregiver, or they may feel anxious about doing activities in public that they are used to doing only with you.
It's a process, and it will naturally take children (and adults) some time to adjust to this transition! Everyone in the family can keep trying one or more of these strategies:
Like Elmo's dad did in the video, draw a simple shape (such as a tree, heart, star, flower) and invite your child to color it in during the day. When you return home, you can add to it, decide on a title, sign your names, then display it.
Watch Elmo and his daddy say their morning goodbye in this video. Talk about how Elmo was feeling and what helped him. Make up a special goodbye ritual like they had ("see you later, alligator!").
Try this idea from The Kissing Hand by Audrey Penn: Before saying goodbye, kiss your child's palm, and then hold each others' hands tightly to "seal it in." Tell your child to remember that they'll carry your kiss with them all day long. They can do the same for you!
Give children a piece of clothing or even a blanket from your bed to nap with. Depending on their size, they might wear a t-shirt of yours all day long!
Try this idea adapted from The Invisible String by Patrice Karst: Tell your child that there is a super-strong, invisible string tying them to you (and to everyone they love). The string is long and will never break. You can't see the string, because it's in your hearts. When they miss you, they can remember the string and imagine you on the other end.
As a family, continue to practice all the self care you've been doing already: getting enough sleep, eating healthfully, moving around together, and sticking to routines as much as possible.
There may be sadness with separation, but there's also an opportunity to share news of your days, to enjoy reuniting, and to savor the time you do have together. Most of all, remind children that you know how to keep yourself safe, and that they do too. Your whole family has already had lots of practice taking care of yourselves!