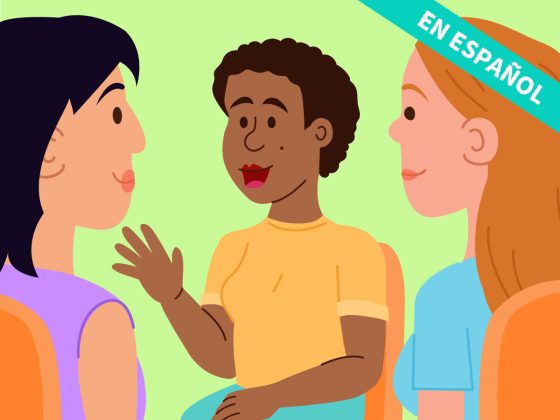 Cómo ayudar a los padres a hablar y estar en contra del racismo
Incluso cuando habla con los niños sobre el racismo por primera vez, hay cosas que los padres pueden hacer para superar el miedo...y emprender acciones auténticas contra el racismo.
Todos debemos poner de nuestra parte para luchar contra el racismo. Pero hablar o incluso pensar en el racismo puede ser una tarea difícil para muchos adultos. Para las familias que lo abordan por primera vez, el miedo a cometer errores u ofender a otros puede evitar que se sumerjan en este importante tema. Afortunadamente hay cosas que los padres pueden hacer para superar el miedo y emprender acciones auténticas. Hacer un "trabajo de corazón" prepara a los padres para que guíen a sus familias a luchar juntos contra el racismo. En este webinar Patricia Taylor y Shannon Evans brindan lenguaje, estrategias y estímulo para que los padres y las familias den los primeros pasos.
Acerca de nuestras invitadas:
Este webinar presenta a Patricia Taylor y a Shannon Evans, madres de niños pequeños, apasionadas por crear un mundo más amable, seguro y justo para las generaciones futuras.
Patricia A. Taylor
Patricia A. Taylor es una esposa y madre californiana que se convirtió en melocotón de Georgia. Con su fe como base, cree en el poder de la verdad, en amar a todos nuestros vecinos y en tener conversaciones críticas sobre la justicia racial con gracia y sinceridad. Su trabajo tiene raíces en la educación contra el racismo y se desempeña como educadora BIPOC para Be The Bridge (Ser un puente), una organización que empodera a las personas hacia la recuperación racial, la justicia y la reconciliación. Patricia también es copresentadora de Upside Down Podcast, un espacio ecuménico de fe con conversaciones sin guion sobre la justicia, la espiritualidad y la cultura. Encuéntrela en Instagram @patricia_a_taylor y en Facebook at Some Thoughts From Your Black Friend by Patricia A. Taylor.
Shannon Evans
Shannon Evans tiene 5 niños y es una escritora cuyo trabajo se centra en la intersección de la espiritualidad y el cambio social. Es la autora de Rewilding Motherhood (Reconstruir la maternidad), y vive con su familia en Iowa central, donde están fuertemente involucrados en la vida de su comunidad. Encuéntrela en Instagram @shannonkevans.
Más recursos para ayudarlo a empezar:
Página del tema de justicia racial. Nuestra nueva página de temas incluye recursos para que los niños y adultos importantes en su vida desarrollen resiliencia, empatía, curiosidad y consideración mientras firmes, dignos, orgullosos y unidos se preparan para la tarea de construir un mundo mejor.
Taller para padres. Los padres pueden analizar este taller para considerar más intencionalmente algunas de las estrategias que ofrecen Patty y Shannon. Reflexione sobre las preguntas orientadoras y haga un plan para usted y su familia para aprender y actuar.
Did you know you can earn a certificate for participating in this training? Pass our assessment quiz to download your certificate.
Already passed the quiz? To access your certificate go to your profile and tap "certificates."