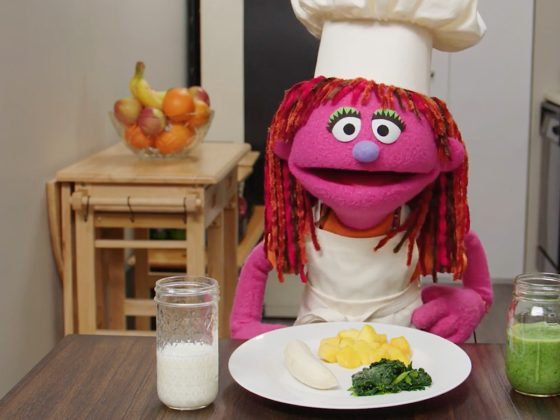 Chef Lily's Tip: Cheers to Fruit & Veggies!
A video about making smoothies.
Watch the video together. Later, try Lily's smoothie recipe or make up your own! To parallel Chef Lily, you might call your child "Chef [child's name]".
Smoothie Tips
You can add nonfat or lowfat yogurt or ice to any smoothie.
Bananas add a little sweetness.
Try frozen kale instead of spinach (you usually can't taste the greens)!
Portion out and freeze smoothie ingredients in containers or self-sealings bags so they're ready to go.
Lily loves her healthy green drink! For one large or two small smoothies, blend together:
1 banana

1 handful spinach or kale (frozen or fresh; Lily's friend Micah also uses a handful of home-grown wheat grass)

A few slices of mango (frozen or fresh)

1 cup milk (any kind)
Pour into cup(s)… and watch for a green mustache!
Here are more yummy combinations:
1 banana, ½ cup canned pineapple (in 100% natural fruit juice), 4 orange segments
1 banana, ½ cup frozen blueberries, and 1 cup of any kind of milk
½ banana, 1 cup orange juice (100% natural), ½ packet of instant oatmeal, ¼ cup plain lowfat yogurt, ½ cup ice