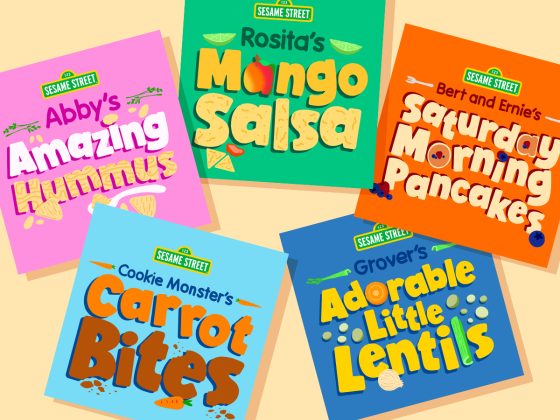 5 Healthy, Easy, Kid-Pleasing Recipes
Print and try these quick, nutritious snacks and meals made with inexpensive ingredients.
Print and try these quick, nutritious snacks and meals made with inexpensive ingredients. Little ones can help with many of the steps, such as measuring, stirring, and mashing.
Bert & Ernie's Saturday Morning Pancakes
If you don't have whole-wheat flour, 1 cup of just white flour will work!
1 Tbsp oil

1 6-oz. container plain fat-free yogurt

2 eggs

¼ tsp. cinnamon

1 tsp. baking soda

2/3 cup whole wheat flour

1/3 cup white flour

2 bananas

a handful of blueberries or strawberries (optional)
Mix dry ingredients, then stir in yogurt and eggs.

Mash bananas and add, stir till smooth. Stir in extra fruit, if desired.

Fry in oiled pan over medium heat until bubbles appear at edges, then flip.
Grover's Adorable Little Lentils
Lentils are a cost-effective source of protein for growing bodies, and lentil soup can be a comforting one-pot meal.
2 carrots, chopped

2 celery ribs, chopped

1 medium onion, chopped

2 cloves garlic, minced

2 Tbsp oil

Pinches of salt and pepper, to taste

2 ¼ cups dried lentils

1 14.5 oz can diced tomatoes

11 cups water or broth

2 cups dry pasta (a small shape such as orzo or ditalini)

10 cups fresh spinach (or 2 cups frozen)
Sautee vegetables and garlic over medium heat until soft (5-8 minutes).

Add tomatoes and simmer 8 minutes.

Add salt, pepper, water or broth, and lentils, bring to boil, then simmer 30 minutes.

Add pasta and spinach; simmer another 8 minutes.
Rosita's Mango Salsa
Frozen fruit is as delicious and nutritious as fresh—and is usually less expensive.
2 cups diced mango (fresh or frozen)

¼ cup chopped onion

1/3 cup diced bell peppers

3 Tbsp. chopped jalapeño pepper (optional)

1 garlic clove, minced

Juice from 2 limes
Combine all ingredients and enjoy!
Abby's Hummus
Here's a filling, protein-packed snack.
1 15-oz. can chickpeas

1/3 cup water

1/3 cup lemon juice

1 clove garlic, minced

½ cup tahini

pinches of salt and pepper

1 sprig parsley (or a large pinch of dried parsley)
Put all ingredients in blender and blend at high speed until smooth. Offer vegetable slices or whole-wheat crackers to dip in.
Cookie Monster's Carrot Bites
You can make cookies healthier!
½ cup whole wheat flour (it's healthier, but white will still work)

½ cup white flour

¼ tsp salt

1 tsp baking soda

1 tsp baking powder

6 Tbsp oil

1 cup brown sugar

1 egg

½ cup raisins

¾ cup grated carrots

½ cup chopped walnuts (optional, check for nut allergies)

½ cup oats
Mix together the first five ingredients, then add the rest.

Place dough on cookie sheet by rounded teaspoonfuls.

Bake at 350° F for 15 minutes.