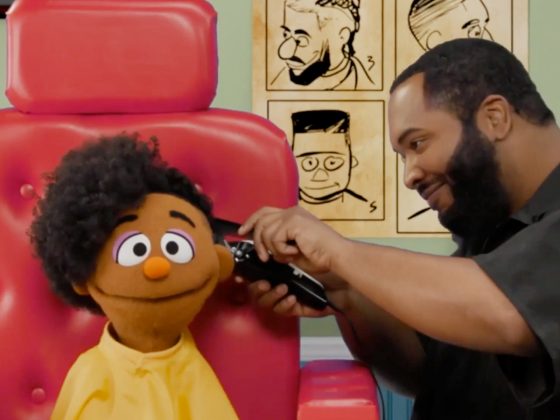 Barbershop Bonding
A video about the community bonds of the Sesame Street barbershop.
Sharing moments of connection within your community is a powerful experience for young children. In this video, new Sesame Street friends Wes and his dad Elijah visit the Sesame Street Barbershop together for the first time, and Wes experiences the pride, confidence, gratitude, bonding, and humor that this space fosters—while getting his very first, very special barbershop haircut!
Nurturing children's connection to their communities can build resilience and become an anchor that serves them through their lifetimes. Even moments as seemingly small as a haircut can become "Big Little Moments" that deepen children's pride in who they are and the community in which they belong.
Even though the interactions in the barbershop may be casual, they're important! Watch this video together with children. You might:
Pause to notice what's on the walls of the barbershop: an old photo of the shop, the first dollar the store earned, pictures of family members, hairstyle choices, a basketball player, and a community leader.
Ask children to describe the similarities or differences between their own hair (or haircut) and Wes's hair.
Name some places in your community where you feel a sense of belonging, connection, or pride. Ask, "Why do you think Mr. Gordon said his haircuts made him feel 'proud to be me?'"
Point out that Byron the barber said his favorite part of his work was making people feel good. Ask, "What other caring adults in our community can we think of?"
And… notice the cameo appearance of the beloved Sesame Street character Gordon Robinson, played by Roscoe Orman. Gordon (along with his wife Susan, played by Loretta Long) appeared from the very first episode in 1969 until season 46 (the character's nephew Chris, introduced in 2007, currently appears on the show).