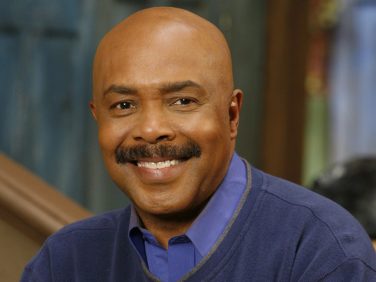 Roscoe Orman — "Gordon"
Roscoe Orman is an award-winning actor whose credits extend to television, stage, and screen.
Roscoe Orman is an award-winning actor whose credits extend to television, stage, and screen.
He studied at New York's Circle-In-The-Square Theatre School and Manhattan School of Music. He made his acting debut with the Next Stage Theatre Company's 1962 production of If We Grow Up. He toured for two years with the Free Southern Theater of New Orleans and was an original member of Harlem's New Lafayette Theatre Company, where he performed in and directed many plays, including Whose Got His Own, The Duplex, and The Fabulous Miss Marie. Orman has worked extensively on the New York stage with the Negro Ensemble Company, New York Shakespeare Festival, Manhattan Theatre Club, New Federal Theatre, and American Place Theatre where, in 1993, he enjoyed critical success in the title role of The Confessions of Stepin Fetchit. He appeared as "Gabriel" in the 1988 Broadway production of Fences and The Royale at Lincoln Center Theatre.
Orman recently played "Hoke Colburn" in two regional theatre productions of Driving Miss Daisy and starred in the 2012 production of Jitney at Baltimore's Murphy Fine Arts Center. In 2014, he won an Audelco Theatre Award as best lead actor for his performance in the Off-Broadway production of The Fabulous Miss Marie and appeared in a bicoastal production of Will Power's Fetch/Clay, Make/Man. Other stage appearances have included roles in Julius Caesar and Coriolanus at the Public Theater, The Piano Lesson at Harford Stage and Bud, Not Buddy at The Kennedy Center.
Orman's film credits include the title role in Willie Dynamite, F/X, Striking Distance, New Jersey Drive, Drive-By, Thirty Days, Twilight's Last Gleaming, Coney Island, Compliments of the Serpent, and the 2011 family film Jeremy Fink and The Meaning of Life. On television, he has been seen on such shows as Sanford and Son, Kojak, All My Children, Law & Order: SVU, Sex and the City, Cosby, The Wire, Alpha House, Criminal Justice, recurring in HBO series CRIME, and most recently in HBO's The Night Of. He narrated the TV documentaries Langston Hughes: The DreamKeeper and Look I'm in College for PBS, Children's Health and Heritage of The Black West on Discovery Channel, U.S. Presidents on The History Channel, and Images in Black and White for ESPN. He is the author of two books, Sesame Street Dad: Evolution of An Actor and Ricky & Mobo, a children's book which he also illustrated. In 2008 and 2009, he served as Chief Storyteller and National Spokesperson for Audible Kids.
Check out more on our talented cast and performers!