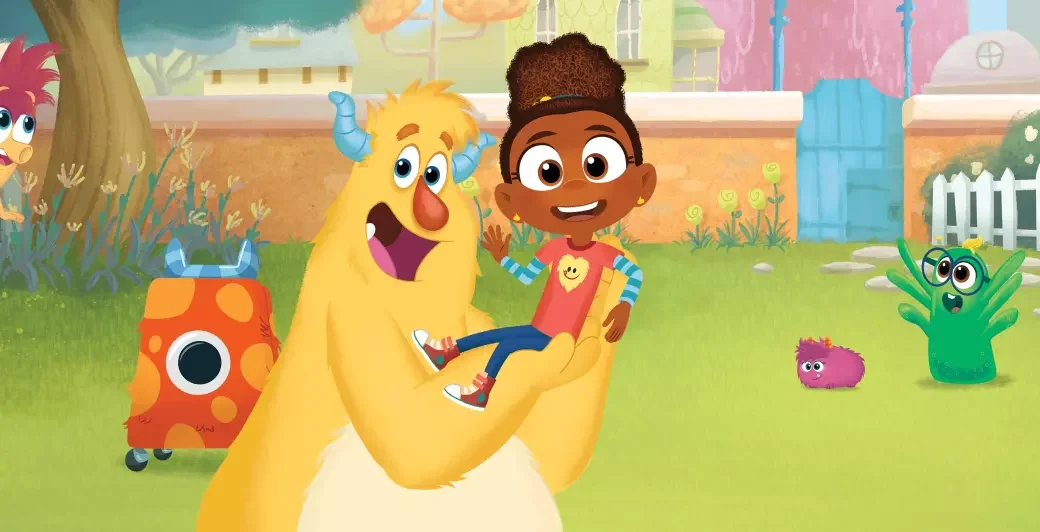 Esme & Roy Season 1
Sesame Workshop's first new animated program in more than a decade promotes "learning through play" and mindfulness.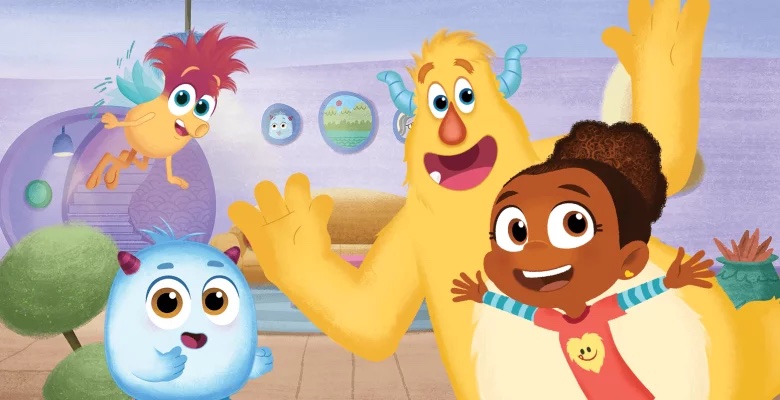 Sesame Workshop and Nelvana to Debut Original Animated Series "Esme & Roy" on HBO in the U.S. and on Treehouse in Canada, August 18
Sesame Workshop's first new animated program in more than a decade promotes "learning through play" and mindfulness.
(New York, NY – July 25, 2018) – Sesame Workshop and Nelvana announced today that Esme & Roy, the first new animated series from the makers of Sesame Street in more than a decade, will debut on Saturday, August 18 on HBO in the U.S. and on Treehouse in Canada. The program follows a young girl, Esme, and her best monster friend, Roy, on their adventures as the best monster babysitters in Monsterdale. Aimed at children ages four to six, it offers a creative new approach to teaching "learning through play" and mindfulness strategies.
What's New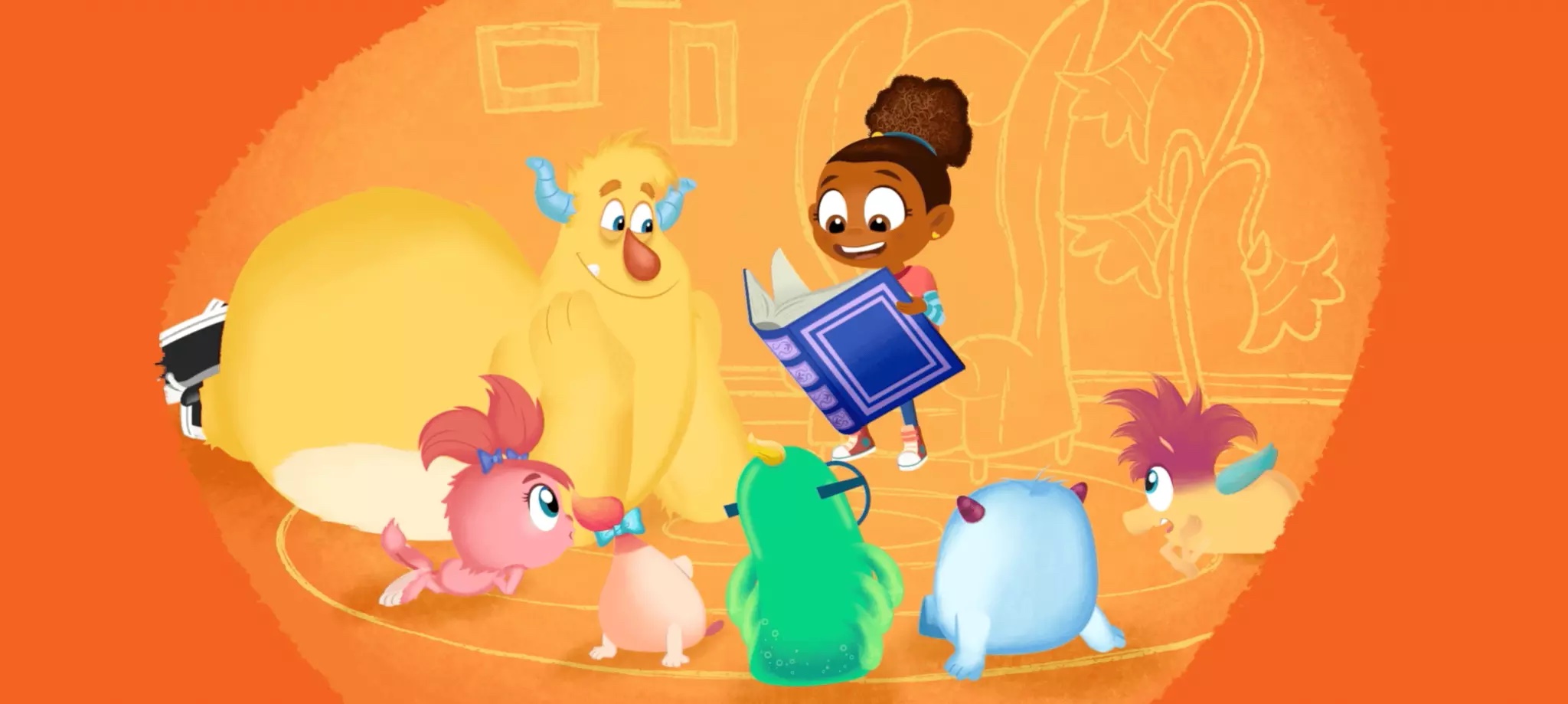 Welcome to the world of Esme & Roy, where playtime is the best time! Following a dynamic pair of monster babysitters – a young girl, Esme, and her monster best friend, Roy – this creative show invites children into a richly textured world of monster fun.
In each episode, Monster Sitters Esme and Roy harness the power of play to help solve their little charges' monster-sized problems. The countless silly situations the friends get into along the way will have kids laughing as they learn.
Esme and Roy live in bustling Monsterdale, where the colorful streets are always buzzing with monsters of all shapes and sizes. Sharp-eyed viewers will notice that homes in Monsterdale reflect the monsters who live in them: flying monsters live in homes like Victorian birdcages, while aquatic monsters live in houses shaped like giant fishbowls. A little house in Esme's backyard serves as Monster Sitters' HQ, complete with a comfy chair for Roy and a habitat for his monster pet, Dumpling.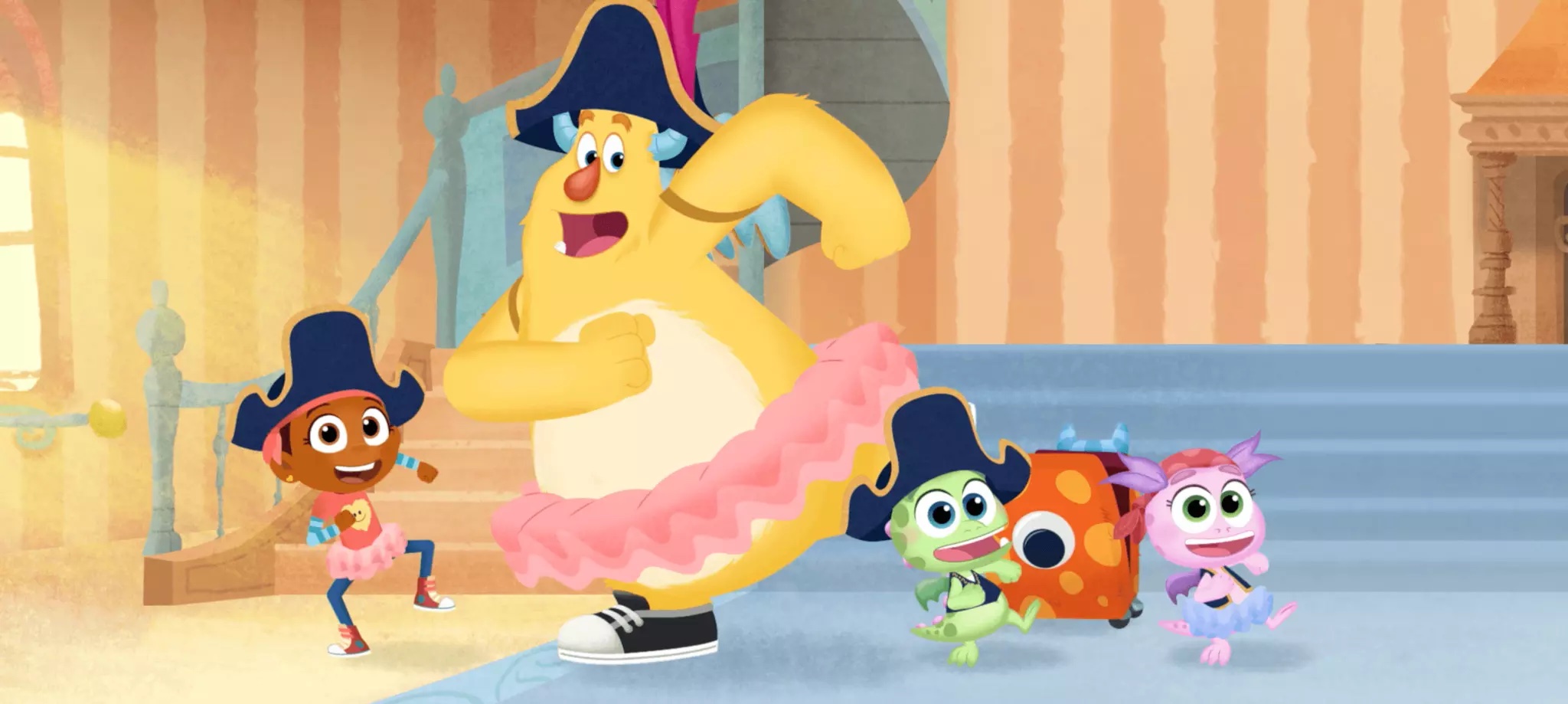 Curriculum
With loveable characters who spark strong emotional connections among preschoolers and parents alike, Esme & Roy invites children into a colorful world where even the littlest monsters can overcome big challenges together. Esme & Roy uses the power of play to help younger monsters through familiar situations like trying new foods, or feeling frustration with a sibling. Children will look up to their new favorite monster-sitters as positive role models, learning how to manage strong emotions with simple mindfulness practices alongside Esme and Roy's charges.
Learning Through Play
Esme & Roy's primary education goal is to model how children learn best through play, fostering a range of play patterns using everyday objects to extend learning across content areas. When children play, they are:
Cognitively, physically, and socially engaged
Curious and ready to try new things
Motivated by their own interests, which makes play meaningful
As play guides, Esme and Roy set up different types of play to solve problems and help the little monsters learn a range of lessons while keeping their interest through play.
Mindfulness
The secondary education goal of Esme & Roy is to model strategies to help children manage their emotions. When the little monsters experience big feelings like worry, frustration, or fear, the Monster Sitters use an array of calm-down strategies to help them regulate their emotions so they are ready for playtime.
These simple strategies include:
Belly breathing: Slow, deep breaths, taken in through the nose and out through the mouth;
Hugging oneself:
Glitter jars: Calming the body and mind by shaking a sparkly snow globe-like jar, taking deep breaths while watching the glitter swirl and slowly fall;
Self-talk: Using positive statements to remind kids of their strength and capability;
…and they're easily repeatable at home, even for very young viewers.
Episode 101 – Monster Trucks!
Esme and Roy are having a blast watching Tillie, a car-loving Plink Monster. When bath time rolls around, Tillie refuses to hop in the tub! Thankfully, Esme and Roy know that with a little imagination and a few pool noodles, they can make bath time the best time!
Episode 101 – Lunch Crunch
It's lunchtime at Simon's house, and Simon can't wait for Esme and Roy to fix the only meal he eats: a fish and stinky cheese sandwich. When the family pet gobbles up the last of the fish and stinky cheese, Esme and Roy use their love of art to get Simon to branch out.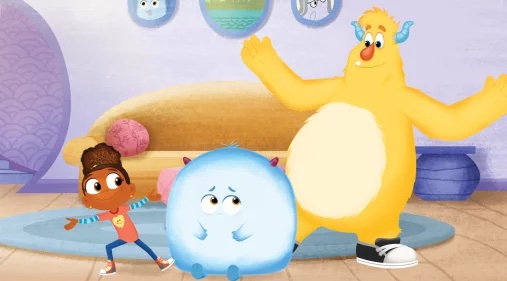 Episode 102 – Dark and Stormy Knight
A thunderstorm is coming, and Esme and Roy are watching the huggable Snugs. He's absolutely terrified of storms, and when Muzzywump monsters get scared, they puff up. Soon, Snugs is the size of a house! Esme and Roy use their quick thinking to calm Snugs back to his regular size.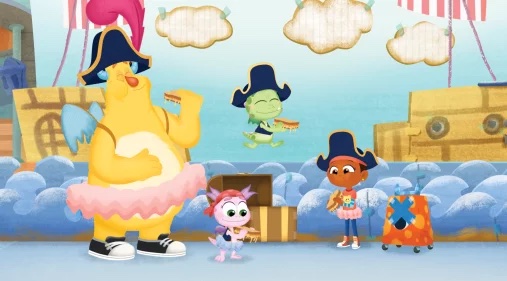 Episode 102 – Two Can Play at That Game
Bleederblop Monsters Frank and Franny are eager to play, but each one wants to play a different game: Frank wants to play ballet, while Franny wants to play pirates. Esme and Roy try to juggle both games at once, but it proves to be more exhausting than they imagined. With a little teamwork and imagination, Esme and Roy have just the solution!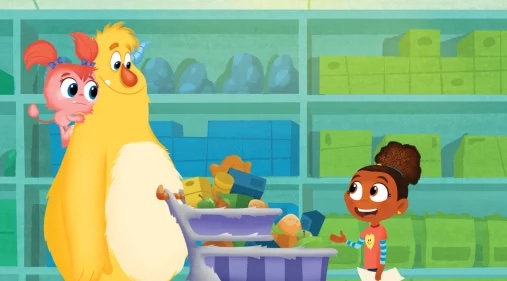 Episode 103 – Supermarket Match
Esme and Roy are watching Tillie at the supermarket when Tillie starts grabbing anything and everything in the store! Esme and Roy use their knowledge of matching – and some awesome teamwork – to create a game that'll focus Tillie's energy and make grocery shopping the best part of the day.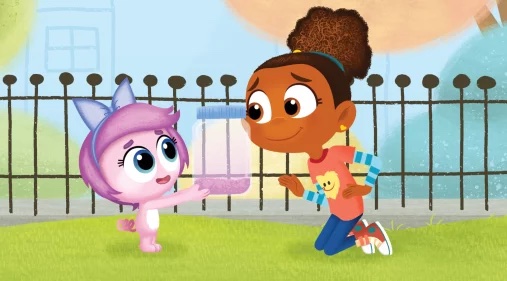 Episode 103 – Imitation Frustration
It's a beautiful day, so Esme and Roy take Hoozlewoo siblings Sid and Lucy to play in the park. But when Sid starts copying everything Lucy does, Lucy gets frustrated — she wants to do her own thing! Esme and Roy flip the script with a playground game that helps everyone have a great time!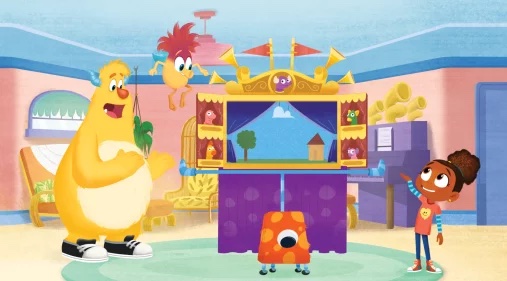 Episode 104 – Noisy Naptime
The Monster Sitters are watching the musically-inclined Ooga monster, Hugo, while his baby sister Fig gets her nap. But Hugo has a hard time staying quiet! Esme and Roy find a low-key game for Hugo so his baby sister can get her beauty sleep.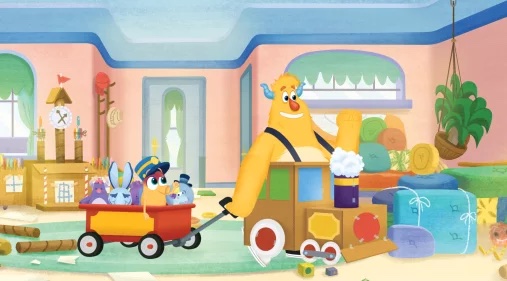 Episode 104 – The Hugo Express
When Esme and Roy get to Hugo's house, his father tells them that they need to keep the house extra clean. But when the three get wrapped up playing trains, they make a huge mess! Can the Monster Sitters find a fun way to clean up before Daddy Ooga gets home?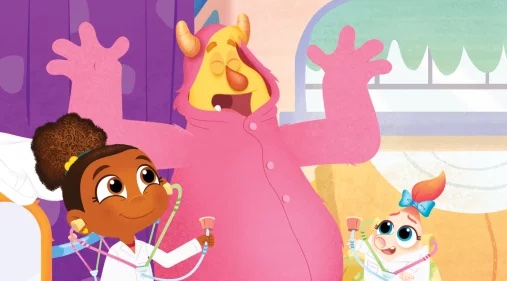 Episode 105 – Gentle, Gentle
She's strong! She's mighty! She's…teeny tiny? Esme and Roy are watching littlest Ooga monster, Fig, who is very strong for her small size. When Fig comes across Roy's monster pet, Dumpling, she wants to squeeze Dumpling too tight! Esme and Roy use their quick thinking – and a guinea pig costume! – to show Fig the strength in being gentle.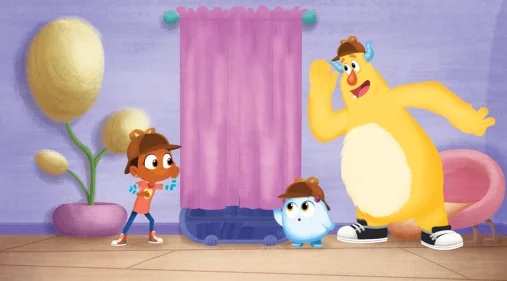 Episode 105 – The Case of the Missing Cuddles
Esme and Roy are watching Snugs one evening. Just before bedtime, they realize Snugs's favorite stuffed toy is missing – and Snugs can't sleep without it! With a little ingenuity and some Sherlock Holmes flair, Esme and Roy search for the missing toy.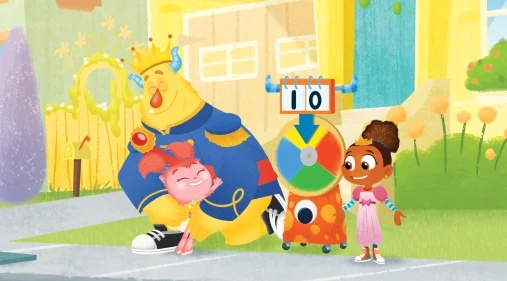 Episode 106 – Game Plan
It's time for Monster Scout Camp, and Esme and Roy are helping Tillie get ready for her first day. But Tillie keeps getting distracted – she wants to keep playing! Thankfully, the Monster Sitters know just the game to get Tillie focused while still having fun…but will Tillie make it out the door before the bus arrives?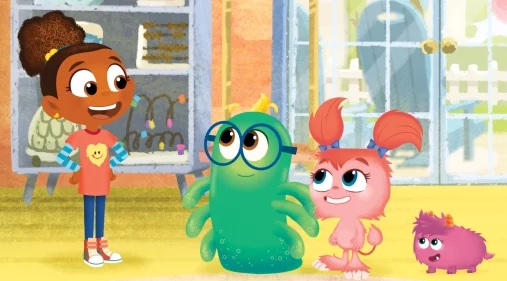 Episode 106 – A Way to Play
Simon and Tillie are coming by Monster Sitters' HQ for a playdate, but the neat-and-tidy Simon and the rambunctious and messy Tillie have trouble finding a game they can both enjoy. Thankfully, Esme and Roy find a fun (and colorful!) solution to help them find the perfect balance of messy and neat.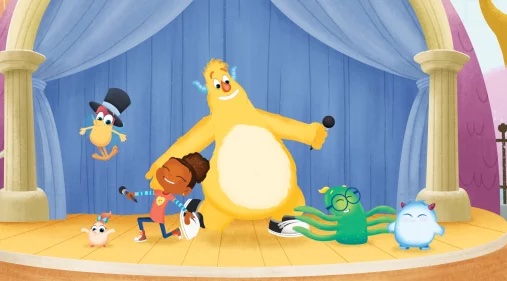 Episode 107 – Sing Out, Roy!
It's time for the Monsterdale Talent Show! When Roy's stage fright causes him to freeze up, Esme uses her creative thinking, teamwork, and a dash of crafty flair to get Roy ready for his big debut.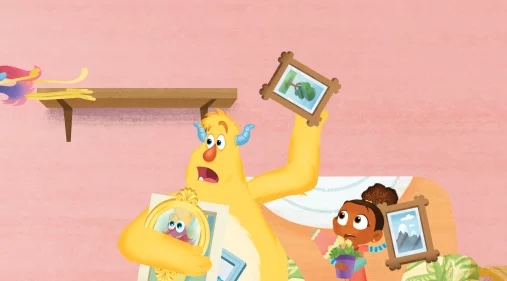 Episode 107 – Monster's Little Helper
Roy and Esme meet the quirky and enthusiastic Lottie, who wants nothing more than to be a monster sitter herself! But when Lottie accidentally shrinks baby Fig while they're out on a "mission," Esme and Roy need to use their powers of observation and love of games to help Lottie find Fig and get her back to her regular size.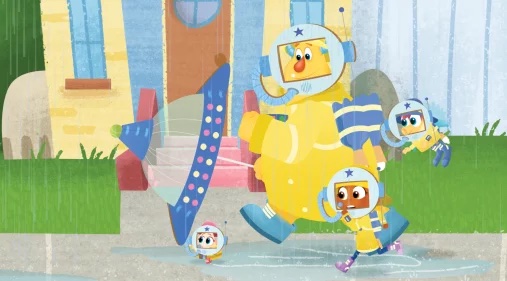 Episode 108 – Hugo, We Have a Problem
It's a rainy day, so Esme and Roy are taking Hugo and baby Fig to the planetarium! When Fig refuses to put on her rain gear, Esme and Roy use their love of play and crafty know-how to get Fig ready in time for blast-off.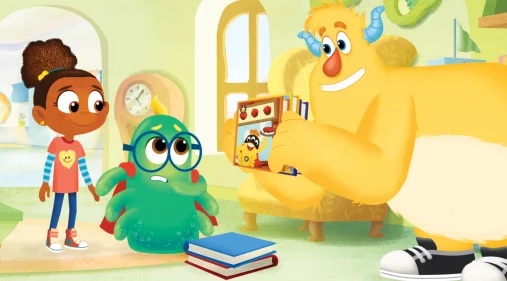 Episode 108 – A New Chapter
Esme and Roy are watching Simon, who can't wait to read the next book in his favorite series. But Grammy Swoozle accidentally takes the book with her when she leaves! Esme and Roy use their imaginations and love of stories to find a solution where everyone lives happily ever after.
People In Your Neighborhood
Talent Bios
Millie Davis
"Esme"
Davis is a Canadian actress who is best known for her roles as "Ms. O" in the PBS Kids series Odd Squad, "Summer" in the film Wonder, and "Gemma Hendrix" in the series Orphan Black.
Patrick McKenna
"Roy"
McKenna began his acting career with Toronto's famous Second City Theatre Company. He then took to the road as a stand-up comedian, headlining at universities and clubs throughout North America, including opening for both Dionne Warwick and Smokey Robinson.
McKenna appeared on television in the Red Green Show for fifteen seasons as the loveable, nerdy, techno-geek, Harold, while simultaneously performing in five seasons of the acclaimed dramatic series, Traders. For this work, McKenna earned two Gemini awards for "Best Performance by a Lead Actor in a Comedic Series" and "Best Performance by an Actor in a Dramatic Series" in the same year.
Currently, McKenna co-stars in two hospital series: Hard Rock Medical for TVO and APTN, and Global Television's newest drama, Remedy. With any remaining free time, McKenna continues to guest-star in dramatic and comedic series from Murdoch Mysteries to The Mercer Report, and has recently entered the world of cartoons, lending his voice to no less than five regular animated series.
Next, you can see McKenna star in the soon-to-be-released feature films, A Masked Saint and Margarita.
Kay Wilson Stallings – Senior Vice President, Creative Development, Sesame Workshop

As Sesame Workshop's Senior Vice President, Creative Development, Stallings oversees global creative development and pilot production of all original Sesame content for multiple platforms. She also explores new production models and partnerships to develop new programs, processes and talent for the creative group.

In 2017, Stallings created and directed the first annual Sesame Street Writers' Room, an intensive eight-week competitive fellowship dedicated to discovering, nurturing, and increasing diverse voices in children's media. Held at Sesame Workshop's New York City office, the fellowship offers seven to ten emerging writers from underrepresented racial backgrounds the chance to hone original scripts while meeting with industry writers, producers, agents, and executives; one to two winning fellows per year have a chance at creative development deals from Sesame Workshop.

Prior to joining Sesame Workshop, Stallings was Senior Vice President of Production and Development at Nickelodeon. In her 16 years with the company, she oversaw development of all original series production for Nickelodeon Preschool and Nick Jr., Nickelodeon's digital channel, including pre-buys, acquisitions, and the global shorts programs. Stallings developed more than 20 series while at Nickelodeon including Wonder Pets, Yo Gabba Gabba!, Fresh Beat Band, Shimmer and Shine, and Blaze and the Monster Machines.

Stallings holds a Master's degree from the University of Illinois and a Bachelor's degree from Mac Murray College.
Dustin Ferrer – Co-Creator & Co-Executive Producer, Esme & Roy

Ferrer is a two-time Emmy Award-winning writer for Peg + Cat; she has also been nominated three times for her work on Wonder Pets and 3rd and Bird! Ferrer worked as a story editor at Nickelodeon's Shimmer and Shine and has written for many preschool programs including Muppet Babies, Team Umizoomi, Bubbleguppies, Miles from Tomorrowland, Daniel Tiger's Neighborhood and Wallykazam.
Amy Steinberg – Co-Creator & Co-Executive Producer, Esme & Roy

Steinberg got her start at Nickelodeon, where she was a producer on Blue's Clues and Team Umizoomi. In addition to Esme & Roy, Steinberg co-created Chickiepoo and Fluff: Barnyard Detectives (Nickelodeon) and Words with Puffballs (Sesame Studios). She has also worked as a producer of preschool content at Scholastic and Sockeye Media.
Producer & Distributor Information
Sesame Workshop is the nonprofit media and educational organization behind Sesame Street, the pioneering television show that has been reaching and teaching children since 1969. Today, Sesame Workshop is an innovative force for change, with a mission to help kids everywhere grow smarter, stronger, and kinder. We're present in more than 150 countries, serving vulnerable children through a wide range of media, formal education, and philanthropically-funded social impact programs, each grounded in rigorous research and tailored to the needs and cultures of the communities we serve.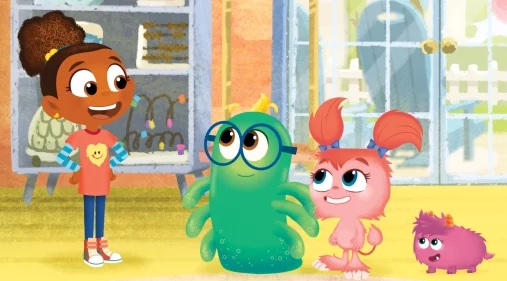 Download Press Photos
If you don't yet have access to the portal, contact us using the link below.