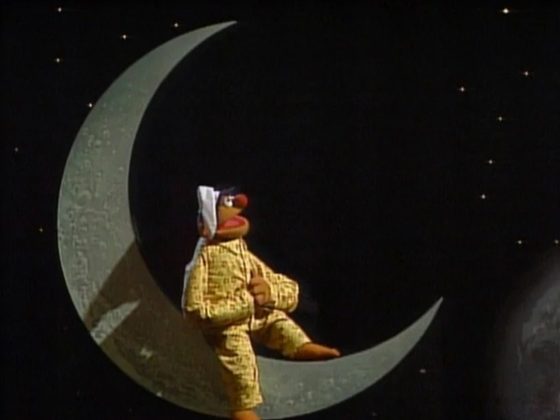 Ten Classic Sesame Street Songs to Take You Back to the 1980s 
Sesame Street has been helping children everywhere grow smarter, stronger, and kinder since its premiere in 1969. In addition to introducing audiences to a diverse and delightful cast of monsters, people, and furry and feathered friends, the show has gifted us with some of the catchiest and most recognizable tunes of the past few decades. Whether you watched them live as a child in the '80s or caught these classics as reruns in the '90s or 2000's, these ten Sesame Street songs are sure to hit you with a heavy dose of nostalgia.
10. Do De Rubber Duck
Following the international sensation that was "Rubber Duckie," Ernie returned with another "bath time bopper" – this time with a reggae beat! Written as a collaboration between the prolific Sesame Street composer Christopher Cerf and former head writer Norman Stiles, "Do De Rubber Duck" premiered on the show for the first time in 1986 and went on to be included in the iconic Put Down the Duckie! album with additional verses by Kermit the Frog, Guy Smiley, Biff, and Hoots the Owl. We guarantee you'll have the chorus stuck in your head for the rest of the week.
9. I'm Sad Because I'm Happy
Another classic brought to you by the dream team of Christopher Cerf and Norman Stiles, this ballad was originally recorded in 1982, though it didn't premiere on Sesame Street until over a decade later. Backed by a choir of neighborhood Grouches and the sound of pouring rain, Oscar waxes poetic about the complexity of his emotions: How he's sad when he is happy, and happy when he's mad, but mad because it's sappy to be happy when you're sad.
8. Do-Op Hop
First made iconic in 1985 by the one and only Kermit the Frog, this doo-wop song was brought to you by…you guessed it, Christopher Cerf and Norman Stiles. Pair the composing talents of that duo with Kermit's impressive sense of rhythm and you get an instant classic. The rumors are true, and you can do it, too: Do-op, do-op, hop!
7. A New Way to Walk
In 1985, the most talented trio of pig-sisters to ever grace Sesame Street sung about the simple joys of walking to your own beat…and the world was never the same. Joe Raposo of "C is for Cookie" and "Bein' Green" fame joined forces with Mark Saltzman to write the song, which went on to be covered by Destiny's Child in 2002. This one is sure to make your spirit shine!
6. The Honker-Duckie-Dinger Jamboree
What's that you say? It's the latest and the greatest and the only place to be? It must be "The Honker-Duckie-Dinger Jamboree!" Ernie is joined by the likes of Rubber Duckie, the Honkers, and a Dinger as he honks, squeaks, dings, and sings the day away in this 1983 hit brought to you by Christopher Cerf and Norman Stiles. This song has truly earned its place in the ranks of the Sesame Street greats for its simple, silly, and singable celebration of sound.
5. The Batty Bat
1-2-3, Count! Written in 1985 by Joe Raposo, this song has gone on to become synonymous with Count Von Count. Batty Bats fly around and sing backup as everyone's favorite number-lover plays his pipe organ and sings about his boyhood in old Transylvania. Won't you dance with him, doing "The Batty Bat?"
4. I Don't Want to Live on the Moon
A tearjerker for the ages written by Jeff Moss, the man who brought you "Rubber Duckie" and "People in Your Neighborhood." Ernie first sang about his love and appreciation for – but his desire not to live on – the moon in a 1984 episode. We love you just where you are down here on Sesame Street, Ernie!
3. That's What Friends Are For
Long-time Sesame Street composer and Abby Cadabby creator Tony Geiss penned this song in 1982, and it's gone on to become a timeless ode to one of the most iconic friendships of all time. Ernie sweetly (and loudly) celebrates all the things that make him similar and different from his best buddy Bert, all while poor Bert tries to get a good night's sleep. Because, indeed, that's what friends are for.
2. Monster in the Mirror
Christopher Cerf and Norman Stiles once again joined forces in 1989 to create what has gone on to become what is, without a doubt, Grover's most iconic song. Echoing the themes of the best-selling 1971 children's book The Monster at the End of This Book, "Monster in the Mirror" sees Grover not quite understanding that he is the monster he sees each morning in the mirror. Following its initial success, an additional music video for the song premiered in 1991 as part of the Big Bird's Birthday Celebration TV special, and featured celebrities such as Robin Williams, Whoopi Goldberg, Julia Roberts, Ray Charles, and Jeff Goldblum. Wubba wubba!
1. Elmo's Song
Believe it or not, Elmo wasn't officially introduced to Sesame Street until the '80s. Luckily for us, everyone's favorite 3-and-a-half-year-old monster teamed up with Tony Geiss in 1989 to write the music and the words to his very own song, from which a variation went on to be used as the opening theme to the Elmo's World segment. Simple, timeless, and classic…that's "Elmo's Song!"