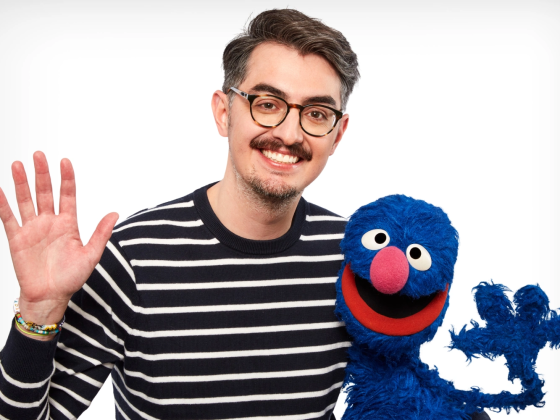 An Interview with Sal Perez
Sesame Street's Executive Producer Takes Us Behind the Scenes
November 10 is Sesame Street Day, and, in honor of the iconic show's 54th birthday and to celebrate the launch of Season 54, we're taking readers someplace few ever get to go – behind the scenes – for a personal conversation with Sesame Street's award-winning Executive Producer, Sal Perez.
Q. Let's start with everyone's favorite prompt: "can you tell me how to get to Sesame Street?" Did you grow up watching the show?
SP. Yes! When I went to visit family in Mexico as a kid, I'd watch the Spanish version, Plaza Sésamo, on TV. I have a lot of memories of the Spanish versions of all the characters — especially Grover. I can still hear sketches like "near/far," "over/under/through" in my head, because the Spanish voice was so clear! He's always been one of my favorites.
Q. What's your favorite part of being Executive Producer?
SP. Oh, it's definitely when we're filming on set at Kaufman Astoria Studios, because we are literally on Sesame Street! It's the actual street, the actual place. We have Hooper's Store, and of course the stoop.
The puppeteers are there. I love talking with the directors about what they are trying to shoot. We might also be problem-solving with the puppeteers about what position they are in or where a prop might go or reviewing the script trying to refine the timing of a joke.
But every day is different. I also spend a lot of time on pre-production, which includes discussing the overall direction for each of our projects. That can mean everything from Sesame Street—we're usually working on three different seasons at once—to a live show, a YouTube project, or social impact initiative.
Q. Do you have a favorite on-set moment?
SP. Last year, while filming Season 54, Snuffy was on set for the first time since before COVID. And it was—it was really emotional. So many people were tearing up just seeing Snuffy. It was like being reunited with an old friend we'd all missed. I teared up because I've never seen something in person like that before. Sometimes, getting a peek behind the scenes can ruin the magic. But it's not like that for Sesame Street. Behind the scenes is just as magical.
Q. Most people don't realize just how much research and curriculum tie into everything we do. How do you engage with those teams to turn a curriculum concept into a script?
SP. We start with our Curriculum Seminar, a meeting of the minds where researchers, child psychologists, and other experts discuss a particular topic, like mental health. The production and writing teams participate because we need to understand what educational needs we're addressing with every piece of content we produce.
It takes so many people's expertise and passion to make Sesame Street. We're trying to teach kids very specific lessons through play, joy, and humor, all in a couple minutes, and all in a way they will remember. And it works. I think that's why the Grover "near/far" sketch is such a core memory for so many people. It does all those things in a way that's efficient, creative, and fun.
Q. You've been working at Sesame for more than 15 years, and the show has just celebrated 54 seasons. How do you stay excited by the work after so many years?
SP. You might think, 'Oh, after fifty years, it's just the same thing over and over again'—but we're always reinventing our approach. As our reach continues to shift and change, the projects branch off—like now we have an Off-Broadway show, we have podcasts. That's what keeps it interesting for me. I also see my work differently now that I'm a dad. I see my daughter watching these characters and replicating what they're doing. She doesn't realize it, but it's helping her grow up—she's growing emotionally, she's developing critical thinking skills. Sesame Workshop is laying that foundation for her, and for kids everywhere. These kids will grow up into adults who will shape the world. And that's why this work is so important—and it's why we need to continue doing it.
Q. Is there anything that stands out as something you are most proud of?
SP. The thing I'm most proud of is trying to make a seat at the table for as many different perspectives as possible. I want this to be a place where people feel they can be themselves, and make their voices heard—even if they're new. The values that we see on Sesame Street, which has an incredible legacy of inclusion, are values that have to exist behind the scenes too.
Also—as much as it's sappy to say—the relationships I've formed with the people here are really genuine. We're a nonprofit, and everybody is here because they want to do good and make something really meaningful for kids. It takes a huge team of talented and passionate people to make Sesame Street, and I'm proud to be a part of that team.
Check out the Latest from Sesame Workshop