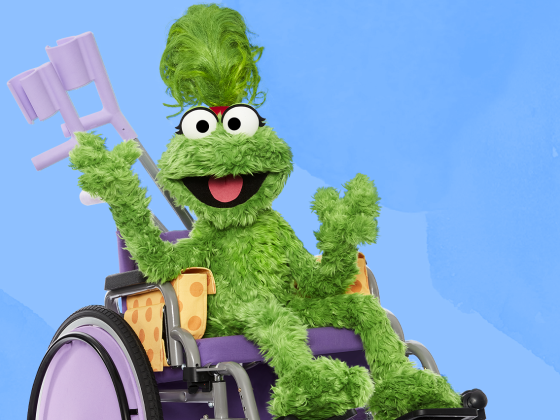 Ameera's Reflection: How Muppets Offer a Window and Mirror  
Authentic disability representation in children's media
Kim Foulds and Scott Cameron
Children's educational media has the power to be both a window and mirror into children's lives. As a window, educational media can expose children to new foods, new geographies, or new ways of celebrating community.
As a mirror, it can reflect a child's identity, helping children develop important parasocial relationships with their friends on TV that supports their learning. For children with disabilities, there is continued need to include authentic, fully developed characters that offer them a mirror, so they feel seen and represented, while also offering a window to children who may not have yet had the chance to become friends with a child with a disability.  
Our response to the need
In 2021, Sesame Workshop created Watch, Play, Learn (WPL), a series of early learning animation videos designed to bring playful early learning to children everywhere, with particular attention to the unique needs and experiences of children affected by crises such as conflict or displacement.
In addition to featuring beloved Sesame Street Muppet characters like Elmo and Cookie Monster, WPL introduced a new Muppet named Ameera. Ameera is an 8-year-old girl who is deeply inquisitive, loves science, and seizes every opportunity to crack a good joke. Ameera has a spinal cord injury, and she gets around using forearm crutches or her wheelchair. This wheelchair has two polka-dotted storage pouches from which Ameera can pull just about anything – a trumpet, a compass, a microscope, or even a mischievous chicken friend!
The development of Ameera's biography, personality, and physical design was guided by advisors who suggested we include a character who uses both a wheelchair and crutches because, in many displacement contexts, children with physical disabilities do not have access to wheelchairs but do have access to crutches. These crutches are also useful for navigating tighter spaces where wheelchairs may not fit.  
After establishing Ameera as an animated character, in early 2022 we debuted Ameera in puppet form on Ahlan Simsim, the Arabic-language version of Sesame Street produced in Jordan that reaches 25 million children across the Middle East and North Africa. She quickly became a great friend to everyone in the Ahlan Simsim neighborhood and her enthusiasm for science, love of languages, fun personality, and comedic timing have become core components of the show.
Bringing Ameera to life in the "real world," of Ahlan Simsim has enabled the character to interact authentically with real children and families on screen. Ameera continues Sesame Workshop's long history of creating diverse characters who children around the world can relate to, and she calls attention to the over 12 million refugees and over 240 million children worldwide who live with a disability, while also modeling girls' interest in STEM.
What we needed to know
To create WPL, we invested heavily in formative research during the development process to make sure that the content was appealing and relevant for children across diverse global contexts. We tested extensively with children across 9 countries and 11 languages, but we struggled to recruit children with disabilities in the process, meaning that while we tested the 'window,' we still needed to test the 'mirror.' 
To do this, we adapted our formative research model to test Ameera's appeal directly with children with disabilities. We wanted to know what children with physical disabilities want to talk to Ameera about, including how they talk about her wheelchair. These insights would inform future Ahlan Simsim scripts and ensure that Ameera offered children an authentic representation.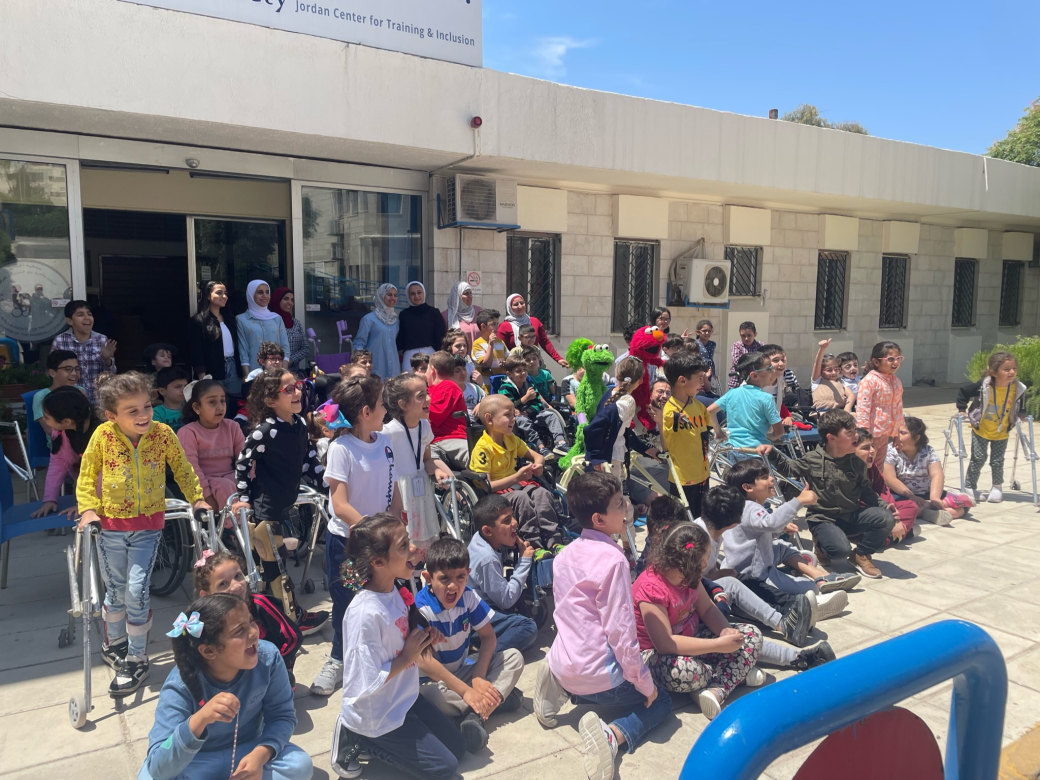 How we did it
To answer these questions, in partnership with the Al Hussein Society – Jordan Center for Training and Inclusion in Amman, Jordan, we conducted a formative research study, using Ameera herself as our researcher proxy. Before the research session, all children at the school watched two Ameera-focused Ahlan Simsim episodes.
Then, during each session, Ameera, puppeteered by her trained puppeteers, and an adult human friend co-facilitated a semi-structured conversation with 4-5 children. During the sessions, children completed an Ahlan Simsim activity sheet, where they drew a picture of themselves, their favorite food, something they like to do, and someone who loves them. Then, everyone – including Ameera – shared their drawings to start the conversation.
What we learned
Overall, across all sessions, we learned that children preferred to not discuss Ameera's wheelchair, focusing on other aspects of her identity instead. When talking about similarities and differences with Ameera, very few children referenced her wheelchair or disability.
Instead, responses included a common love of basketball, school, their friends, the color green, Ahlan Simsim, and mansaf. The one reflection to the groups' varying physical abilities were similarities around hair brushing – doing it by yourself or needing help when feeling tired:
Adult facilitator: Ameera, would you prefer to brush your hair in the morning or let someone brush it for you?
Ameera: Sometimes I prefer doing it myself and some other times I prefer if someone helps me to brush it. Depends on if I'm tired or not.
Child 1: I'm like you.
Child 2: Me too.
Child 3: Me too.
Ameera: So, we all are the same, it depends on if we're tired or not.
When asked explicitly about Ameera's wheelchair, most children actively changed the subject. The exception were two children, saying that her wheelchair is tall and they like its color.
When provided the space to ask Ameera a question about herself or Ahlan Simsim, very few children referenced her wheelchair or disability. Questions from children included:
Only one child referenced Ameera's wheelchair, wanting to know how she got it and who helps her move it, though this was likely in reference to this child noticing the puppeteers. Older children, in particular, were curious about the mechanics of Ameera:
Adult facilitator: I have a question. What do you feel is similar and different between you and Ameera?
Child 1: Ameera is green.
Adult facilitator: Ameera is green! Alright, what else is different?
Child 1: Her hair is green.
Child 2: She really loves her friends.
Adult facilitator: All of her is green and she loves her friends a lot. What else?
Child 1: She is on a wheelchair
Adult facilitator: Yes. Is it nice?
Child 2: How did you get this wheelchair?
Adult facilitator: We'll just ask her when she wakes up.2 I don't remember…but she likes purple.
Child 1: Is there anyone helping her to move?
Adult facilitator: No, she moves by herself.
Adult facilitator: Why aren't you convinced, Hala? Tell us, what do you think?
Child 1: She's a cartoon! Maybe someone is helping her to move.
In addition to conversations with Ameera, children's drawings also provided useful insights. For example, when drawing someone that loves her, one girl drew a picture of Ameera:
Child: And here I drew my favorite thing to do, which is to create things. And here I drew my favorite person.
Adult facilitator: Wow! She drew you, Ameera!
Ameera: I love you too.
What these findings mean
The findings suggest that Ameera clearly resonated with the children in this study given the way children engaged with her, even those who saw the puppeteers before the session started. This is a common observation of children's interactions with Sesame characters, each of which is created with extensive research and performed by artists trained to engage with children.
Children's questions and responses to Ameera suggest that Ameera offers an authentic representation, even though her wheelchair might be taller or a different color than their wheelchairs or mobility devices. Ameera's authenticity likely comes from her having a fully developed personality with lots of similar interests to children her age.
This study let us know that Ameera is indeed the "mirror" we hoped she would be for children with physical disabilities — reflecting the fullness of their own identities in meaningful ways. The findings also suggest that children with disabilities likely did not call out Ameera's wheelchair because they go to a school where wheelchairs are common; Ameera's is but a reflection of the ones they use or see every day.
In depicting a child with a disability in a full, nuanced, and authentic way, Ameera also opens a powerful "window" to children without disabilities, who, by watching Ahlan Simsim, can learn understanding, acceptance, and empathy – and what it might be like to have a friend like Ameera.
Ahlan Simsim and the new "Watch, Play, Learn" videos are part of Sesame Workshop's broader humanitarian initiatives that deliver early learning and nurturing care to children and caregivers affected by conflict and crisis. Ahlan Simsim is part of a wider humanitarian program of the same name, in partnership with the International Rescue Committee (IRC) and made possible by historic support from the MacArthur Foundation, that reaches families in Iraq, Jordan, Lebanon, and Syria with the vital early learning that children need to thrive. With generous support from the LEGO Foundation, Play to Learn is an initiative in partnership with BRAC and the IRC to bring playful learning opportunities to children affected by the Rohingya and Syrian refugee crises.