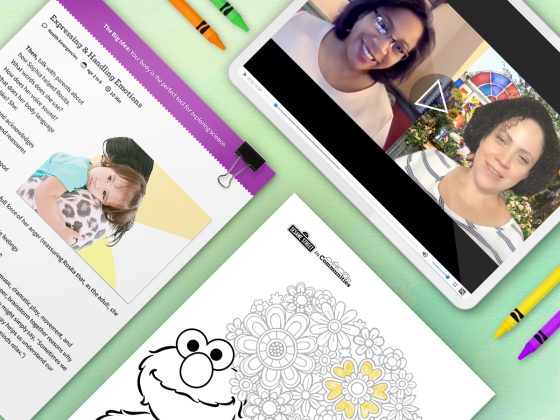 Handling Tantrums: Tips & Tools for Providers
We can show kids how to manage big feelings and stay calm.
You can use these resources to host a workshop for parents and FFN (family, friend, and neighbor caregivers) in your setting. Consider the following ideas and facilitation tips to provide a high-quality, informative, and playful experience!
Begin by watching the "Social Chat: Handling Tantrums – Calm-down Strategies" video together with parents and/or FFNs. Discuss the ideas from the video and invite participants to share how they handle—or how they'd like to handle—challenging behaviors and tantrums. Assure caregivers that there's no one 'right' way to help kids cope, but that there are many things they can try.
Print and share the We Can Calm Down article and reference it for more ideas and discussion prompts.
Finally, if you have more time, introduce more Sesame Workshop resources that support the theme, such as:

Facilitation Tip: Show caregivers the power of sensory play by providing calming bottles, modeling clay, crayons, or even a handful of building blocks as table centerpieces. Invite caregivers to play during the session, especially if they're feeling tense!
For even more learning on this topic, check out our Circles of Care course!