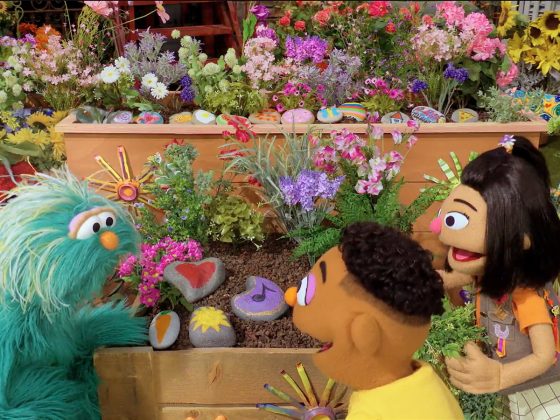 The Welcome Garden
Working together on a project is a great way to build community and help everyone feel included. 
Healthy relationships—with ourselves and with others in our communities—help us all be our best. Classrooms and daycares are communities too, and kids and grown-ups are both important members of those communities. Children can work together to help newcomers feel welcome, like the Sesame Street friends do in this video.
Watch the video together and notice the different rocks the friends have painted to add to the school Welcome Garden. Why did they paint what they painted? Later, you might even try it yourself! Make your own family rock garden. Gather smooth, flat rocks, decorate them with names, messages, or images, and set them down in or around your home. Permanent markers will work fine (to make the rocks waterproof, use self-sealing acrylic paint). What might you paint on the rocks and why?
You can also create a community version: have others join, then lay down the rocks in public places (such as around the bottoms of trees on a sidewalk, under bushes in a park, or along walkways in a park). You can add a small sign inviting others to add one, or create a "Giving Garden" and invite others to take one home.