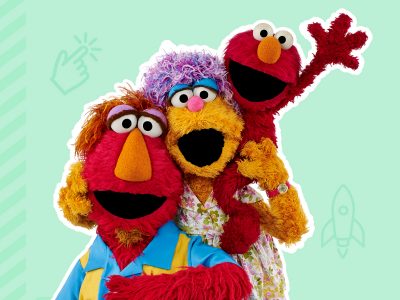 Sesame Strong: Start Here
Use this series to strengthen connections with caregivers.
Hello and welcome to Sesame Strong! Sesame Strong is a scope and sequence designed to support your family engagement efforts. It includes eight bundles full of resources you can use to connect with, celebrate, and support parents and caregivers. Each bundle is flexible and designed with busy schedules in mind. Parents are kids' first teachers, and they can be assets to your program. Their talents, insight, and experience can add value to the work you do. Also, helping parents feel empowered and capable will boost the quality of their interactions with kids. So it's a great idea to have them on your team. After all, we're stronger together!
1. What's Included
What's Included
Each bundle includes:
A Key Caregiver Strategy.
Supporting resources for caregivers: a parent reading, two video clips, a digital storybook, and a hands-on activity to try.
Facilitation cues and activity ideas for hosting parent sessions in your setting.
While framed as mini-sessions or workshops, the resources in each bundle can be applied in many ways! You might think of a "session" as any moment you are able to connect with parents.
Consider these opportunities and ideas:
Pick-up and drop-off. Use this time to offer encouragement.
One-on-one meetings. Parent-teacher conferences, for instance.
Digital communication. Send resources in an email or via social media.
Group gatherings. Host a parent workshop.
Send-home materials. Send printed resources or short notes.
Parent station. Set up a space for parents with information just for them. Use a bulletin board or small table, for instance.
Check in: Ask yourself: What opportunities do I have to connect with parents? How am I already engaging with parents and caregivers? What are my growth areas? What challenges do I face? What do I want to learn?
Keep in mind that parents and caregivers already do so many of the things suggested in these bundles. Your role is really to support them along the way. You can build on their strengths and celebrate all the little things they do with and for their child. Let parents and caregivers know they're doing a great job, and you're happy to be on their team.
Leverage your own strengths, too! Your expertise, experience, and relationships with families will bring Sesame Strong to life in your program. The resources we've curated for you in each bundle are merely suggestions—places to start. Add your own flair, and make these resources work for you. Be creative, flexible, and have fun!
To get started, download the Provider Welcome Packet, Provider Resources, and Family Welcome Packet.
Then, each session will include a Mantra Moments, Provider Overview, and Caregiver Take-Home Packet.
2. Exploring Resources
Exploring Resources
Watch this video to learn more about Sesame Street in Communities. As you watch, you might jot down topics to explore later, ways to use the site in your own work, and resources you want to share with colleagues. Invite parents and caregivers to create an SSIC account to make the most of your eight weeks together!
These guides might also come in handy just in case you need a refresher!
3. Considerations for Hosting Workshops
Considerations for Hosting Workshops
Considerations for Hosting Workshops
If you're able to host in-person mini-sessions with parents, that's awesome! Start with setting the right tone. It can help caregivers feel welcome and eager to participate. Consider these tips before you begin:
Partner with parents. You may set out to teach parents something new, but just as students are often the best teachers, each parent participant has strengths, skills, and insight to offer to the larger group. Celebrate them!
Set the stage. When you set up your space and choose activities, be mindful of different learning styles, temperaments, and cultural considerations. Share a schedule so the group knows what to expect.
Ensure a safe space. Remind parents that what they decide to share with you or their peers "doesn't leave the room." It takes courage to open up.
Make it your own. As you design your sessions, use materials that work for you. The Sesame Strong resources, just like all SSIC resources, are meant to support and enhance your existing programing. You're already well on your way to reaching the stars. We're just here to give you a boost!
You might also consider beginning each mini-session with a Mindfulness Moment. Download this printable for ideas to try.