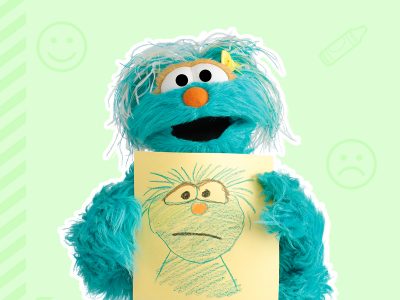 Sesame Strong, Session 4: Feelings Big and Small
Encourage parents to help children express their feelings.
Welcome to Session 4. This week is all about helping kids express their feelings in positive and safe ways. Y
ou'll learn strategies to share with parents and explore resources they can use to practice. This mini-session will help you remind caregivers that they can help their children feel safe to positively express their feelings.
Download this week's overview and the caregiver take-home packet.
Remember: As with all Sesame Strong bundles, you can share the messages, strategies, and resources with caregivers in many ways (not just in a workshop setting). Keep it simple, and do what works for you!
1. Gather & Share
Gather & Share
Consider beginning your parent mini-session with a mindfulness moment.
Check in. How did the Sesame Strong activities go last session? What was your favorite resource? Any challenges? Questions?
Introduce this session's Big Idea (the "why"): All feelings are okay. Children need positive ways to express them. Parents and caregivers can help them do just that!
Then, share this session's Strategy Spotlight (the "how"): Notice and name feelings.
Explain that emotional awareness—knowing the names of feelings, and what they look and sound like—can help children identify, express, and manage their own feelings. It helps when parents model emotional awareness and empathy.
This week's caregiver resources support our theme by providing opportunities to explore, read, and play together. The next sections outline how you might review these resources with parents and how they can use them at home with their children.
2. Me Time
Me Time
Parents get it: kids have feelings of all shapes and sizes. Use today's workshop to explore with caregivers how every day brings chances for children to express these emotions. The Expressing Emotions article offers five fun, hands-on ways to get kids to share their feelings.
Distribute the article and ask parents to underline tips or points they'd like to remember.
While you're on the topic of feelings, you might ask parents to reflect on what puts them at ease to open up about emotions. How might they help their child feel the same way?
3. Explore Together
Explore Together
When we, as caregivers, help children express and understand their emotions, we're helping them overcome challenges, understand others, and communicate. That's pretty powerful! Share the Feelings and Emotions video with parents and discuss simple ways they can help kids name their feelings so that they can move through and beyond them.
Encourage parents to watch the video at home with their children. Then they might help kids name their own feelings with questions like these:
Can you talk about the feelings Rosita is having?
When have you felt those feelings?
How does your body or face change when you have different feelings?
Remind caregivers to reassure kids, "Everyone feels bad sometimes, and that's okay" Parents might borrow from Chris when he says in the video, "Feelings pass and feelings change!" And we can learn how to handle all kinds of emotions.
Encourage parents to watch the video Noticing That Feelings Change with their children—and sing along with Chris and Elmo! Then they can have kids name some feelings they've had today. Ask, "Did your feelings change during the day?"
4. Read Together
Read Together
Grown-ups can model strategies to help ease kids' big feelings. Share Comfy Cozy Nest with parents, and have them ask themselves, "How does Alan help Big Bird feel calmer? How can I do the same for my child?"
Invite parents to cuddle up with their kids and read through this Big Bird story together.
5. Play Together
Play Together
It can be so much easier to start a conversation when kids begin it themselves…without words. At home, parents can sit with their children as they draw. They might ask children to tell about what they've drawn. This gives kids an opportunity to show and share feelings or memories that may be just too big for words.
Drawing can help children show and share their feelings. Share the Draw What's in Your Heart interactive with caregivers, and suggest they introduce it to their children at home.
As you share the Feelings Tic-Tac-Toe printable with parents, offer this encouragement, "Helping children reflect on and name their feelings gives them the language to share those feelings with you."
At home, as parents play this game with their children, they might ask, "How many boxes can you check off today?" They might also use the Feelings Faces page to help name feelings.
6. Friendly Reminders & Notes for Next Time
Friendly Reminders & Notes for Next Time
Remind
Questions are always welcome. Share with parents the best way to contact you with questions.
Review the date and time for next session's mini-workshop.
Thank parents for their partnership and participation.
Reflect
What went well?
What could I do differently for the next session?
Who might I ask for help?