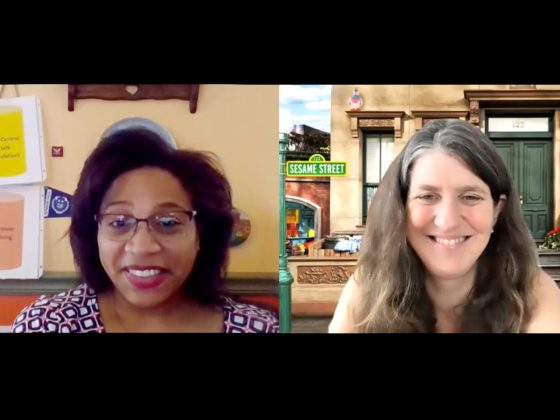 Social Chat: Talking About Feelings 
We can incorporate social-emotional skills, such as learning and talking about feelings, into our everyday activities.
Parents and caregivers can each do their part to help children express and understand their emotions, helping them to overcome challenges, understand others, and communicate. Fortunately, there are simple everyday ways to help little ones handle their feelings. The tools in this bundle can help!
These resources will explore the importance of helping children name and express their feelings and offer strategies to build social-emotional skills throughout the day.
In this video, provider to family, friend, and neighbor caregivers, Zoraima Rosario-Rolón chats with Sesame's Kama Einhorn, about the importance of helping children (and grown-ups) name and express their feelings, big and small. Together, they discuss practical, playful strategies to help parents and caregivers introduce conversations and activities about feelings into everyday routines.
As you watch the video, think about your own daily routines. How do you already help children express their feelings? What else might you try?
Pro Tip: The article Talking About Feelings: Tips & Tools for Providers provides related resources and facilitation tips for you to use with Family Friend and Neighbor care providers and parents in your setting.