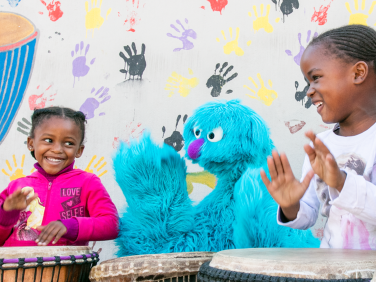 Takalani Sesame
Trusted by parents and loved by children in South Africa for over 20 years.
Helping South African children learn about respect and the humanity of others — sharing, caring, and being kind.
Takalani Sesame is loved by kids and trusted by parents to deliver joyful educational content to preschoolers in South Africa. The beloved program has been at the forefront of smart, impactful, preschool content for over 20 years.
Check out the latest clips from Takalani Sesame
Takalani Sesame is the first classroom for South African children. The Muppets of Takalani Sesame teach children and their caregivers about learning through play, how to regulate emotions, building identity, and being part of a community.
Takalani Sesame Theme Song
Takalani Sesame Theme Song
The Muppets from Takalani Sesame and their human friends sing and dance to welcome audiences and introduce the show.
Rati and Olwethu Talk About Takalani
Kids Explain: Rati and Olwethu Talk About Takalani
Moshe is feeling afraid of the dark and we asked our friends Rati and Olwethu to watch and tell us what they think of this episode of the newest Takalani Sesame.
The Ubuntu Song
The Ubuntu Song
The Ubuntu Song explains the value that "You Are because We Are" with sharing, caring, and fun!
Learning and Differences
Learning and Differences: Cultures, Abilities and Foods
Come along for a big adventure with Elmo and Zuzu as they make new friends, discover new places and learn all about the spirit of Ubuntu!
Helping Children Handle Big Feelings
The newest season of Takalani Sesame helps children build resilience by developing critical social-emotional skills. Children are taught to identify and name big emotions such as feeling scared, angry, or sad—and begin to manage them through techniques like belly breathing, counting to five, or drawing it out.
Embracing Community Values
Takalani Sesame's ethos is underpinned by the phrase "Umuntu' ngumuntu ngabantu" which means "I am because you are." This ethos helps to instill the foundational values of respect and kindness. Ubuntu is at the center of what Takalani stands for.
Tackling a Taboo
Our groundbreaking character Kami helped break the culture of silence and stigma around HIV/AIDS in the early 2000s. Kami helped give children information, a new vocabulary, and a greater understanding—that they could play with, love, and hug friends who are HIV-positive without fear of transmission.
Show Characters
Meet the Muppets from Takalani Sesame.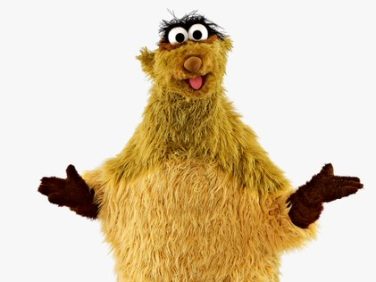 Moshe
Moshe is a very sweet and VERY large meerkat! Moshe loves to care for things smaller than him, which is why he has a beautiful garden and always looks out for his Takalani friends. He is there when friends need him to offer wisdom, insight, and love.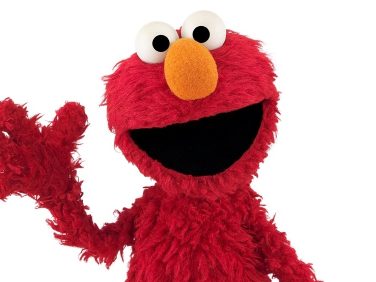 Elmo
Elmo is a three-and-a-half-year-old loveable and light-hearted red monster with an infectious giggle. He loves his Takalani Sesame friends almost as much as he loves fun-filled adventures. This season, Elmo leads his Takalani friends in the Giant Puzzle Game for all his friends. Elmo especially looks up to Zuzu and is always eager to make something special.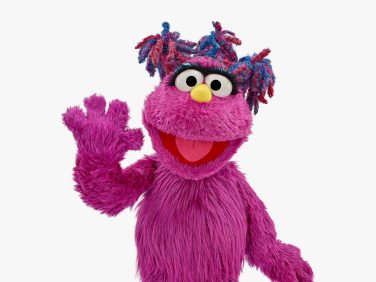 Zuzu
Zuzu is a six-year-old light-hearted magenta monster who is a leader that never gives up! Zuzu loves playing and making new things with Elmo! Confident and optimistic, Zuzu is full of answers and great ideas that she can share with her Takalani friends as they learn, explore, and grow together.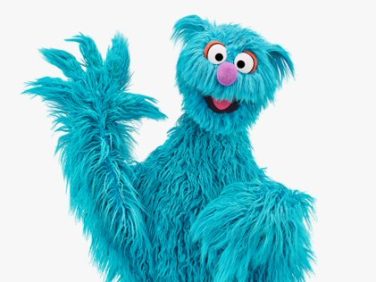 Zikwe
Zikwe is a blue, furry monster who is also a world traveler. He keeps his Takalani friends laughing as he helps them play, learn, and discover new things. Catch Zikwe tinkering on his taxi and listen for his catchphrase "Qollolops!" when the Takalani team works together and has fun!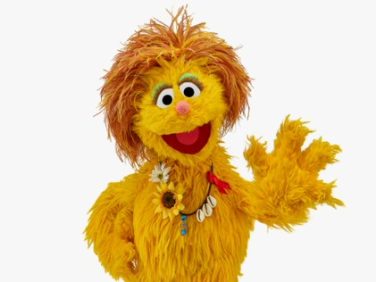 Kami
Kami is an intelligent and inquisitive yellow monster who loves to read and help her friends try new ideas. Her HIV positive status helps her teach her Takalani friends about staying healthy and having a good outlook on life.