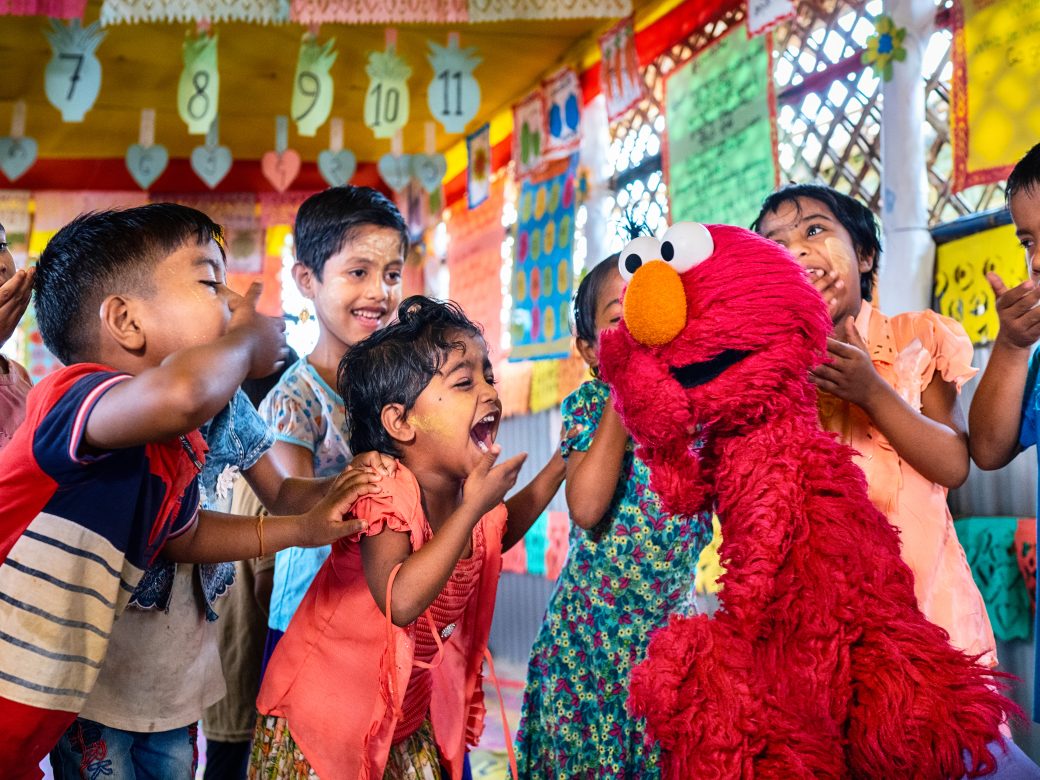 Our Work with Families Affected by Crisis​
Educational media that introduces children to characters and stories that reflect their own lives and experiences.
Welcome Sesame unites a diverse set of initiatives with one goal: delivering critically needed early childhood development opportunities to families affected by conflict and crisis.
Each model is adapted to reflect the context, culture, and experiences of children and families in the communities we support.
A hallmark of our work is educational media that introduces children to characters and stories that reflect their own lives and experiences. This content is created in collaboration with local and international experts, grounded in research, and tested with children and families.
We complement mass media with direct services to ensure that children have diverse opportunities to learn and play. Our multi-dimensional approach supports families with educational materials and home visits; uses engaging Sesame content to make children's spaces, women's centers, and health clinics more child-friendly; and delivers specialized content to caregivers and service providers via mobile devices. We partner with leading humanitarian response organizations, who have deep reach within communities impacted by crisis around the world, to bring our content directly to children and families.
We began the Welcome Sesame initiative by responding to the needs of children impacted by the Syrian and Rohingya refugee crises, and we are rapidly expanding this work to reach children and families affected by crises around the world—across the Middle East and Latin America to East Africa and beyond. Our library of globally tested educational content—Watch, Play, Learn: Early Learning Videos—is designed to bring playful early learning to children everywhere, with particular attention to the unique needs and experiences of children affected by crises. For families from these communities who have been resettled to the United States, we have created resources to support emotional resilience and coping skills throughout the resettlement process.
The Middle East and North Africa
Since 2011, the Syrian conflict has displaced more than 12 million people, including 5 million children. Almost two in five children across the Middle East now live in conflict zones. With an unprecedented investment from the MacArthur Foundation and additional support from the LEGO Foundation, Sesame Workshop and the International Rescue Committee (IRC) partnered to create Ahlan Simsim ("Welcome Sesame" in Arabic), a groundbreaking program delivering vital early learning and nurturing care to children and caregivers. With the Ahlan Simsim TV show airing across the Middle East and North Africa, as well as play-based learning and caregiver support services in Iraq, Jordan, Lebanon, and Syria, Ahlan Simsim reaches families with the educational resources they need to help them thrive.
Ahlan Simsim features characters such as Jad, a boy Muppet who had to leave his home and recently moved to the neighborhood, and Basma, a gregarious girl Muppet who welcomes Jad with open arms. Together, they go on adventures, learn through play, and help children build the resilience they need to reach their full potential. We are partnering with NYU Global TIES for Children to evaluate and learn from the program. Watch clips from Ahlan Simsim here.
Bangladesh ​
In response to the Rohingya refugee crisis, Sesame Workshop is partnering with BRAC, Bangladesh's largest NGO, and the International Rescue Committee (IRC) to reach children and families in the Rohingya refugee camps and host communities in Cox's Bazar, Bangladesh. Our Play to Learn project, generously funded by the LEGO Foundation, provides playful early learning opportunities through direct outreach in homes, child-friendly spaces, schools, and health centers combined with engaging complementary content such as videos, storybooks, posters, audio messages, and more.
At the heart of this program are two unique Muppets: Noor and Aziz, six-year-old Rohingya twins who live in the refugee camps in Cox's Bazar. Noor and Aziz allow Rohingya children to see themselves represented in our content and to learn from characters and storylines they can relate to. We are also working with NYU Global TIES for Children to generate evidence on the impact and replicability of these program models. Learn more about Play to Learn here, and watch a series of videos featuring Noor and Aziz here.
Latin America​
We are using innovative technology to deliver early education to many of the nearly 6 million refugees and migrants who have fled Venezuela. Working with partners, we provide displaced children and families free access to joyful, educational, Spanish-language Sésamo content—including videos, activities, storybooks, games, and songs—with devices that broadcast over free local WiFi in family-friendly locations. We also developed a Sésamo ChatBot that uses WhatsApp to bring caregivers a menu of resources to support child development.
Our programs are implemented in partnership with World Vision and the Municipality of Lima in Peru; Colombia Family Welfare Institute (ICBF), Norwegian Refugee Council, and the Municipality of Barranquilla and Bogota in Colombia; and the Municipality of Boa Vista and Manaus in Brazil. See here for more information on the needs of the populations we serve in Latin America.
East Africa​
In East Africa, we're supporting refugees and crisis-affected populations in Uganda, Kenya, Rwanda, Ethiopia, and Somalia, including upcoming pilots to reach families in Kakuma and Dadaab refugee camps in Kenya. Three locally adapted television shows (Sesame Teret Teret, Sesame Hadithi Njoo, and Sesame Sheeko Sheeko) promoting mutual respect and understanding are reaching children across Ethiopia, Kenya, and Somalia in the Amharic, Swahili, and Somali languages. In Uganda, we are working with refugee and host communities to promote social cohesion and contribute to inclusion and belonging. In Rwanda, Sesame Workshop partnered with World Vision to incorporate social-emotional learning into child protection programs.
Families from Afghanistan​
For over a decade, we harnessed the power of TV, radio, community engagement, and more to reach families across Afghanistan. Now, with the country in the midst of another humanitarian emergency, we're working to bring educational and psychosocial resources to Afghan families within Afghanistan and in locations where they've resettled. We're using material from Baghch-e-Simsim ("Sesame Garden" in Dari and Pashto), which aired from 2011 to 2021, that addresses literacy, math, and life skills, with an emphasis on girls' education, mutual respect and understanding, and diversity.
Beloved Afghan Muppet characters model these objectives: Zari, a 6-year-old girl, loves to ask questions, and her little brother Zeerak models boys' respect for girls. We are adapting additional resources into Dari and Pashto to support resilience and coping skills. And, in partnership with organizations like RTI, USAID, Save the Children, and the International Rescue Committee, we are working to reach Afghan refugee families with resources to support them through the resettlement process to the US and elsewhere.
Families from Ukraine
Sesame Workshop is distributing Ukrainian-language educational content for children and families affected by the war in Ukraine. Designed to develop coping skills, encourage emotional wellbeing, and provide opportunities for early education, videos and print resources are being distributed on an ongoing basis to families and to our partners responding to the crisis. See here for more information on the needs of these families and a snapshot of our work in Ukraine.