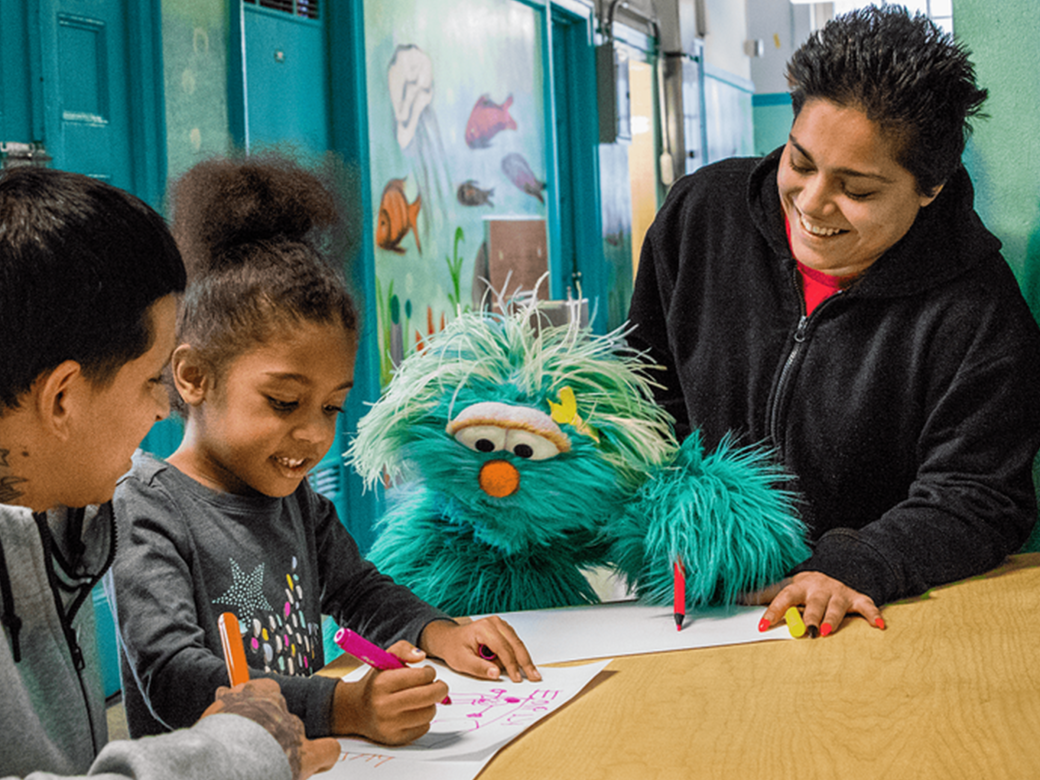 Formal Education
Helping students and teachers learn and grow.
Sesame Workshop has been an educational media pioneer for over 50 years. Today, we translate our unique brand of joyful learning — and early childhood expertise — for teachers, providers, and school programs in the United States and around the world.
We know what children need to thrive cognitively and socially, especially in the critical early years, and we harness the power of research-based media to enhance formal learning outside of the home. We work with industry-leading partners across the curriculum development, technology, professional development fields, all of whom are deeply invested in supporting educators and improving children's learning, both in and out of school.
Discovery Education
Sesame Workshop and Discovery Education teamed up to create a new channel for early learners, designed to meet the needs of children from Pre-K to grade 2. A growing library of rich educational media, from Sesame Street to The Electric Company and beyond, is complemented by research-based supports for teachers, families, and children, including child-facing videos, lesson plans, professional development, and more.
The Sesame Learning Channel offers a robust collection of flexible resources that support whole-child success, from math, to language and literacy, to Sesame's Positive Identity and Belonging Curriculum, which aligns to Social Studies and Civics standards and anti-bias curriculum goals.
Chan Zuckerberg Initiative + The Primary School
Sesame Workshop teamed up with the Chan Zuckerberg Initiative and The Primary School to create a curriculum for three- to five-year olds, to help teachers holistically meet students' academic, social emotional, physical, and mental health needs.
Reaching children in their early years can change the trajectory of their lives, but many don't have access to quality pre-school programs. This program was designed to improve kindergarten readiness, particularly for children in underserved communities.
The new curriculum integrates social emotional learning into early childhood literacy lessons, a whole-child approach to early learning that draws on Sesame Workshop's pioneering method of helping young children thrive. Piloted at The Primary School's flagship site in California, the curriculum is digitized and available online for use in qualifying classrooms across the country.
McGraw-Hill Education
Sesame Workshop and educational publisher McGraw-Hill Education are bringing research-based Sesame content and expertise into pre-kindergarten and elementary school classrooms across the United States. Our integrated program incorporates critical social emotional learning skills like empathy, self-awareness, and resilience into McGraw-Hill's industry-leading Wonders literacy programs for PreK and elementary students, equipping the youngest learners for success from the start.
The enhanced Wonders curriculum guides teachers and parents concurrently as students learn, offering multiple levels of learning and support. In the co-branded PreK-Grade 1 programs, students, educators and families experience Sesame content incorporated holistically in a variety of ways, including easy-to-use teacher's resources, weekly parent newsletters, and circle-time videos and lessons starring Cookie Monster, Big Bird, Elmo, and friends. Social emotional learning continues through Grades 2-5 in developmentally appropriate ways.