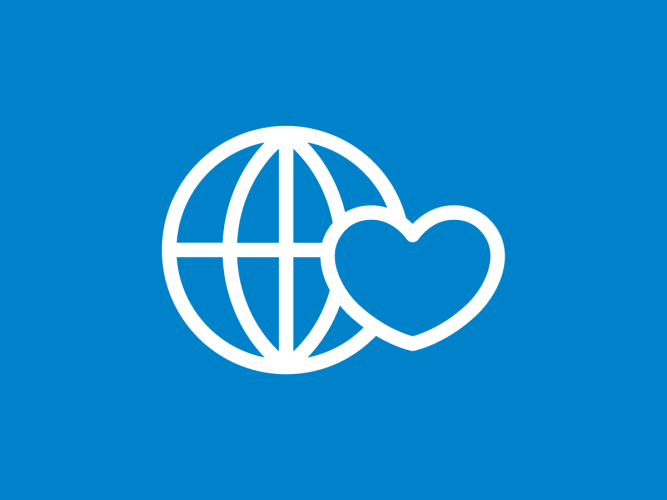 Sesame Workshop and the LEGO Foundation to premiere Elmo's World News Special Worldwide to Support Families During the COVID-19 Pandemic
As families around the world adjust to new routines, special episode models playful educational activities for kids and caregivers to do together at home
(June 18, 2020 – New York, NY) – While children and families everywhere continue to feel the effects of the COVID-19 pandemic, a new Sesame Street special episode from Sesame Workshop and the LEGO Foundation will bring playful learning and support in managing big feelings to viewers across the world. In Elmo's World News, Elmo hosts a pretend news program from his bedroom, calling on Muppet correspondents and children from around the globe to share ways they're continuing to play and learn while staying safe.
Launching this week, the 25-minute special episode will air in over 13 languages across the Middle East, Latin America, sub-Saharan Africa, Asia, and more as part of Sesame Workshop's Caring for Each Other initiative. The special, which was produced with creatives and puppeteers across multiple continents, will model playful learning activities for families to do together at home and give children strategies to manage big feelings like frustration or sadness.
Weather Reporter Grover shows how he uses his imagination to "bring the outside inside" by adapting his favorite outdoor activities to create indoor fun. Special Correspondent Cookie Monster tells viewers about his "Things That Make Me Happy" box, a simple activity families can do together to practice mindfulness and gratitude with everyday objects. Reporter Raya shares a playful and interactive update on ways children around the world maintain daily routines, while the reporting team of Basma and Jad pop in with breaking news on how children are managing and expressing their "big feelings" through movement and dance.
"With so many children around the world navigating new routines, it's more important than ever to give families the tools they need to cope with challenges and foster playful learning at home," said Sherrie Westin, President of Social Impact and Philanthropy. "Play is critical to a child's healthy development, and that's especially true during times of uncertainty. Together with the LEGO Foundation, we can harness the power of play to meet the evolving needs of families everywhere and help them build the resilience that will carry them through these tough times and beyond."
In addition to Elmo's World News, Sesame Workshop will produce a series of short-form videos and digital activities and tips on staying healthy, learning at home through play, and caring for yourself and others. The short-form content will be released over the coming months to help families through the different challenges and transitions they experience during the COVID-19 pandemic.
"Play-based education is vital for children's psychological, emotional, and cognitive health and development, and hones the resilience they need to overcome challenges like our current reality," said John Goodwin, CEO of the LEGO Foundation. "With more than 1.5 billion children displaced from traditional learning environments, the LEGO Foundation is committed to finding creative solutions to accelerate learning through play amid the pandemic. We are proud to collaborate with our partner, Sesame Workshop, to ensure that children have access to education and develop the critical skills needed to thrive in today's constantly changing world, and in the future beyond the pandemic."
The Elmo's World News special builds on the longtime partnership between Sesame Workshop and the LEGO Foundation to bring playful learning to children and caregivers around the world. Elmo's World News joins active Play to Learn programs in Bangladesh and the Middle East, supporting children affected by the Rohingya and Syrian refugee crises, as well as in South Africa. This initiative is part of the LEGO Foundation's broader response to the COVID-19 crisis, providing tools, resources and content for teachers, caregivers and parents to access play-based learning activities that build children's physical, cognitive, social, creative, and emotional skills.
Sesame Workshop's Caring for Each Other initiative was created in response to the uncertainty facing young children and families due to the COVID-19 pandemic. SesameStreet.org/caring is regularly updated to meet the needs of families as the situation evolves, with resources designed to help parents provide comfort and manage anxiety, as well as help with creating routines, fostering playful learning at home, and staying physically and mentally healthy.
About Sesame Workshop
Sesame Workshop is the nonprofit educational organization behind Sesame Street, the pioneering television show that has been reaching and teaching children since 1969. Today, Sesame Workshop is an innovative force for change, with a mission to help kids everywhere grow smarter, stronger, and kinder. We're present in more than 150 countries, serving vulnerable children through a wide range of media, formal education, and philanthropically-funded social impact programs, each grounded in rigorous research and tailored to the needs and cultures of the communities we serve. For more information, please visit www.sesameworkshop.org.
About the LEGO Foundation
The LEGO Foundation aims to inspire and develop the builders of tomorrow; a mission that it shares with the LEGO Group. The LEGO Foundation is dedicated to building a future where learning through play empowers children to become creative, engaged, lifelong learners. Its work is about re-defining play and re-imagining learning. In collaboration with thought leaders, influencers, educators and parents the LEGO Foundation aims to equip, inspire and activate champions for play. Learn more on www.LEGOfoundation.com.
Contact
Hallie Ruvin
hallie.ruvin@sesame.org
Aanchal Khurana
lego@sunshinesachs.com