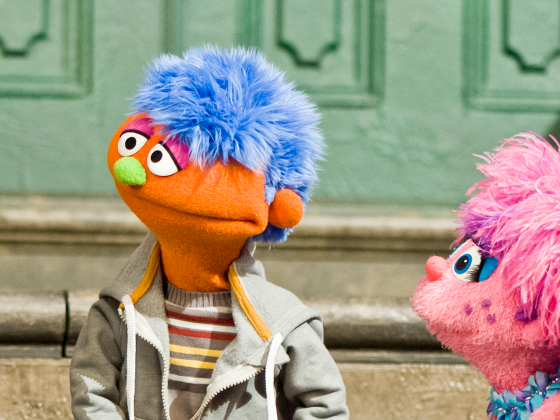 Eight Times Sesame Workshop Introduced New Characters to Help Tackle Tough Topics 
Sesame Workshop – and its long-running international hit television series – has a decades-long history of tackling serious topics with a characteristic warmth and understanding of the way young children think, feel, and address big challenges.
Though the Workshop's signature characters are known across the globe for helping children laugh, learn, and grow, some have been purposefully created to help talk about many of the difficult challenges that children face every day. Here are eight times Sesame Workshop introduced new characters into specials, resources, and shows to help parents, teachers, social workers, and caregivers tackle some of the serious issues impacting children around the world.
Understanding Parental Addiction with Karli
In 2019, a small, green, pizza-loving young monster named Karli was introduced in a series of targeted resources to support children in foster care and those affected by parental addiction. Karli's mother struggles with addiction, which can be hard on the entire family. When she went away for treatment, Karli was placed in foster care. Comforted by the warmth and understanding of her foster parents, and with a renewed hope for the future now that her mom is in recovery, Karli helps to show children in similar situations that they are never alone.
Seeing Amazing in All Children with Julia
Four-year-old Julia was first introduced in 2015 as part of the "Sesame Street and Autism: See Amazing in All Children" initiative to help raise awareness, foster understanding, and support autistic children and their families. A sweet and curious orange-haired girl with a passion for art, Julia is autistic—she does things "in a Julia sort of way." Julia joined the US series in Season 47 and, together with her friends on Sesame Street, helps to show children everywhere how to see amazing in themselves and others.
Supporting Children Affected by Conflict and Crisis with Ameera
Science-loving, witty, and inquisitive Ameera was first introduced in Season 5 of Ahlan Simsim ("Welcome Sesame" in Arabic). Due to a spinal cord injury, Ameera uses either crutches or a wheelchair to get around and play her favorite sport, basketball. Ameera brings visibility to the more than 240 million children with disabilities worldwide, including those experiencing displacement. None of this stops her from doing what she loves most: Learning, laughing, and playing with her friends.
Abby Cadabby has been a staple of the show since first being introduced in Season 37 of Sesame Street. And while many fans know and love her for her happy-go-lucky attitude and love of all things magic, fairies, and sparkles, what they might not realize is that Abby sometimes struggles with some big feelings surrounding her parents' divorce. By talking about her feelings and experiences with honesty and vulnerability, Abby helps children in similar situations embrace all the changes – big and small – that divorce can bring.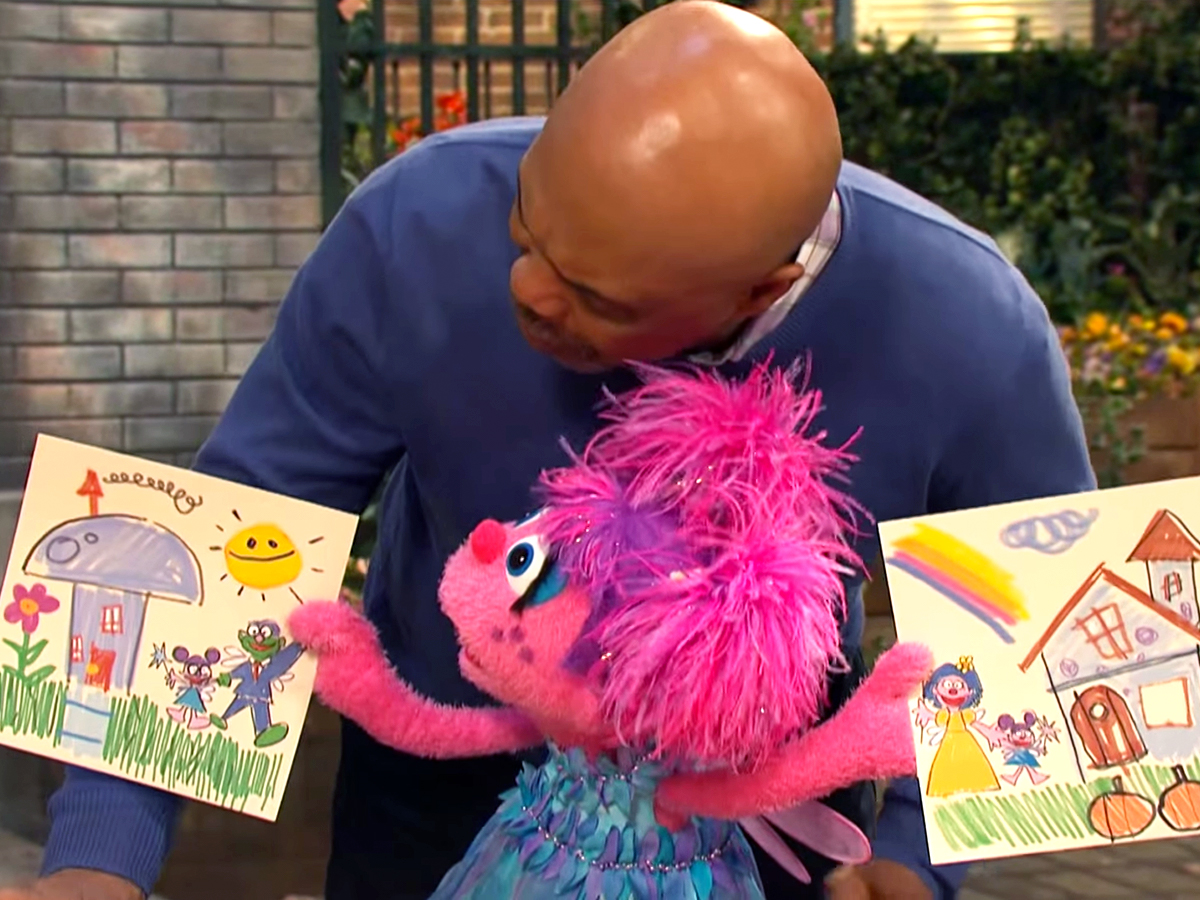 Divorce
Separation or divorce means lots of changes, but love, comfort, and care can help children adjust and cope with family trauma.
Introduced on South Africa's Takalani Sesame in 2002 near the height of the HIV/AIDS epidemic, Kami was at the heart of the first-ever HIV preschool curriculum, designed to increase understanding and reduce the stigma surrounding the disease. Kami, a bright yellow 5-year-old with a passion for reading, was HIV positive and, like many children at the time, had lost her mother to the disease. Kami made it okay to talk about HIV and AIDS, breaking the culture of silence and helping children understand that you can't get HIV from hugging or playing with others. Kami became a UNICEF Champion for Children, meeting with world leaders like former President Bill Clinton, former UN Secretary-General Ban Ki-moon, and Desmond Tutu to bring awareness to the millions of children affected by HIV and AIDS.
Supporting Children Experiencing Homelessness with Lily
Families first met Lily in the 2011 Sesame Street special "Growing Hope Against Hunger," and were reintroduced to her in 2018 in resources specially designed for children experiencing homelessness (and the professionals who serve them). After her family lost their apartment, Lily, a creative, purple 7-year-old, moved with her parents into a friend's house on Sesame Street. Lily helps children feel less alone, modeling simple coping strategies and giving them hope for the future.
Coping with Parental Incarceration with Alex
A sweet, blue-haired young boy, Alex was first introduced to the world of Sesame Street in 2013 in the "Little Children, Big Challenges" initiative, which provided resources for parents and caregivers of children facing big challenges like the incarceration of a loved one. Alex's father is incarcerated, which means that Alex can't see him very often and he can't be at important events like birthdays, holidays, and sports games. Alex's kindness and understanding can help children cope with the sadness, loneliness, and confusion that parental incarceration can bring.
Talking About Race with Wes and Elijah
The newest father-son duo on the block, Wes and his dad, Elijah, were introduced in 2021 as part of Sesame Street's "Coming Together" resources on race, ethnicity, and culture. Together alongside friends like Elmo, the pair encourage honest dialogue that helps children and parents everywhere talk openly and thoughtfully about race, ethnicity, and even racism – helping families understand our diverse world.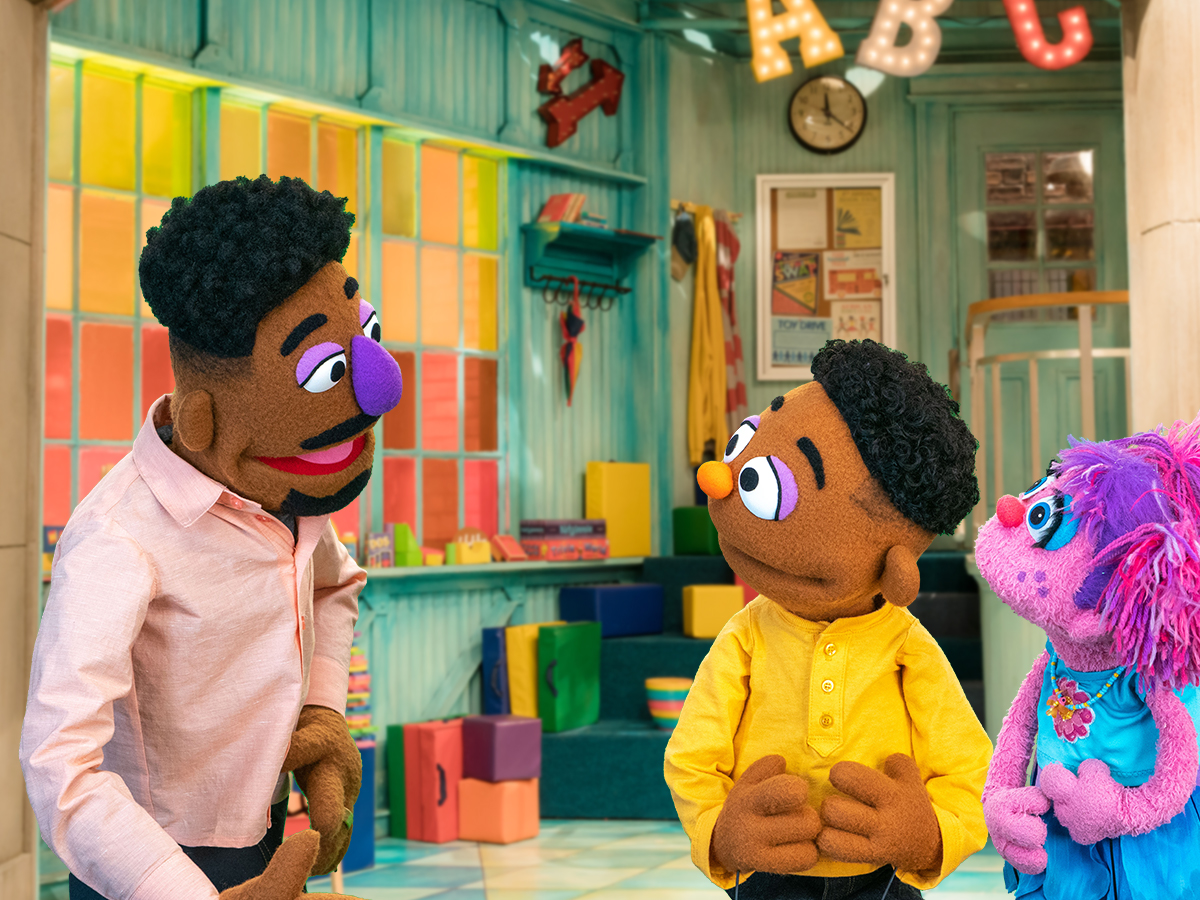 Race, Ethnicity, and Culture
Resources to help children celebrate and understand our diverse world.
For more resources on talking to children about tough topics, visit sesameworkshop.org/tough-topics.