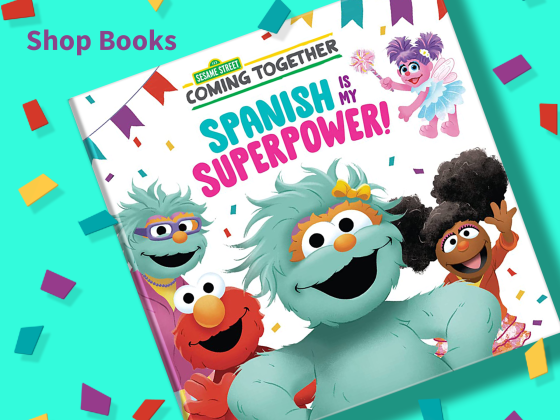 More to Explore in September
Sesame Workshops Books, Music, and Movies of the Month!
September is a month of beginnings at Sesame Workshop — new ways to build community and stay connected, new opportunities to celebrate different cultures, and new resources to support parents and caregivers.
Take a scroll through our monthly list of favorite titles to add playful learning moments throughout your day!
Elmo and his friends have lots of questions, and maybe you do, too.
Why can't I eat cookies all the time? Why do bees sting? Why do we have a moon? Join Elmo and find out the answers to these questions and many more. This must-have first encyclopedia for preschoolers is bursting with facts and images of best-loved Sesame Street characters and real-world photos to help curious little learners grow smarter, stronger, and kinder.
Meet your favorite Sesame Street pals in this adorable photographic board book starring Rosita, a friendly monster who speaks English and Spanish!
Babies and toddlers will love turning the sturdy pages to find out what Rosita – a bilingual Sesame Street friend with Mexican heritage – likes to do with her family and friends.
It's showtime and Abby Caddaby is the star!
See Abby perform as a fairy-in-training by flying across the stage and doing a super cool magic trick. Indestructibles is the trusted series for easing little ones into story time. Beloved by babies and their parents, Indestructibles are built for the way babies "read" (i.e., with their hands and mouths) and are:
Rip Proof — made of ultra-durable tight-woven material
Waterproof — can be chewed on, drooled on, and washed!
Emergent Literacy Tool — bright pictures and few or no words encourage dialogic reading
Portable — lightweight books can go anywhere, perfect for the diaper bag and for travel
Safe for Baby — meets ASTM safety standards
With a whole world to explore, it's no surprise that bedtime can be a challenge for curious little ones.
In season 2 of the Goodnight, World! series from Headspace Studios and Sesame Street, listeners can join Alan and our friends from Sesame Street on an amazing adventure in their imaginations. Along the way, they'll learn how to calm their minds and bodies down for better sleep.
Elmo introduces babies and toddlers to 101 common words and objects — in English and Spanish — in this oversized board book!
Throughout this colorful book, Elmo is featured doing everyday things such as getting dressed, eating, playing, and getting ready for bed. Bright illustrations and photographs of common words and objects pertaining to each activity are identified in English and Spanish. This board book is perfect for bilingual children and makes a great baby shower gift as well!
Sesame Street's Rosita learns how to respond when strangers at the supermarket tell her and her Mami not to speak Spanish — this illustrated paperback is based on the video of the same name on the Sesame Workshop website.
Rosita and her Mami experience racism when they are told not to speak Spanish at the supermarket. While discussing the upsetting encounter, Rosita is reminded how smart and special she is to be able to speak two languages. And that ability is like having a superpower! This book—inspired by the video of the same name on the Sesame Street in Communities website—is a helpful way to introduce a tough yet important topic to young children.