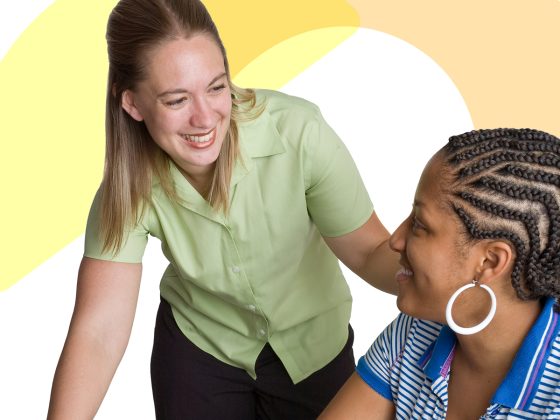 Using These Resources: Foster Care
Materials and activities to support you as you care for vulnerable children.
There are 440,000 children in the U.S. in foster care, about half of whom are under age six.* And there aren't enough homes for them, which equals a lot of changes and chaos in their lives.
Children in care have endured abuse, neglect, domestic violence, the death of a parent, divorce, parental substance abuse or mental illness, poverty, homelessness, and immigration crises. Most of all, children in care have endured the trauma of being removed from their homes, and carry the burden, stigma, and shame of the label "foster child." With guidance from expert advisers, we've developed these resources to support you in your work with children in foster care. For decades, Sesame Street has used the power of the Muppets to help children and families cope with tough topics. This set of resources is designed to support you—as foster parents, caregivers, or providers—in your work with children. In videos, a storybook, printables, and interactive activities, children will meet Karli, a new Muppet in foster care. Her name comes from the word for "strength" in German, and her foster parents are Dalia ("strong branch") and Clem ("mild, merciful"). As a member of children's circle of care, you hold power. You are an anchor in kids' and families' circle of care, and you can be a game changer by helping them to feel:
safe and reassured;
seen and heard;
a sense of home and belonging; and
a sense of hope, optimism, and confidence.
In this way, you can be children's most important therapy. You can let children know that they deserve to be happy and whole. With your care and support, children can begin rebuilding their sense of safety, trust, family, and self.
But with so many changes and constraints, it can be a challenge. These materials and resources can help. You know the needs of your children or families best, so choose which to share as you see fit.
What you're doing takes patience, resilience, courage, and sacrifice. Thank you for serving children.
*Department of Health and Human Services, 2017
Advisers
Christine Calpin, Managing Director of Public Policy, Casey Family Programs ,
Terry L. Cross, "Hah-ne-ga-noh," PhD, MSW, ACSW, LCSW, founding Executive Director of National Indian Child Welfare Association (NICWA)
Cody Kornack, Senior Manager of Policy to Practice, National Head Start Association
Adriana E. Molina, M.S., L.M.F.T., Director of Project ABC, Children's Institute, Inc.
Rob Scheer Founder, Comfort Cases
M. Ann Thomas, LCSW, President/CEO, The Children's Place
References
Adoption and Foster Care Analysis and Reporting System (2016). Adoption and Foster Care Analysis and Reporting System Report #24. Department of Health and Human Services, Administration for Children & Families, Children's Bureau.
Boyd, L. Therapeutic Foster Care: Exceptional Care for Complex, Trauma-Impacted Youth in Foster Care (2013). The State Policy and Reform Center (SPARC).
Child Welfare Information Gateway (2016). Kinship Caregivers and the Child Welfare System. FactSheet for Families. May 2016.
The David and Lucille Packard Foundation (2004). The Future of Children: Children, Families and Foster Care: Analysis. Volume 14–Number 1. The David and Lucille Packard Foundation, Winter 2004.
National Conference of State Legislatures (2016). The Child Welfare Placement Continuum: What's Best for Children? National Conference of State Legislatures, Washington D.C. Accessed 4/17/18 from ncsl.org.
National Council of Juvenile and Family Court Judges (2011). Disproportionality Rates for Children of Color in Foster Care. Technical Assistance Bulletin. Accessed 5/10/18 from ncjfcj.org.
National Head Start Association (2016). 2016 Head Start Foster Children Fact Sheet.