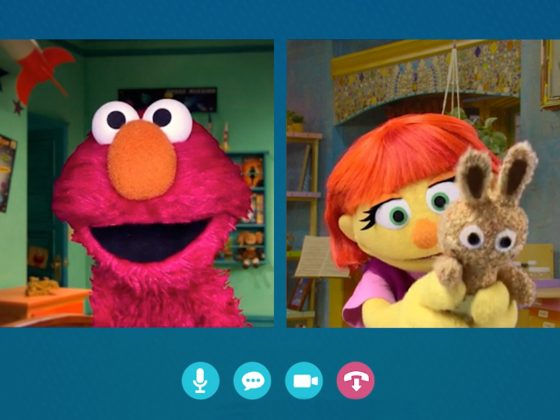 Julia and Elmo's Video Playdate
Elmo and Julia demonstrate a fun video play date.
Autistic children have different ways of communicating with and relating to others, which means special challenges in this new age of video communication. If your child has a difficult time with video calls, you can try different strategies to regain or redirect their attention. Watch Julia and Elmo's video play date together and notice how Elmo redirected Julia's attention, then try some of these suggestions next time your child has a video call.
Consider the environment. Try designating one quiet space to keep things consistent and minimize distractions.
Keep the sessions short at first.
Use masking tape or move furniture to indicate the area in which children need to stand in order to be seen on screen.
Try headphones to reduce outside noise and keep children focused.
Offer your child a comfort toy or stuffed animal, like Julia had. (Looking at another person's face on screen for a long time can be challenging… for grown-ups too!)
Provide activities such as crayons and paper or blocks for children to engage with as they visit. They can show the other person what they've made. The other person may do the same activity.
Suggest that your child sing a song with the other person.
To encourage children to stay on screen, try taping a picture of a treat (such as a picture of a favorite cracker) toward the top of the screen, and let them know they will get that treat when they're finished.
Use a timer to indicate how long you'd like your child to stay on the call.
Use a strip of paper decorated with stars and your child's name to decorate the top (or all four edges) of the screen to remind your child that they are now a "screen star"; this will let them know that it's their special time to video chat (take it off when it's not!).
When you know the specific strategies that can make your child's video visit more successful, share the tips with those who are visiting so they can use them, too.