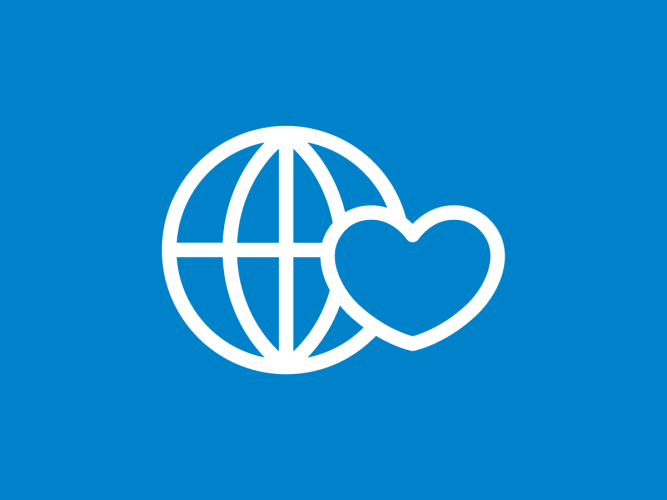 World Renowned Pianist and United Nations Messenger of Peace Lang Lang – and Sesame Street's Cookie Monster – featured in PSA promoting early childhood development
Beijing, 20 January 2016 – As part of efforts to raise awareness regarding the value of early childhood development – contributing to a child's brain development; to their educational achievement; to their success in later life and to the development of the community as a whole – UNICEF and Sesame Workshop have teamed up with Lang Lang to produce a public service announcement (PSA) on the importance of access to quality early childhood development (ECD) for every child in China.
In the PSA, which can be found here, United Nations Messenger of Peace and world renowned pianist Lang Lang, Sesame Street's Cookie Monster and two young friends create a storybook. As they discuss what the story should be about, they demonstrate why early childhood development is a critical investment for every child.
The PSA is available on both UNICEF and Sesame Street's social media channels and websites. It is also being promoted on Sesame Street's branded sections via BesTV, iQIYI and Alibaba Tmall Box in China.
"As a United Nations advocate for children and education, I believe that we all have a responsibility to ensure every child, no matter where they live, can benefit from early childhood development," said Lang Lang, who has also appeared several times on Sesame Street. "I hope this public service announcement with Cookie Monster helps families understand why these first few years of life are so important for all children and just how critical this investment is for our country's development."
Early childhood development remains central to the achievement of the recently agreed Sustainable Development Goals (SDG). Adopted by 193 countries at the United Nations in September 2015, the 17 goals and 169 targets define global development priorities to 2030, promoting sustainable development through investments in people, planet, prosperity and peace.
Early childhood development is included in Goal 4 that promotes quality inclusive and lifelong learning opportunities for all. It is specifically mentioned in target 4.2: "By 2030, ensure that all girls and boys have access to quality early childhood development, care and pre-primary education so that they are ready for primary education."
"The new SDGs are clear that children are agents of change and the overriding goals cannot be achieved or sustained without their active participation and investing in their growth and development," said Rana Flowers, UNICEF China Representative. "The first few years of a child's life are critical to a child's survival, growth and development. In China, as in other countries, we must make sure every child has access to quality early childhood services. "
"We are thrilled to partner with Lang Lang and UNICEF, both long-time friends of Sesame Street, on a PSA that will positively impact our audience—children, parents, and teachers. Sesame Workshop, with a mission of helping kids grow smarter, stronger and kinder, also advocates access to early child development," said Shirley Yi Zhu, Vice President, Executive Director China for Sesame Workshop, "Providing environments, with age appropriate activities and care, can help unlock a child's future potential and impact lives."
The estimated returns on investment in Early Childhood Care and Education for disadvantaged children are as high as 1:17 proving it is one of the most cost-effective strategies for reducing disparity and poverty. In the longer run, it can also contribute to improved adult health, education and productivity.
After a decade as a UNICEF Goodwill Ambassador promoting child rights, Lang Lang was appointed by the UN Secretary General to become a UN Messenger of Peace to advocate on global education in October 2013.
About UNICEF
UNICEF promotes the rights and wellbeing of every child, in everything we do. Together with our partners, we work in 190 countries and territories to translate that commitment into practical action, focusing special effort on reaching the most vulnerable and excluded children, to the benefit of all children, everywhere. For more information about UNICEF and its work visit: http://www.unicef.org.
About Sesame Workshop
Sesame Workshop is the nonprofit educational organization behind Sesame Street which reaches 156 million children across more than 150 countries. The Workshop's mission is to help kids grow smarter, stronger and kinder. Delivered through a variety of platforms, including television programs, digital experiences, books and community engagement, its research-based programs are tailored to the needs of the communities and countries they serve. For more information, visit us at http://www.sesameworkshop.org.
Visit UNICEF China website: www.unicef.cn
Follow us: Sina Weibo http://weibo.com/unicefchina Tecent Weibo http://t.qq.com/unicef
Wechat: unicefchina
Visit Sesame Workshop China website: www.sesamestreetchina.com.cn
Follow us: Sina Weibo: http://weibo.com/sesamestreetchina
WeChat: SesameFamily
Press Contact
Pam Vachatimanont, Sesame Workshop
pam.vacha@sesame.org
+86 21 6010 1260
Liu Li, UNICEF China
liliu@unicef.org
+8610 85312612
Shantha Bloemen, UNICEF China
sbloemen@unicef.org
+8610 85312610