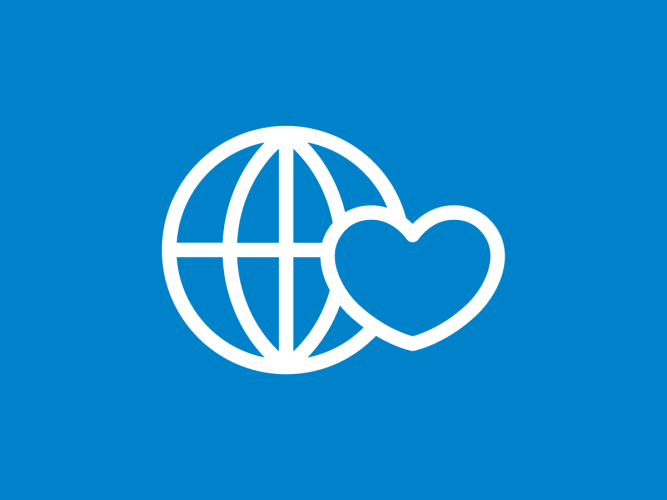 UNIQLO Launches "Cards for Hope" Campaign in Support of Sesame Workshop and the International Rescue Committee's Program for Refugee Children in the Middle East
Greeting cards featuring artwork from refugee children to be sold in UNIQLO stores, with 100% of the proceeds donated to the program
(New York, NY – November 12, 2018) – UNIQLO is pleased to launch a new campaign to raise awareness around the global refugee crisis, together with the International Rescue Committee (IRC) and Sesame Workshop, the nonprofit organization behind Sesame Street. Sesame Workshop and the IRC are implementing a groundbreaking early childhood intervention for refugee children and families in Iraq, Jordan, Lebanon, and Syria; UNIQLO will promote their work with "Cards for Hope," a campaign running November 12th to December 2nd.
During the campaign, UNIQLO will be selling special greeting cards featuring artwork by Syrian refugee children in Lebanon, created specifically for the campaign. The cards are available now in New York City stores (Soho, 5th Ave., and 34th St.) and in San Francisco at the Union Square store. Starting November 19th, they will also be available at UNIQLO.com. UNIQLO will donate 100% of the sales from the cards to Sesame Workshop and the IRC's transformative early childhood development work in Iraq, Jordan, Lebanon, and Syria, which has the potential to give millions of children the socioemotional skills they need to succeed in school and later in life.
"UNIQLO is proud to use its global platform in the apparel industry to raise awareness of the global refugee crisis with the 'Cards for Hope' campaign," said Jean Shein, Global Director of Sustainability at UNIQLO. "We look forward to bringing these beautifully-designed greeting cards into our stores to highlight Sesame Workshop and the IRC's work to bring education and nurturing care to children impacted by the refugee crisis."
UNIQLO will also invite elementary school groups to participate in drawing workshops at retail locations in New York, San Francisco, Tokyo, and Berlin, with special appearances by costumed Sesame Street characters. At the workshops, students will learn about the refugee crisis from IRC educators and create drawings about their dreams for the future, just like the children in Lebanon did for the greeting cards.
"Building a better future starts with imagination," said Sheila Kelly, Sesame Workshop's Chief Development Officer. "Working with the IRC, we've seen a generation of children affected by war and displacement who have been denied the ability to imagine a life beyond the here and now. By fostering moments of learning, laughter, and creativity through our joint program—and amplifying that work through campaigns like UNIQLO's 'Cards for Hope'– we hope to help displaced children in the Syrian response region dream of brighter tomorrows."
"The trauma of being forced to flee your home as a young child is not only painful in the short-term, but also causes toxic stress, which impacts social-emotional development in the long-term. Together with Sesame Street, the IRC will address these issues for millions of children displaced by the Syrian crisis, and help restore their dreams for the future," said Lauren Gray, Senior Director of Institutional Philanthropy and Partnerships at the IRC. "We're so excited to have UNIQLO – one of the largest fashion brands in the world – launch this campaign to raise awareness around the refugee crisis and celebrate our work to bring hope and opportunity to millions of children."
For additional information about the "Cards for Hope" campaign, please visit uniqlo.com/us/en/cardsforhope. To learn more about the IRC and Sesame Workshop's program in the Middle East, please visit sesameworkshop.org\refugees.
Images of "Cards for Hope" greeting cards: https://fr.box.com/s/nyy8gu8yniibehg2cacejb84t3xuuabt
###
About the IRC
The International Rescue Committee responds to the world's worst humanitarian crises, helping to restore health, safety, education, economic wellbeing, and power to people devastated by conflict and disaster. Founded in 1933 at the call of Albert Einstein, the IRC is at work in over 40 countries and 28 offices across the U.S. helping people to survive, reclaim control of their future, and strengthen their communities. Learn more at www.rescue.org and follow the IRC on Twitter & Facebook.
About Sesame Workshop
Sesame Workshop is the nonprofit media and educational organization behind Sesame Street, the pioneering television show that has been reaching and teaching children since 1969. Today, Sesame Workshop is an innovative force for change, with a mission to help kids everywhere grow smarter, stronger, and kinder. We're present in more than 150 countries, serving vulnerable children through a wide range of media, formal education, and philanthropically-funded social impact programs, each grounded in rigorous research and tailored to the needs and cultures of the communities we serve. For more information, please visit sesameworkshop.org.
About UNIQLO
UNIQLO LifeWear
Apparel that comes from the Japanese values of simplicity, quality and longevity. Designed to be of the time and for the time, LifeWear is made with such modern elegance that it becomes the building blocks of each individual's style. A perfect shirt that is always being made more perfect. The simplest design hiding the most thoughtful and modern details. The best in fit and fabric made to be affordable and accessible to all. LifeWear is clothing that is constantly being innovated, bringing more warmth, more lightness, better design, and better comfort to people's lives.
UNIQLO and Fast Retailing
UNIQLO is a brand of Fast Retailing Co., Ltd., a leading Japanese retail holding company with global headquarters in Tokyo, Japan. UNIQLO is the largest of six main brands in the Fast Retailing Group, the others being GU, J Brand, Theory, Comptoir des Cotonniers, and Princesse tam.tam. With global sales of approximately 2.13 trillion yen for the 2018 fiscal year ending August 31, 2018 (US $19.17 billion, calculated in yen using the end of August 2018 rate of $1 = 111.1 yen), Fast Retailing is one of the world's largest apparel retail companies, and UNIQLO is Japan's leading specialty retailer.
UNIQLO continues to open large-scale stores in some of the world's most important cities and locations, as part of its ongoing efforts to solidify its status as a global brand. Today the company has more than 2,000 stores in 21 markets including Japan. In alphabetical order, the other markets are Australia, Belgium, Canada, France, Germany, Indonesia, Malaysia, Netherlands, Philippines, Russia, Singapore, South Korea, Spain, Sweden, Thailand, U.K. and U.S. In addition, UNIQLO established a social business in Bangladesh together with the Grameen Bank in 2010, and today there are several Grameen-UNIQLO stores in Dhaka.
With a corporate statement committed to changing clothes, changing conventional wisdom and change the world, Fast Retailing is dedicated to creating great clothing with new and unique value to enrich the lives of people everywhere.  For more information about UNIQLO and Fast Retailing, please visit www.uniqlo.com and www.fastretailing.com.
Press Contacts
Matt Amaral, International Rescue Committee
matt.amaral@rescue.org
Brit Edwards, Sesame Workshop
brit.edwards@sesame.org
Samantha Levy, UNIQLO USA
samantha.levy@uniqlo-usa.com