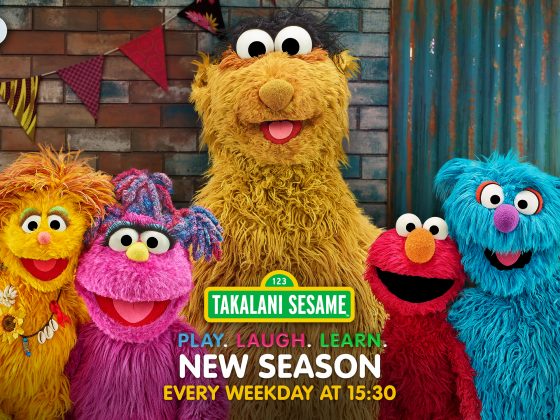 All-New Season of Takalani Sesame Launches on 5 June
A new season of Takalani Sesame launches on 5 June, airing on SABC 2 weekdays at 15.30. At a time when anxiety levels among children are rising, the ever-popular Takalani Sesame crew returns with Season 14 to continue exploring some difficult and important topics, following up what they started with the 'Big Feelings' theme in Season 13. Parents and children alike can look forward to Takalani Sesame's unique take on these difficult topics, with plenty of singing, dancing and fun.
"This is part of what makes the series a perennial favourite," notes Innocent Nkata, Managing Director of Sesame Workshop South Africa. "Introducing important educational topics can be more relatable, and accessible, when done in a way that's light-hearted – and crucially, children are more likely to remember the lesson." This approach is encapsulated in the series' tagline – PLAY. LAUGH. LEARN. – a sentiment which is top of mind following the celebration of World Play Day on 28 May.
In this Season, diving deeper into the 'Big Feelings' conversation, the Takalani Muppets and their famous friends are tackling issues around consent, belonging, and identity – along with safety and child protection – all important topics in children's lives.
"There's no denying that South Africa's children have been through very tough circumstances during the past three years," Nkata comments. "Takalani Sesame is here to help them learn how to deal with some of the big feelings they may experience as a result and, perhaps even more importantly, what to do when those feelings threaten to overwhelm them. The latest series also has an emphasis on celebrating togetherness and diversity."
Season 14, like the previous one, features some of South Africa's most-loved entertainers, musicians and celebrities, including Sho Madjozi, Prev Reddy, Holly & Mimi Rey, Farieda Metsileng, David Kau and The Goliaths. They'll be joining the ever curious and sweet 3-and-a-half-year-old Elmo; feisty and assertive 6-year-old Zuzu; insightful and wise Zikwe; 5-year-old science-fundi and playful problem-solver Kami; and kind and optimistic Moshe.
"Over the past 21 years, generations of children have grown up on the lessons given by the muppets and their friends in Takalani Sesame. That's why we're excited to be able to address a new series of challenges that is particularly relevant for the current generation, letting them benefit from our special blend of Takalani Sesame magic," Nkata concludes.
Takalani Sesame launches on 5 June and airs weekdays on SABC 2 at 3.30 PM. Episodes air in English on Mondays, isiZulu on Tuesdays, Sesotho on Wednesdays, Ndebele on Thursdays and Afrikaans on Friday.
For more information, please visit takalanisesame.org.za
About Sesame Workshop
Sesame Workshop is the nonprofit educational organization behind Sesame Street, the pioneering television show that has been reaching and teaching children since 1969–and Takalani Sesame, the South African adaptation launched in 2000. Today, Sesame Workshop is an innovative force for change, with a mission to help kids everywhere grow smarter, stronger, and kinder. We're present in more than 150 countries, serving vulnerable children through a wide range of media, formal education, and philanthropically funded social impact programs, each grounded in rigorous research and tailored to the needs and cultures of the communities we serve. Learn more at www.sesameworkshop.org and follow Sesame Workshop on Instagram, Twitter, Facebook, and TikTok.
Facebook: https://www.facebook.com/takalani.sesame.edu
Twitter: https://twitter.com/takalanisesame
Instagram: https://www.instagram.com/takalani.sesame/
YouTube: https://www.youtube.com/channel/UCSOzE3-7BQn7GtiftoiIRsg
Website: https://takalanisesame.org.za/
Contact
Jessica Gois, JNPR
Apiwe Mjambane, JNPR
Keabetswe Matshidiso, JNPR